Posted on
Wed, Feb 3, 2010 : 6:13 p.m.
County's biggest football recruits spent signing day on campus, many more sign
By Rich Rezler
Four Washtenaw County high school football players will suit up as freshmen in the Big Ten Conference next fall.
But despite a believed-to-be-unprecedented number of NCAA Football Bowl Subdivision scholarship athletes, there was no second-guessing by players or hand-wringing by college fan bases when this area's top players woke up on National Signing Day.
As high school standouts across the country made their college decisions official on National Signing Day, the four biggest names in Washtenaw County were already attending classes at their chosen school.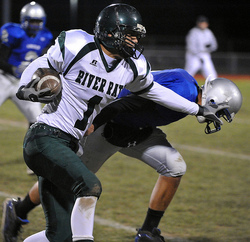 Huron wide receiver Jeremy Jackson (
Michigan
), Pioneer wide receiver Ricardo Miller (
Michigan
), Chelsea running back Nick Hill (
Michigan State
) and Saline quarterback Joe Boisture (
Michigan State
) all graduated early from their respective high schools and have enrolled in college.
Chelsea's Zak Giller, who will play at Northern Illinois of the Mid-American Conference, is the fifth Washtenaw County player to earn a scholarship at the FBS (formerly Division I) level.
Pioneer's Brandis Yarrington (Yale) and Ypsilanti's Terrance Moore (Illinois State) signed Wednesday to play at Football Championship Subdivision (D I-AA) schools.
"When you have that kind of talent, I think it speaks volumes for (the Southeastern Conference) and for the coaches in our county," Pioneer coach Jeremy Gold said. "These kids in Washtenaw County can play football, too."
Here's an alphabetical look around the county at where local athletes will play their college football:
CHELSEA Hill (5-7, 179), the Associated Press Division 3-4 Player of the Year, left for East Lansing as Washtenaw County's all-time leader in rushing yards (6,810) and touchdowns (96).
Giller, a 6-foot-2 safety, made an impact on Northern Illinois coaches despite missing three games with a broken arm and playing seven with a cast.
Offensive lineman Nick Hall (6-2, 230) will attend Ferris State and defensive lineman Colton Waterbury (6-3, 230) is headed to Wayne State, giving the Bulldogs an all-time best four scholarship players.
HURON Jeremy Jackson (6-3, 195) joins his father, U-M running backs coach Fred Jackson, in maize and blue. At Huron, he led Washtenaw County with 47 receptions.
Coach Cory Gildersleeve said some other River Rat players are weighing their collegiate options, but "there's nothing to report yet."
MILAN Two Big Reds players will be rivals in the Great Lakes Intercollegiate Athletic Conference. All-State lineman Thom Box (6-2, 270) will play at Wayne State while defensive lineman Ryan Hasten (6-2, 207) has signed to play at Northern Michigan.
PIONEER Miller (6-3, 208) was among Michigan's first commitments in the class of 2010 and he moved to Ann Arbor for his senior season to be closer to the Wolverine program. At Pioneer, he led the team with 35 receptions for 669 yards (19.1 average) and 10 touchdowns.
Yarrington (5-5, 145) chose Yale over Princeton. The All-County cornerback is expecting to play slot receiver and return kicks for the Ivy League's Bulldogs.
Esham Farha (6-3, 255), an All-County lineman for the Pioneers, will play at Saginaw Valley State University while two of his fellow linemen - Devin Smith (6-2, 290) and Ryan Richmond (6-2, 250) - will play together at Arizona Western College, a two-year school in Yuma, Ariz.
Two Pioneer players also plan to walk-on college programs in the fall. Jeremy Ross, a first-team AP Division 1 kicker, at Michigan and Omari Robinson, an offensive lineman, at Grand Valley State.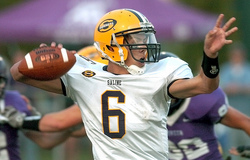 SALINE
Boisture, who transferred from Goodrich to Saline for his senior season, will play his college football at the same school where his grandfather, Danny Boisture, once coached under Duffy Daugherty in the 1960s.
The Hornets' Ian Good, Mark Sheridan and Matt Kouba are all considering opportunities to play at the Division II or Division III level.
WHITMORE LAKE Another school with split GLIAC allegiances. Three-year starting lineman Mike Komor (6-1, 250) will play at Wayne State while wide receiver Robert McIntyre (5-10, 176) will be a preferred walk-on at Saginaw Valley.
Also, fullback Max Griffin and defensive lineman Mike Beurer will play at Capital University in Bexley, Ohio.
WILLOW RUN All-State lineman Garret Davis (6-1, 285) signed with Wayne State.
Also, a group of Flyers will go the two-year college route. WR/LB Dion Leonard will play at Joliet College while FB/LB Anthony Gardette, WR/DB Davontaye Hinton, OL/DL Anthony Johnson, WR/DB Dominique Wilson and QB/DB Joe Channey will attend College of DuPage.
WR/DB D'Andre Thompson hopes to walk-on at Michigan State.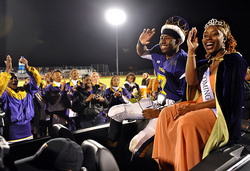 YPSILANTI
Moore (6-0, 185), a three-year starter at quarterback for the Phoenix, will get a chance to play under center at Illinois State, although the Redbirds' coaching staff also likes him as a defensive back.
Linebacker Josh Whitfield (6-4, 210) will play at Butte College in Oroville, Calif., and RB/DB Cortez Calhoun is still receiving some interest from Division II and Division III schools.