Posted on
Fri, Aug 24, 2012 : 10:04 p.m.
Defense steals the show from star quarterback Shane Morris as Warren De La Salle dominates Pioneer in 35-7 win
By Pete Cunningham
Updated at 11:49 p.m.
There was as much University of Michigan maize as Ann Arbor Pioneer purple in the bleachers at Hollway field Friday night as fans turned out to see Michigan quarterback commit Shane Morris and Warren De La Salle take on the Pioneer High School football team.
Morris showed off his big arm, throwing for 178 yards and two touchdowns on 14-of-26 passing, but it was the De La Salle defense that dominated the night, allowing Pioneer just 211 yards of offense in the 35-7 win.
Most of those 211 yards came after De La Salle's backups were in late in the fourth quarter.
Dan Brenner | AnnArbor.com
It was clear from De La Salle's very first offensive play that the Pioneer secondary wasn't interested in the five-star recruit Morris' resume, intercepting his first pass of the game and nearly picking off his next three.
Pioneer coach Paul Test was pleased with his defense's performance as a whole, pointing out several pass breakups by corner Dewan Olive-Abinojar and big hits by Tyrone Miller.
The defense was just on the field for far too long.
"Morris is good but we kept him human tonight. I thought we played him well...Of course he's gonna make some plays, he's a pretty darn good quarterback," Test said. "We just made way too many mistakes on offense and didn't produce any offense."
While Morris and the De La Salle offense struggled to find a rhythm early, the Pilot defense made sure the feeling was mutual, allowing Pioneer just 74 yards and four first downs in the first half and creating 14 points off of back-to-back Pioneer turnovers in the second quarter.
More coverage: Boxscore at MLive.com | Friday football roundup
"I thought our defense did a pretty good job all night long. A couple little sloppy plays in tackling, but other than that our defense was solid and I thought our special teams was pretty good," said De La Salle coach Paul Verska.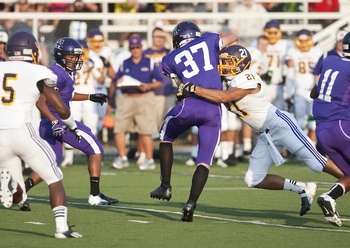 Dan Brenner | AnnArbor.com
Trailing 7-0 in the second quarter, Pioneer ventured into the De La Salle red zone for the first and only time before the game was well out of reach late, but it proved a short and unfruitful trip.
An Aedan York pass was tipped across the middle and Central Michigan commit Josh Cox took an interception 103 yards for a score to put De La Salle up 14-0.
On the second-and-three play, Test hoped to see York take a sack or throw it away rather than try to make a play across the middle.
"It was second and three at the time. Make it third and three and let us run another play, we got a guy that can kick a 50-yard field goal," Test said. "But he's a kid, and he made a mistake."
"Josh gave us a big momentum change there will the interception," Verska said.
York finished 6-of-17 for 57 yards and an interception.
Following a Pioneer fumble on its own 20-yard line on the very next possession, Morris hit Jack Wangler for a 20-yard strike for his first touchdown of the night.
De La Salle led 28-0 at half and a running clock was enacted after the Pilots made the score 35-0 on the first drive of the second half.
"To beat De La Salle, Brother Rice, Catholic Central, Orchard Lake St Mary's, you gotta play the best game you can play and we didn't," Test said. " I don't think they're four touchdowns better than us. They may be a better football team than us, but if we play the way we're capable of it's 21-7 tonight."
York scored on a 2-yard keeper for Pioneer's only score in the fourth quarter. Morris spread the ball around to eight different receivers with Wangler leading the way with four catches for 61 yards. Zak Davis led Pioneer in rushing with 17 carries for 65 yards.
Pete Cunningham Cunningham covers sports for AnnArbor.com. He can be reached at petercunningham@annarbor.com. Follow him on Twitter @petcunningham.