high school football:

Defensive dominance leads Milan past Monroe St. Mary in Game of the Week

Posted on Fri, Sep 21, 2012 : 10:29 p.m.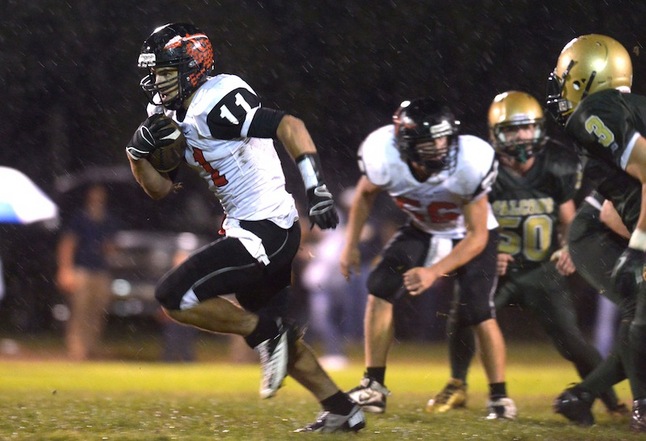 Courtney Sacco | AnnArbor.com

The Milan High School scout team offensive line hit a little harder than normal in practice this week.

So when Friday rolled around, the Big Reds defense ready for the grueling, physical battle that always comes in the Monroe St. Mary Catholic Central matchup.

And for most of the game, the Milan defense dominated that battle, bottling up the SMCC run game, en route to a 35-20 road win Friday night.

"Our defense really did a great job, they stepped up," Milan coach Jesse Hoskins said. "We were able to control the clock, and that's St. Mary's game."

More Coverage: Boxscore | Photo Gallery | Arthur Dukes leads resurgent Milan rushing attack | Friday football roundup

Milan, after a 1-8 season last year, is now playoff-eligible at 5-0. One more win will give the team an automatic playoff berth.

"It's a great feeling," senior defensive lineman Blaine Leclair said. "I've honestly never been able to feel like this before, and I've been in the playoffs once, my sophomore season. But this is a different feeling, going 5-0 already."

The Big Reds, who came into the game having given up only five touchdowns in four games, were led by another strong defensive performance. Milan (5-0, 4-0 Huron League) gave up only 62 total yards in the first half, and 77 by the end of the third quarter, as SMCC's repeated runs up the middle, particularly trap plays, were stopped up by the Milan front seven.

Milan's defense came in prepared for long, grinding drives, but found itself spending most of the game on the sideline. SMCC recorded only six first downs the entire game, and Milan won the time of possession battle, 31:32-16:28.

"We talked to our defense that St. Mary's is going to grind out some first downs, and you've got to be ready to grind out some 10, 15-play drives," Hoskins said. "Our defense really did a great job, they stepped up. We were able to control the clock, and that's St. Mary's game."

With plenty of time to work, Milan's offense got the job done behind 221 yards rushing and two scores from running back Arthur Dukes, and 90 rushing yards and two scores from quarterback Robert Kanitz.

SMCC's only touchdown in the first three quarters came on an kickoff return -- a misdirection play in which SMCC's Chinedu Nwosu took a handoff, pretended to not have the ball, then sprinted up the left sideline.

But with their offense on the field, SMCC went almost nowhere. The only SMCC drive in the first three quarters that featured first downs ended with an Austin Hoover interception just before halftime.

"Our goal was to just force them out every single time we got on the field on defense, and our offense was going to just run the clock down," LeClair said.

In a defensive front seven group that showed plenty of toughness Friday, Leclair stands out. Since suffering a broken hand in his team's opener, he has played with a cast on his right arm.

Leclair sees the bright side of the injury, though.

"In some games it actually made me a little bit better," Leclair said. "I had to hit harder, I had to be tougher."

The final stats against the Milan defense were skewed by an SMCC 60-yard run and a short touchdown set up by a fumble, both late in the fourth quarter.

But by then, the Big Reds were already up by three touchdowns, and on their way to becoming one win shy of an automatic playoff berth.

"Our goal tonight was to be more physical than SMCC," Hoskins said. "They're a very physical, very well-coached football team coming off a great win. We wanted to control the line of scrimmage and not make mistakes, and we thought if we did that we would win."