Posted on
Tue, Dec 4, 2012 : 11:08 p.m.
Dexter can't complete late comeback in season opening boys basketball loss to Pinckney
By Kyle Austin
Opening night always contains plenty of uncertainty.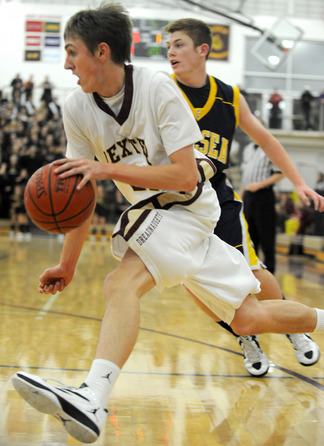 AnnArbor.com file
When a team only has five players return from last year, there's even more.
That's the situation Dexter found itself in Tuesday night in its boys basketball opener. And after a 53-49 loss to Pinckney, coach Randy Swoverland saw his team nearly complete a late comeback, but still left disappointed.
"We did not do what we wanted to do at all from the opening tap on," Swoverland said. "We let their man-to-man pressure dictate our offense, and we struggled to score in the first half."
More coverage: Boxscore | Boys basketball roundup | Girls basketball roundup
After going into halftime down 29-22, the Dreadnaughts improved in the second half, making it a one-possession game on two different occasions.
But they also struggled with turnovers and sent Pinckney to the line 18 times, while going only seven times themselves. The Pirates (1-0) hit 14 free throws, compared to six for Dexter (0-1).
"That's huge, and that was one of our goals, to shoot more free throws than the opposition," Swoverland said. "We didn't even come close.
Two of the Dreadnaughts' returners carried the load offensively. Forward Derek Seidl finished with 17 points and guard Brandon Bellottie had 14. The rest of the team combined for 18 points.
But Swoverland said after the game that still more is expected, after the two couldn't help Dexter complete its comeback.
"They hit some big shots, but they also made some mistakes at the end that didn't allow us the chance to win it," Swoverland said. "They played OK, but I don't think they played close to what they're capable of playing and what they need to do as the two most experienced players."
Pinckney was led by Sam Black's 18 points, along with 12 from Brett Sanderson and 10 from Benjamin Schmitter.
After falling behind early, Dexter was able to get close to a lead on several occasions, but could never secure one.
The Dreadnaughts cut the deficit to two points early in the second, before giving up a seven-point run. They got as close as one late in the third quarter, thanks to a 9-1 run, but couldn't take the lead.
After Swoverland called timeout early in the fourth quarter with Pinckney up by 10, the Dreadnaughts proceeded to hit three consecutive three-pointers -- two by Seidl and one by Bellottie -- and eventually cut the deficit to single-digits in the final two minutes.
But Dexter stayed stuck on 49 points, as a turnover and a block by Pinckney's Jordan Welser sealed the game.
This year's Dexter team features three sophomores who all saw time in the opener, marking a first in Swoverland's 19 seasons at Dexter.
And the speed at which those sophomores, and the rest of the team's inexperienced players improve, will be key to Dexter's chances this year.
"They're going to get better," Swoverland said. "This is their first time in a basketball game and it showed. Our learning curve has got to quicken up here in the next couple of weeks."
Game of the Week
You have until Saturday to vote in next week's game of the week poll:
Kyle Austin covers sports for AnnArbor.com. He can be reached at kyleaustin@annarbor.com or 734-623-2535. Follow him on Twitter @KAustin_AA.