Posted on
Sat, Dec 29, 2012 : midnight
Dexter girls advance to Northville tournament finals, and more Friday night results
By Kyle Austin
This file will be updated
Washtenaw County Scoreboard: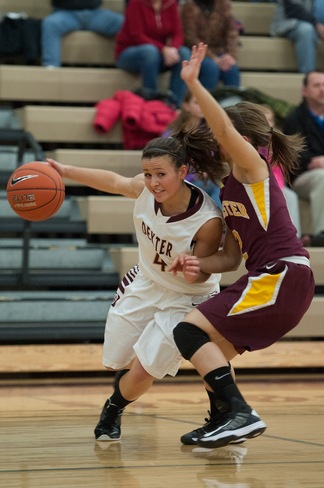 Courtney Sacco | AnnArbor.com
Girls Basketball
Dexter 54, Ferndale 40
Story | Boxscore
Dexter (7-0) will play for the championship of the tournament at 5 p.m. Saturday. The opponent is yet to be determined.
Dexter led 15-12 after one quarter and slowly opened up some breathing room a bit later on.
"We were able to continue to execute and get some quality scoring chances for ourselves," Dexter coach Mike Bavineau said. "We were able to hit those quality scoring chances because Ferndale turned the ball over a few times and got us more possessions."
Kathryn Pisano finished with 15 points for Dexter, and Crystal Kedroske had 12 points.
New Brunswick 49, Huron 48
Story | Boxscore
Sara Golidy scored 13 points, including three 3-pointers, and Ariel Bethea added 11, but a short-handed Huron (3-3) fell to New Brunswick (Ohio) in the opening day of a tournament at Solon, Ohio.
"We were missing three players, two of which have started for us this year," Huron coach Steve Vinson said. "We (made) a great comeback and had a three point lead going into the fourth, but we could not hold it.
"We were not able to execute down the stretch, and part of that had to do with us missing our two primary ball handlers."
Huron (3-3) will play host Solon in the tournament consolation game Saturday.
Skyline 52, Troy Athens 37
Story | Boxscore
Mea Morris led Ann Arbor Skyline with 13 points as the Eagles improved to 4-4. Anita Vandermeulen added eight points, eight rebounds, four assists and three steals, and Victoria Norris had six rebounds, two steals and two points.
Mary Grace Stark led Troy Athens with 13 points.
Leading 10-7 after the first quarter, Skyline used a 17-9 advantage in the second to take control of the game.
"Troy Athens kept it close in the first quarter," Skyline coach Keith Wade said. "We had two starters out, one with the flu and the other with concussion, so we leaned on Chloe Wiseman to dictate the offense. Gretchen Bakker, another fill-in, didn't miss a beat.
Boys Basketball
Oak Park 37, Lincoln 32
Story | Boxscore
Oak Park moves to 2-2 on the season with a win in the Round Ball Classic. Sherrod Motley-Dismuke led Lincoln (3-4) with eight points.
Detroit Cody 63, Skyline 62 (2OT)
Details not available
AnnArbor.com Coverage
Pioneer 53, Salem 49
Story | Boxscore