Posted on
Mon, Feb 25, 2013 : 11:48 p.m.
Dexter shakes off tough Friday outing with 66-47 district win over Skyline
By Kyle Austin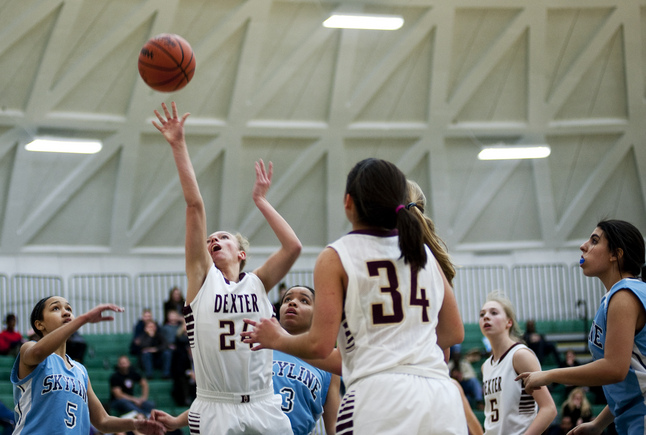 Daniel Brenner | AnnArbor.com
As soon as the topic came up -- that Dexter had hit its shots early en route to an easy 66-47 win over Skyline -- Dreadnaughts forward Emma Kill let out a huge sigh of relief.
"To get some early baskets was really nice," Kill said. "That usually helps us with our momentum, you know, to get this confidence early on, which really helps everything go smoothly."
The Dreadnaughts (18-3) led wire-to-wire and by double digits the entire second half in a district quarterfinal win Monday night at Huron. With the win, Dexter advances to play Pinckney Wednesday in the semifinals, a team it beat 49-19 in December.
More Coverage: Boxscore | Photo Gallery | District Bracket | Playoff roundup
Yet three days earlier in the same gym, baskets were hard to come by. The Dreadnaughts finished with a season-low 19 points, losing to Huron in its regular season finale.
Players and coaches alike worried that the hangover from that game would carry over to the districts.
"We came on Saturday and we checked them to make sure there were no lids on the baskets, and we found out that there weren't," Dexter coach Mike Bavineau deadpanned. "So we were pretty excited."
Come Monday, early offense wasn't a problem. Dexter surpassed the 19-point mark early in the second quarter, and cruised to its best offensive output of the year.
Four Dexter players finished in double figures, led by point guard Makenzie Svirha's 15. Freshman Taylor Olson had 12, while Kill and Teia McGahey each had 10.
Kill had eight first-half points and Kathryn Pisano had four as the Dreadnaughts exploited a significant size advantage. Kill stands at 6-foot-2 and Pisano at 5-foot-11, while none of Skyline's regulars are taller than 5-foot-8.
"Once they get it inside the three-point line, there's nothing we can do with that," Skyline coach Keith Wade said.
The Eagles were able to keep up with Dexter's scoring early, staying within single digits at 13-19 midway through the second.
But Dexter went on an 11-0 run to end second quarter.
"We talked about that, we had held them scoreless for about four minutes, but we couldn't score," Wade said. "That's been our M.O. all year. We get more frustrated on the offensive end than applauding ourselves for good defense. We gave up that 11-0 run and could never get back into it."
For Dexter, Svirha's 15 points were two shy of her season-high, and the first time she's been in double digits since Jan. 15. She also had five assists and six steals.
"I thought Makenzie did a good job being aggressive, attacking the basket," Bavineau said. "She made some great passes, too."
Anita VanderMuelen led Skyline with 16, marking a season high by going 9-of-12 at the free throw line. Mia Morris finished with 13 and Janae Sims had 12.
Skyline finishes the season at 7-14, marking a four-win improvement over last season. This season also saw the Eagles earn their first Southeastern Conference win.
And with only three players graduating, Skyline could be ready to make another jump next year.
"We hugged our seniors, told them we would miss them, thanked them for everything, and then we quickly turned to the young girls and we told them to feel this pain," Wade said. "Feel how it felt to lose 14 games this year. Yes you won seven, and that's a great jump for our program, but feel the pain and do what it takes in the offseason so we don't feel this again."
Kyle Austin covers sports for AnnArbor.com. He can be reached at kyleaustin@annarbor.com or 734-623-2535. Follow him on Twitter @KAustin_AA.