Posted on
Wed, Apr 17, 2013 : 11:26 a.m.
Dexter softball coach Mark Whitley enjoying transition from gridiron to dugout
By Terry Jacoby
Daniel Brenner | AnnArbor.com
Every ship needs a captain. And the Dexter Dreadnaughts varsity softball team sails with a loud, enthusiastic one at the helm.
Mark Whitley, a longtime football coach, took over the Dexter softball program last year on an interim basis. After a 17-9 season, the interim tag is gone and so are any doubts that he's the right man for the job.
But before Whitley even left the dock on what he calls an "exciting" journey, there were some things he needed to change in order to better face the challenges ahead.
"The first thing I wanted to change was the attitude of the team," Whitley said, sitting in the dugout between games against league rival Monroe on Monday. "They needed to know that if they put the work in, they can compete with anyone at any time. I wanted them to know that we can play at a high level and compete with teams like Tecumseh, Chelsea, Saline and Monroe."
The Dreadnaughts did exactly that last year, going 17-9, a big turnaround from 2011 when the team was under .500. Whitley believes that his players must know first and foremost that he believes in them and that he has faith in their ability to compete with the best. The next step was for the players to believe what he did.
"He's different because he's very loud and always in your face, but in a good way," said senior Lauren DeHaan, a four-year varsity player. "He knows the game and teaches us strategic things to help make us better.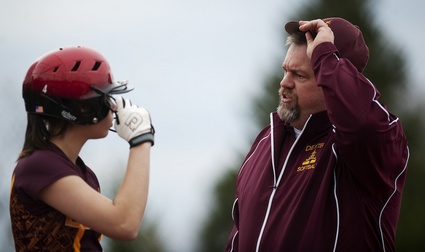 Daniel Brenner | AnnArbor.com
"But he's always about having fun and he's always pumping us up."
DeHaan credits her coach for being a big part of the team's success last year.
"We have bought into the way he coaches because he makes it fun," she said. "But at the same time, it's very hard core and very demanding. We want to win and so does he."
Taylor Passamani is another senior on the Dexter softball team and she shares her teammate's enthusiasm for their coach.
"Coach Whitley makes the game fun and knows how to make us better as players and as a team," Passamani said. "He demands a lot from us and expects us to play the right way, but we do that in a fun way and as a team."
The players aren't the only ones having fun. Whitley said he may be having more fun than anyone else in the dugout. He said it helps to have the support of his wife, Laura.
"She has listened to the instant replay of every match, game or contest I have coached for the past 20 years," Whitley said. "Without signing up for it, Laura has been my assistant coach for every sport I've ever coached. She's just amazing." Whitley, 48, graduated from Dexter in 1983. He is always talking, pumping up his players and on the move. Even in the coach's box at third base, he can't stand still.
"I want the girls to understand that we are here for a purpose, but their high school careers come and go so fast that I want their experiences and memories to be of great times, winning games and having fun doing it," Whitley says. "I think you can be serious, work hard and accomplish goals while having fun and being motivated, which I think are some keys to our success."
It's clear that Whitley has brought a football coaching mentality to girls' softball.
"The truth is that football and softball are so very different, that it is hard to compare," said Whitley, who spent eight seasons as an assistant coach for the Dexter varsity football. He hasn't coached football since 2010 when Tom Barbieri was fired. "One comparison is that both the young men and young ladies I have coached really love to be motivated and coached with enthusiasm and I try hard to bring that every day."
Whitley has proven to be an effective teacher. One of Dexter's young players on the roster this year is freshman catcher Anna Love. In her first varsity at-bat on Monday, Love made an out with an infield pop-up and wasn't pleased with herself. "When you are done being mad at yourself, come talk to me," Whitley said to his young star-to-be.
After a few seconds, Love met Whitley at the fence for a chat.
"You have to learn to get over things," Whitley said before going into detail about how long the softball season is and how Love can't obsess over every out. "It's going to happen."
It's moments like this that make a good coach.
Daniel Brenner | AnnArbor.com
"Over the years I have coached youth and high school wrestling, basketball, youth baseball, youth and high school football, and youth and high school softball," said Whitley, who guided the Dexter JV softball team to a 52-8 record in the two years prior to taking over the varsity. "I love coaching sports for various reasons, but the reason I coach and teach today is because I looked up to my childhood mentors like the late Tom Walsh and the late Al Ritt who were teachers and coaches themselves that worked extremely hard for the athletic and not-so athletic youth.
"They showed me what it meant to give to your community and I always said if I could do half of what these two did for the youth I would be happy."
Whitley is happy and content about where he is in life. He's not on the sidelines on Friday nights anymore in the fall, but he wouldn't trade the third-base coach's box for anything at the moment.
"I may someday return to coach football, but right now I'm happy coaching softball for the Dreadnaughts," he said.
She has listened to the instant replay of every match, game or contest I have coached for the past 20 years. Without signing up for it, Laura has been my assistant coach for every sport I've ever coached. She's just amazing."
Terry Jacoby is a freelance reporter for AnnArbor.com. He can be reached at tajacoby@comcast.net.