Q&A:

Huron High School's Dottie Davis on the impact of Title IX: 'We were just considered tomboys'

Posted on Wed, May 9, 2012 : 11:33 a.m.
On Wednesday, world champion boxer Laila Ali will kick off the University of Michigan's three-day conference on Title IX.
Forty years ago, the groundbreaking legislation made it law that "No person in the United States shall, on the basis of sex, be excluded from participation in, be denied the benefits of, or be subjected to discrimination under any education program or activity receiving Federal financial assistance."
The purpose of the conference in Ann Arbor is to discuss the impact of the law on society as a whole, but one needn't look very hard for examples of local beneficiaries.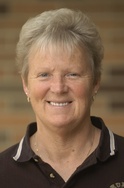 Because of
Title IX
,
Huron High School
athletic director
Dottie Davis
was able to attend Eastern Michigan University on full athletic scholarship where she was a member of the volleyball, basketball, track and field teams (she also played club softball). Davis later became the first member of her family to graduate from college and is a member of Eastern's Athletic Hall of Fame.
AnnArbor.com sat down with Davis to discuss the role Title IX has played in her life and beyond.
Question: What do you remember about 1972, when Title IX passed?
Dottie Davis: "Jumping up and down. Saying 'Yay, it's about time.'
I was just out of high school (when the implementation was becoming widespread). I worked my first year before I went to college. So I was working when that happened, then I was able to go to school with free money."
Q: If Title IX wouldn't have passed, what would you have ended up doing?
DD: That's why I went to work my first year out of school: To make money (to go to school) because we didn't have any money. I was the first child in my family to go to college.
Q: How much of a relief was it to be able to attend school, play sports and not have to hold a job to pay for school?
DD: "It was peace of mind that I could go do something that I flat out loved to do and get a degree and have financial peace.
My friends today have $100,000 in educational debt and I'm like, 'are you serious?' I'm just very, very grateful."
Q: How has women's athletics grown over the years?
DD: "Equity - right now - for male and female.
When we traveled to different college and universities we drove in vans. Once in a while we got charter buses and we thought that was huge.
It's equitable now for all men and women. Being a pioneer and being a part to start that - it was awesome."
Q: Female sports in Ann Arbor has gotten to a point where some female sports teams see a dip in numbers because there are so many options available and it spreads the concentration of athletes. Is this a good problem to have?
DD: "It really is. We have a lot of sports in Ann Arbor and I think that's what makes us Ann Arbor: Opportunity for all.
Does it stretch out some of our teams? Yes, it does. Especially now with the economy the way it is and people moving out of district, but it's OK. We're surviving and we still have all of our sports and the young ladies and young men have opportunities that they might not have somewhere else."
Q: Was there ever any backlash from male athletes who thought you were 'taking away their scholarships' or didn't belong?
DD: "No. Not really. A lot of the guys that we hung around with that played sports at Eastern were like, 'dang, you should come play with us.'"
Q: How has the female athlete evolved from 1972 to now?
DD: "I think it's a lot more glorified. There's a lot more notoriety. A lot more people now are aware of female college athletes.
Back in the day, we were just considered tomboys. Not a female athlete, we were just considered tomboys. Today, that perception has changed to a female athlete and it's very highly regarded."
Q: What's next for female athletes?
DD: "Hopefully more females in administrative roles in athletics. I still think that is way down in numbers.
In terms of high school athletics, how many female athletic directors (compared to) how many males? It's still disproportionate number-wise and I would hope that that would change for the future so that we have a lot more female administrators making decisions for the female teams.
...We really do have a a lot of females in Washtenaw County (six of the county's 15 largest high schools have female athletic directors, including Huron, Pioneer, Father Gabriel Richard, and Greenhills in Ann Arbor). It's unheard of really.
And the Ann Arbor schools have been at the top athletically for many years, 20-30 years and even before I got here. Being some of the biggest schools and being in the top 10 in the state all the time in the biggest schools and everything, I think that's really rich that women are in charge of really big schools.
Look at Ann Arbor. It's huge, and you have women administrators and I think that's very, very cool."
Ali's keynote address will at the Rackham Graduate School Amphitheater, 915 E. Washington St., at 5 p.m. to kick off "Title IX at 40" conference on Wednesday. The event is open to the public. A free interactive workshop for student-athletes, coaches and administrators, led by Olympic swimmer and Title IX expert Nancy Hogshead-Makar, will follow Ali's talk.
For more information about "Title IX at 40," visit the conference's website.
Contact Pete Cunningham at petercunningham@annarbor.com or by phone at 734-623-2561. Follow him on Twitter @petcunningham