Posted on
Tue, Mar 19, 2013 : 8:37 p.m.
Early deficit dooms Ypsilanti in quarterfinal loss to Saginaw High
By Kyle Austin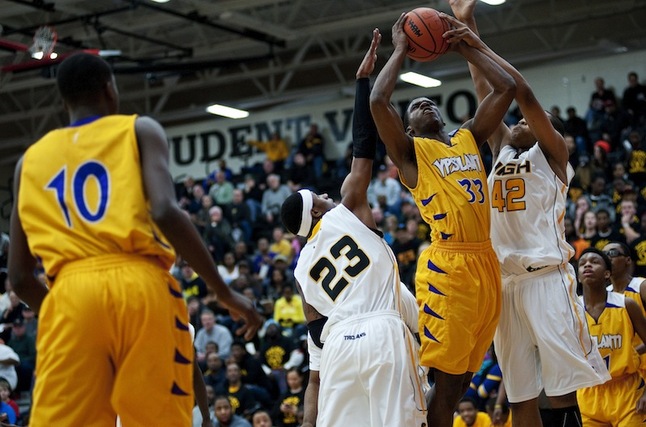 Daniel Brenner | AnnArbor.com
Updated at 10:40 p.m.
GRAND BLANC -- The toughness that carried Ypsilanti to its deepest tournament run in three decades eventually showed through.
But by the time it did, the Phoenix were down by 17 to Saginaw High. And against the defending state champion, that deficit proved insurmountable.
The Phoenix outscored Saginaw in each of the final three quarters but couldn't dig out of its early hole in a 58-54 Class A state quarterfinal loss Tuesday night at Grand Blanc High School.
More Coverage: Boxscore | Bracket | Photo Gallery | Live chat recap | Ypsilanti guards stay aggressive despite foul trouble
"I think we kind of showed the toughness that we had in us the whole game that we really should have come out with," Ypsilanti senior forward Lavonte Davis said. "I don't think we came out with that kind of toughness."
Ypsilanti's deepest playoff run since 1981 stopped one possession short of a Breslin Center berth.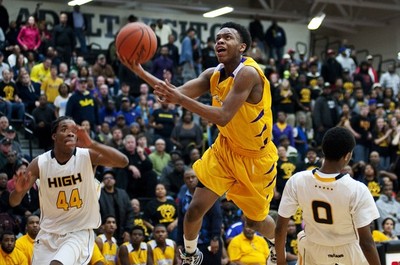 Down by three with 22 seconds left, Ypsilanti coach
Steve Brooks
called for a 3-pointer from freshman
Corey Allen
Daniel Brenner | AnnArbor.com
. But forward
Jaylen Johnson
was fouled in the lane before getting the ball to Allen and made the second of two free throws.
Saginaw High inbounded and threw the ball the length of the court for an open dunk to go up by four. Time ran out before Ypsilanti could get another shot up.
The final possession wasn't Ypsilanti's only chance to pull even: the Phoenix missed five of six free throws in the final two minutes, including a pair with 31 seconds left that would have made it a one-point game. They went 17-of-30 from the line for the game and 7-of-14 in the fourth quarter.
"I think if we just work on some of the free throws it's a different game," Brooks said.
Senior Justin Bernard led Ypsilanti with 18 points, and Johnson had 15, 12 rebounds and four blocks.
Ypsilanti (20-5) trailed by 17 after Saginaw High scored the first bucket of the second quarter, before outscoring the Trojans 47-34 the rest of the game.
After Ypsilanti made a bucket on its first possession, Saginaw High (23-3) went an 11-0 run. Ypsilanti scored only one more bucket until the 1:26 mark of the first quarter, and the Trojans led 22-7 after one quarter.
"It was really a shock," Davis said. "The crowd is big, I think a lot of the younger, guys, even me, it was a bit of a shock."
Saginaw High used its press defense and fast-break offense to force turnovers and get easy buckets. But more than their speed, Brooks said the Trojans' aggression helped them build the early lead.
"They just really beat us to every loose ball, every 50-50 ball they got, early in the game, until we started getting them the last four minutes or so," Brooks said.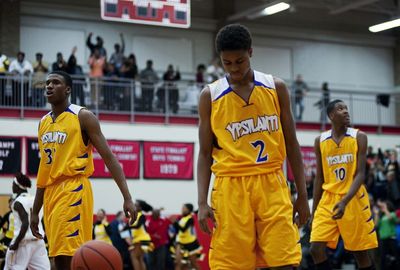 Daniel Brenner | AnnArbor.com
Ypsilanti starting guard
Janeau Joubert
picked up his second foul 1:57 into the game and had to head to the bench, leaving the Phoenix without one of its primary ballhandlers against Saginaw High's formidable press.
He returned with six minutes left in the second quarter, only to pick up his third foul less than a minute later. He went back to the bench for the rest of the half.
"Janeau, he's our decision maker out there, so it's got a lot to do with it early," Brooks said of his team's early struggles.
Ypsilanti climbed back and made it a 12-point game at halftime.
"We checked everybody's pulse and made sure that we had no bullet wounds and that kind of stuff," Brooks said. "Guess what guys, they didn't kill you. Now let's go play."
By the fourth quarter, Ypsilanti had made it a single-digit game.
"I'm really kind of glad that that charge happened because it really kind of shows some of the younger guys what you have to have and what you have to play with," Davis said.
And despite the loss, Brooks said a team that features only two seniors playing regular minutes had nothing to lose.
"They're tough kids, so I'm really proud of them," Brooks said. "They made a great run to be so young, and it really teaches you a lot."
Kyle Austin covers sports for AnnArbor.com. He can be reached at kyleaustin@annarbor.com or 734-623-2535. Follow him on Twitter @KAustin_AA.