Posted on
Tue, Mar 19, 2013 : 10:50 p.m.
Aggressiveness of Ypsilanti guards despite foul trouble nearly leads to upset of Saginaw High
By Pete Cunningham
Daniel Brenner | AnnArbor.com
GRAND BLANC -- Within the first two minutes of Ypsilanti's game against
Saginaw High
, starting point guard
Janeau Joubert
had already picked up a pair of fouls.
Ypsilanti coach Steve Brooks had to sit Joubert down and not coincidentally, the defending state champions jumped out to 22-7 lead. Joubert, the Phoenix's floor general, sat helplessly watching from the bench.
By the fourth quarter, Joubert and his backcourt teammate, Justin Bernard, had four fouls apiece. Though most coaches would elect to sit key players in a game still within reach with that much time left to play, Brooks knew there would be no comeback without Joubert and Bernard in the lineup.
So he left them in, and it nearly led to an upset of the defending state champion Trojans in the Class A quarterfinal at Grand Blanc High School.
"They want to win win, man. And that's kind of what it boiled down to, they wanted to win," Brooks said.
Bernard and Joubert didn't play conservative, as players tend to do in in that situation. Both stepped out high to challenge slashing guards Keyon Addison and Julian Anderson, and didn't shy from contact under the hoop.
More Coverage: Game story | Boxscore | Bracket | Photo Gallery | Live chat recap
Saginaw coach Julian Taylor said he had his team attempt to get the pair to foul out, but to no avail.
"We realized that they had four fouls. I told my guys 'we can't sit back we have to continue to attack," Taylor said. "But I thought they did a great job of playing with four fouls.
Taylor said he was surprised at how aggressive the guards played despite four fouls.
"My hats off to the coach. He instilled that in them. You gotta play hard no matter what. Four fouls, three fouls, one fould you gotta continue to play hard," Taylor said. "Hats off for doing that."
Knowing every reach could be their last, every attempt to take a charge could be called a block, Joubert and Bernard didn't back down.
"We guard every day at practice and we teach them to guard without fouling, so we had confidence they would stay aggressive and not foul out," Brooks said. "It says a lot about them."
It's one thing to be aggressive on the perimeter on your own man. But to stay committed and aggressive on help-side defense, that's going above and beyond.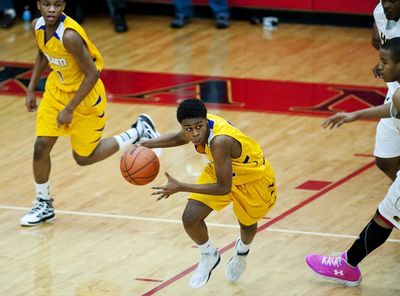 Daniel Brenner | AnnArbor.com
But when Saginaw big man
Algevon Eichelberger
had a clear path to the basket in the fourth quarter it was 6-foot Bernard who stepped in to take the charge, and later in the frame Bernard went up and got a block leading to a transition bucket for Ypsilanti.
On a loose ball in the corner after Ypsilanti had cut the deficit to five in the fourth quarter, it was Joubert diving for a loose ball, not caring that his next misstep could be his last.
"Gotta give it your all. You got, go hard," Bernard said. "Coach teaches us that every day, you know we just gotta go hard."
The defense and sustained aggressiveness of Bernard and Joubert helped Ypsilanti outscore Saginaw 16-9 in the fourth quarter, but after their comeback fell short, Bernard could only be left to wonder what could have been.
"The way we played in the fourth, we should have played in the first," Bernard said.
Pete Cunningham covers sports for AnnArbor.com. He can be reached at petercunningham@annarbor.com. Follow him on Twitter @petcunningham.