Eight-year-old assistant coach predicts Dexter girls basketball's playoff run
Posted on Tue, Mar 5, 2013 : 5:59 a.m.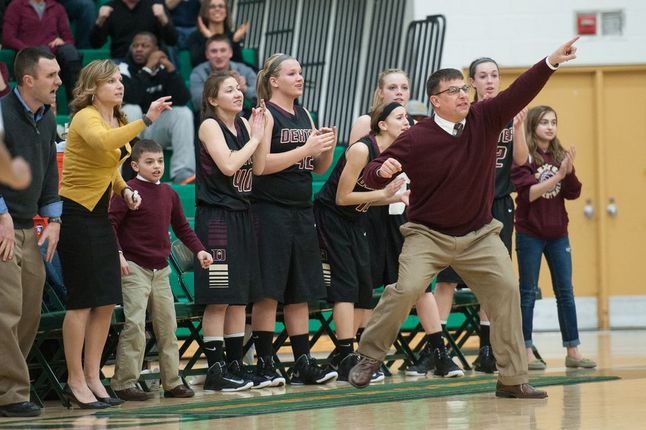 Courtney Sacco | AnnArbor.com file photo

Dexter High School girls basketball coach Mike Bavineau had concerns heading into a Class A district final against Huron on Friday night.

He made his starting unit practice against seven players to simulate the River Rats' defensive pressure. He said he wanted to play the game with six Dreadnaughts on the floor just so he could double-team Huron guard Micah Robinson.

But he felt better after getting some assurance during a Friday afternoon lunch with one of his assistant coaches.

"We were eating pizza and laughing and smiling and I asked him what he thought about the game," Bavineau said. "He said, 'I feel pretty good about it.'"

That assistant was right. The Dreadnaughts beat Huron 36-34 to win its first district trophy since it earned a Class B title in 2005. That assistant is Bavineau's 8-year-old son, Cal.

Mini-Bavineau is a fixture at practice and has been on the bench for each of Dexter's 23 games this season, dressed identically to his father and positioned one seat from the head coach.

On Friday, the Bavineaus selected maroon sweaters over white dress shirts with khaki pants and brown shoes. They stood side-by-side at midcourt after the game - Mike handing out district championship medals to the players while Cal stood nearby with the team trophy.

Is a head coaching position in Cal's future?

"I hope so," said the second-year assistant.

Girls basketball regionals

The Bavineaus aren't the only ones who will be coaching on Tuesday. A total of five Washtenaw County girls basketball teams will compete in regional playoff games.

Following is a schedule for the teams still in action:

at Saline High School

Who: Saline (14-8) vs. Woodhaven (20-3)

When: 5:30 p.m.

Winner plays: Thursday, 7 p.m. vs. Dearborn Heights Crestwood/Westland John Glenn winner.

at Novi High School

Who: Dexter (20-3) vs. Canton (16-5).

When: 5:30 p.m.

Winner plays: Thursday, 7 p.m. vs. Harland/Farmington Hills Harrison winner.

at Parma Western High School

Who: Chelsea (16-6) vs. Jackson Northwest (17-6).

When: 5:30 p.m.

Winner plays: Thursday, 7 p.m. Haslett/Goodrich winner

at Hudson High School

Who: Manchester (22-11) vs. Michigan Center (15-8).

When: 8 p.m.

Winner plays: Thursday, 7 p.m., Adrian Madison/Blissfield winner.

at Bellevue High School

Who: Rudolf Steiner (14-3) vs. Allen Park Inter-City Baptist.

When: 6 p.m.

Winner plays: Thursday, 6 p.m., vs. Bellevue/Plymouth Christian winner.