Posted on
Fri, May 3, 2013 : 5:45 a.m.
Even with 130 members, Saline girls track team stays united as one
By Kyle Austin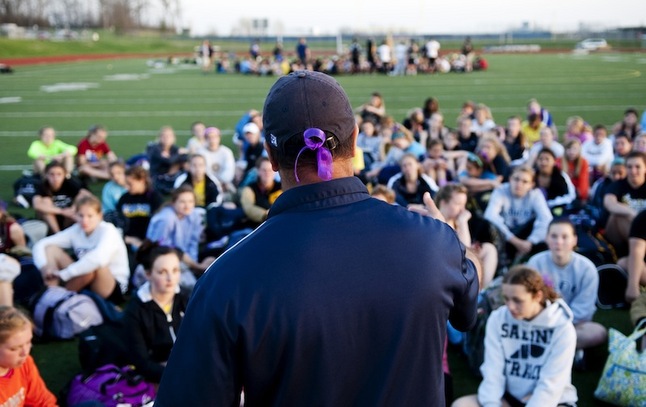 Daniel Brenner | AnnArbor.com
Sunday: Six months after ACL tear, senior Randi Bennett back to throwing tear
The uniforms may have been blue. But for the Saline High School girls track team Tuesday night, the color that truly showed their unity was purple.
Nearly every one of the 130-member team had a purple ribbon tied in her hair during Tuesday's dual meet against Huron. Head coach Brian Boze even had one tied to the back of his hat.
Those ribbons are there for every meet, with the color changing every time.
"They symbolize a united team," Hornets senior captain Kristin Green said. "And it can be really difficult for track teams to stay united because there's people off a million miles away throwing shot put and then in the other direction they're jumping over poles. It's a good way to keep the team united under common goals."
Track can naturally lead to a feeling of disconnect between teammates. Sprinters and distance runners practice separately, and field athletes practice in a different area entirely. Meets feature multiple events happening simultaneously.
But between the coaching staff and a group of six captains, they do their best to build a cohesive team in several different ways:
The team held a spaghetti dinner prior to the Huron meet this week. Feeding that many people at one time was no small task, but it got done. "We all donated tables and chairs and stuff, we had everyone bring a different dish and lots of pasta," Green said. "Everyone ate."
At a practice earlier this year, the team captains set up a scavenger hunt, and athletes went around to different stations where they did team-building activities led by captains. It's one of several team-building activities the team said it does during the year.
Runner Natalie Zimmerman created the "positivity box," a small cardboard box near the finish line filled with uplifting quotes for teammates to pick out and read before races.
No matter when their last event is, every athlete waits until the end of the meet, when several coaches and captains address them.
While a team that large inevitably features athletes of differing skill levels, Boze said he and the rest of the coaching staff work so that so every competitor is striving for something.
"The young girls are trying to hit standards and the mid-level girls are trying to be regional qualifiers and the varsity girls, we're developing them to try to get them to the state meet," Boze said. "And those that can be at the state meet we're trying to figure out how best they can score there."
And when they're not competing, the Hornets captains are doing everything they can to make the experience feel like a team.
"Saline has just had this outstanding running program all-around for many, many years and everyone at the school knows about the team and everyone at the school supports the team," Green said. "We've got a very supportive school environment and a team that draws in everybody."
Kyle Austin covers sports for AnnArbor.com. He can be reached at kyleaustin@annarbor.com or 734-623-2535. Follow him on Twitter @KAustin_AA.