Posted on
Tue, Apr 30, 2013 : 11:55 p.m.
Saline track cruises past Huron in matchup of top SEC teams
By Kyle Austin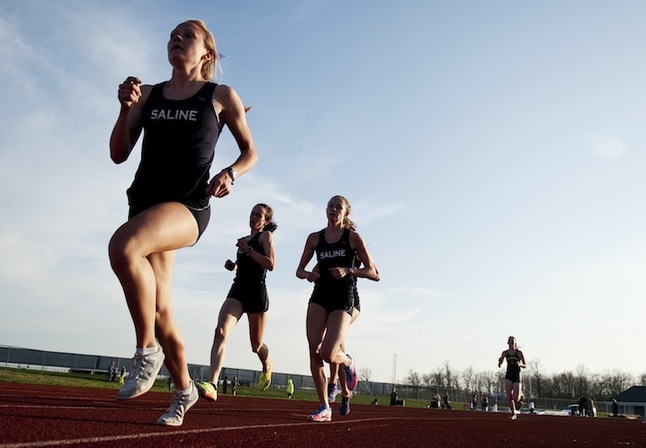 Daniel Brenner | AnnArbor.com
The Huron High School girls may have bested Saline High School at last year's Division 1 girls track and field state meet, finishing in second while the Hornets tied for fourth.
But in a dual meet setting, it's tough for anyone to compete with the 130-member strong Saline girls.
Saline won 15 of 17 events en route to a 116-21 win over Huron in an SEC dual matchup Tuesday afternoon at Saline High School.
More Coverage: Girls Boxscore | Boys Boxscore
"Every event they have ownership in, and right now we're pretty talented in a lot of areas," Saline coach Brian Boze said.
The Saline boys won by an even larger margin, sweeping all 17 events in a 130-7 win.
The Saline girls, AnnArbor.com's Team of the Week, remains a perfect 4-0 in SEC Red dual competitions, only two weeks away from MHSAA regionals.
Alexa Ross and Quenne' Dale both won multiple individual running events for the Saline girls, with Ross taking home the 200-meter dash and the 400, and Dale winning the 100 and 300 hurdles.
Dale, a junior, is coming off a third-place finish in the 100 hurdles at last year's state meet.
"I think last year I was at a higher level, but the weather's been really crappy, so I'm getting back up there," Dale said.
Randi Bennett won both the discus and the shot put, and both distances were season-bests for the senior coming off a torn ACL at the beginning of basketball season.
Kennedy Beazley led the way for the Huron girls with wins in the 800 and 1,600 runs. Nir Glazer had a second-place high jump finish on the boys side.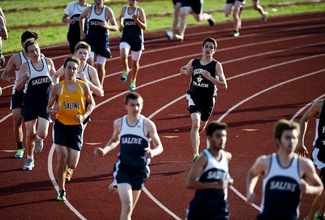 Daniel Brenner | AnnArbor.com
The Saline boys had two multiple event winners: Joseph Leptich won both hurdles races and John Smutney won both throwing events.
The Hornets now turn their Friday, when they will host the annual Golden Triangle meet. This year's event will bring in more than 20 of the best teams from around the state.
Boze said he will use the Golden Triangle meet to start to put together a lineup that will resemble his regional and state meet lineup.
And for the athletes, that means they will be facing some of their toughest competition of the year.
"It's one of the biggest meets we have on the schedule," Dale said. "I'm excited for that."
Check back to AnnArbor.com Friday morning for our complete Team of the Week package on the Saline girls track team.
Kyle Austin covers sports for AnnArbor.com. He can be reached at kyleaustin@annarbor.com or 734-623-2535. Follow him on Twitter @KAustin_AA.