Posted on
Mon, Nov 14, 2011 : 4:50 p.m.
Former Ann Arbor-area prep athletes succeeding at the next level
By Pete Cunningham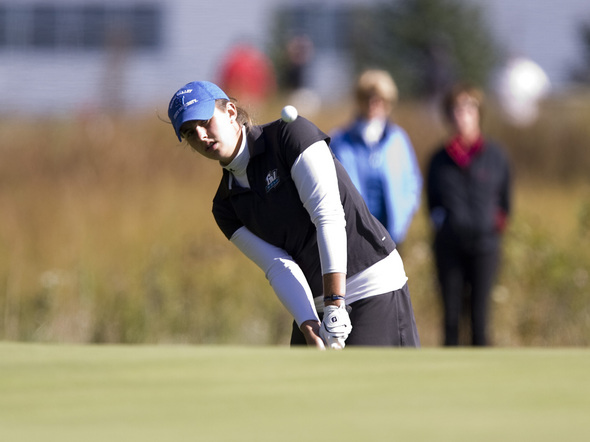 Photo courtesy of Grand Valley State athletics
There are many Ann Arbor-area high school athletes that moved on to the realm of college athletics. The following roundup details some of their recent successes:
• Saline High School graduate Sarah Hoffman finished her fall season for the Grand Valley State University women's golf team on a high note, winning medalist honors in the Lakers' final three competitions of the season. Hoffman won the Great Lakes Interscholastic Athletic Conference golfer of the week honors each week during the streak and finished her fall season with a 73.9 scoring average leading Grand Valley to a first place finish in the fall standings. (Stories)
• Elsewhere in women's college golf, Milan High School graduate Lindsey Lammers had a stellar fall season for University of Detroit Mercy. Of the Titans' four tournaments, Lammers earned medalist honors twice. Lammers, a sophomore, also set school records for individual round-low (67) and 36-hole total (140) at the Detroit Fall Classic, where she finished runner up. (Story)
• Father Gabriel Richard alum Luther Page scored 12 points and had a team-high eight rebounds in the Alabama State men's basketball team's 65-40 loss to No. 22 Cincinnati on Sunday. Page also saw significant action in Alabama State's first exhibition game of the season last week, scoring 10 points and grabbing six rebounds in a 65-57 win over Fort Valley State. (Cincinnati Story | FVSU Story)
• The University of Wisconsin-Milwaukee women's soccer team advanced to the second round of the NCAA tournament over the weekend with a 3-0 win over Illinois State. Huron graduate Helen Steinhauser is a junior midfielder for the Horizon League champion Panthers (19-2) and is fourth on the team in points with four goals and five assists. Milwaukee advances to play Ohio State on Friday. (Story)
• Steinhauser's former high school teammate, Meg Boyer was an honorable mention selection for the All-Centennial Conference women's soccer team. Boyer, a sophomore at NCAA Division III Haverford College, was second on her team in goals (6), assists (5) and points (17) and tied for the lead in game-winning goals with four. (Story)
• The University of Michigan women's field hockey team had its season come to a close on Sunday with 5-1 loss to top-ranked North Carolina in the quarfinal round of the NCAA tournament. Pioneer alum Emy Guttman finished her freshman season for the Wolverines second on the team in goals (11) and points (25). Huron grad Ainsley McCallister had two goals and eight assists for Michigan and Pioneer grad Haley Jones finished with a 9-3 record in net and a 1.55 goals against average. (Story)
• Another former Pioneer field hockey player, Sarah Drake, was named first team all-Big Ten. Drake is a junior at the University of Iowa. (Story)
• In Division III, Smith College sophomore Allie Stein, also a Pioneer alum, was named second team All-New England Women's and Men's Athletic Conference. Stein led Smith in goals (18) goals and assists (8) on the season. (Story)
• After playing basketball for four years at Carnegie Mellon University, Pioneer High School graduate Mathew Pettit parlayed a job with FMC Technologies into an opportunity to play professional basketball for the BK Miners of the Norwegian first division. Or did Pettit parlay his opportunity to play pro basketball for the BK Miners into a job with FMC Technologies? Either way, he's in Norway, working and playing. (Story)
• Greenhills School alum and 2009 AnnArbor.com boys soccer player of the year Peter Jacobson scored a pair of goals for Yale in a 2-1 win over Princeton on Saturday in the Bulldogs' season finale. Jacobson, a sophomore, led the team in goals (7) and points (15) for the year. (Story)
Check back later in the week to read about the next generation of local athletes moving on to play in college. AnnArbor.com will details those who signed National Letters of Intent during he early signing period.