Posted on
Thu, Mar 28, 2013 : 5:45 a.m.
Ex-Pioneer basketball star commits to Sweet 16 bound Miami after overcoming academic struggles
By Pete Cunningham
In January of 2010, Pioneer High School basketball coach Rex Stanczak walked over to the scorers table of a midseason game to report a roster change.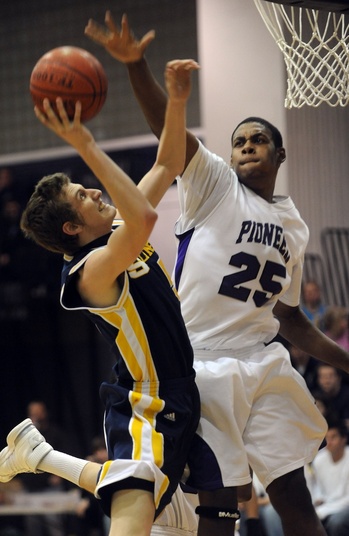 Melanie Maxwell | AnnArbor.com file photo
"We have one addition," Stanczak said. "Number 32 is James Kelly."
It was the last time anyone following the team could possibly claim to not know who Kelly was. If not for his sheer size -- 6-7, 226-pounds a the time -- then for his highlight reel dunks and blocks.
Soon, the rest of the basketball world may get an introduction to Kelly. Over the weekend, Kelly made a verbal commitment to play for the University of Miami.
Though primarily known, athletically, as football powerhouse, Miami's men's basketball team has been in the national spotlight of late after the Hurricanes won the Atlantic Coast Conference regular season and tournament championships this season. Miami is still alive in the NCAA Tournament and will play Marquette on Thursday (CBS, 7:15 p.m.) in the Sweet 16.
Kelly spent the past two years playing for Owens Community College and expects to sign his letter of intent in April with two years of eligibility remaining.
"I made my decision before they made (the Sweet 16), but it really helps when they're having success," Kelly said in a phone interview. "(Miami) Coach (Jim Larranaga) has been in contact with me for a long time and has really made me feel like I'm wanted there, and that I'll be part of a family."
With the numbers the 6-7, 238-pound forward was able to put up at the junior college level and as a senior in high school, it's hard to believe halfway through his junior season he'd never played in a varsity game. As a senior at Pioneer, Kelly averaged 16 points, nine rebounds, three blocks, 2.5 steals and shot 59 percent from the field. This year at Owens, Kelly averaged 18.3 points, 10.1 rebounds, 1.7 steals and 1.3 blocks per game, and the Express made the National Junior College D-II National Tournament semifinals.
Courtesy of Owens Community College
Basketball was never the issue with Kelly. It was everything else. He was academically ineligible the first half of his junior year and for the postseason his junior year at Pioneer.
"You have a young man who has incredible talent but needed a lot of direction on and off the court. Needed a lot maturity and a lot of people to help him along the way," Stanczak said.
It was a team effort - players and coaches - to help Kelly in his studies.
"I think we gave him structure," Stanczak said. "When he was younger, had some real focus issues. Needed to be in a structure and I think our basketball program provided that.
"Give a lot of credit to Ben Edmonson and the folks over at Roberto Clemente (Student Development Center) in the small classrooms. That really helped him."
Kelly grew as a senior at Pioneer, but the process was far complete. At Owens, class attendance was mandatory, as was 10 hours of study table a week and tutoring sessions.
Owens coach Dave Clarke said it was a struggle the first year. Kelly was phenomenal on the court - averaging 17.5 points and 9.8 rebounds - but when the offseason hit, his commitment dipped.
So Clarke took basketball away.
"At Owens, it's either you do it (academically) or you're done and we gotta move on to the next kid. There was a time I didn't think he was going to make it," Clarke said. "We took basketball away from him, and I think that was a big wakeup call."
After refocusing his efforts, Kelly will graduate from Owens with an Associate's Degree in the spring.
"It helped me mature as a person to see how much I needed school more than I needed basketball, so I buckled down," Kelly said. "It feels pretty good just to know that everybody helped me and what I had to get through the to get this point."
Miami isn't best place in the world to live if you're susceptible to distractions, but Kelly said he believes he's better equipped to handle himself now and Clarke agrees.
"They've proven in their recruitment that there's structure there like what we've provided for James and I believe he's grown up a lot," Clarke said. "But I told him, the works not over. The next two years is going to be even harder."
It was a crushing feeling for Stanczak to have to tell his team in 2010 that Kelly was ineligible. The team went 8-2 with Kelly in the lineup, including a win over eventual Class A state runner-up Huron, but three hours before an opening round playoff game, Stanczak found out Kelly was ineligible and the season ended that night.
It was a sinking feeling to know Kelly had taken a step backwards and that the entire team suffered.
Three years later, at Pioneer's postseason banquet, Stanczak announced to the 2013 team and a room full of supporters that Kelly would be joining one of the nation's top teams.
"That's going from the complete opposite ends of the emotional spectrum right there…This isn't just he went from here to Miami, it's been a long process," Stanczak said. "It's really hard to put into words how good of a feeling it is.
"It validates exactly why we coach high school basketball, and everything we do to try to help these young men."
James Kelly on ESPN's SportsCenter:
Kelly made the ESPN SportsCenter Top Ten earlier in the month for the dunk below. Anchor Stuart Scott said of the play, "It was called an offensive foul...but we don't care."
Pete Cunningham covers sports for AnnArbor.com. He can be reached at petercunningham@annarbor.com. Follow him on Twitter @petcunningham.