Posted on
Wed, Mar 20, 2013 : 5:58 a.m.
Report: Officials say moving Roberto Clemente to Pioneer is better than moving it to A2 Tech
By Danielle Arndt
Students at the Roberto Clemente Student Development Center could be shifted to Pioneer High School in the fall instead of Ann Arbor Technological High School.
The program relocation is one of many cost-saving measures the district is proposing to try to cut $17 million to $20 million from its budget for the 2013-14 academic year.
Last year, Ann Arbor Public Schools administrators recommended closing Roberto and merging it with the other alternative secondary program in the district, A2 Tech. Both schools are significantly under capacity, according to data provided by the district.
A2 Tech had a fall enrollment of 117 students, with the capacity for 298, making it 39 percent full. Roberto Clemente is 48 percent full, with a fall enrollment of 86 students and the capacity for 179.
School board members were
not prepared to make a decision
on moving the Roberto Clemente program last budget cycle. Instead, they directed district administration to evaluate the program's effectiveness and report back to the board. That report was presented at last week's school board meeting, but it was a disappointment to many trustees, who were dissatisfied by the lack of adequate data and the lack of parent involvement in the study.
"We asked for an evaluation of the effectiveness of the Clemente program, and I did not really hear that addressed in your report," said Trustee Andy Thomas. "What I did see was some data on (standardized) test scores and graduation rates, but I did not get a feel for what was the 'value added' of the Clemente program."
Deputy Superintendent for Instruction Alesia Flye said: "We do use our standardized performance data as way to measure the success of a program." But some board members questioned whether it was the most appropriate data to use for this type of alternative school.
The Pioneer Plan
When the idea to combine Roberto and A2 Tech under one roof was proposed last budget cycle, officials estimated it would save $400,000. The idea was one of three possible re-location concepts. Moving the program to Pioneer or closing Roberto altogether and developing ways to serve the students at their home high schools also were considered.
At the time, A2 Tech was deemed the best option. Now, officials say Pioneer is the best choice, and estimate the move could save a total of $200,000 to $348,677.
The cost difference would depend on whether the school board decides to keep Roberto Clemente's principal and office professional positions intact "in the transition" (for a year) or decides to eliminate both positions immediately and has Pioneer's principal lead the program.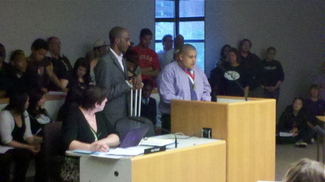 Danielle Arndt | AnnArbor.com file photo
The Roberto Clemente principal costs AAPS $156,272 in total compensation and the office professional costs $65,026.
Wednesday's presentation to Board of Education members made it clear the move to A2 Tech is off the table in administration's eyes. However, administrators acknowledged that those close to the program, including principal Ben Edmondson, would prefer moving to A2 Tech over Pioneer.
Flye said in an interview Wednesday, the task she was given was to look at moving Roberto to Pioneer.
"Last year, we had discussions with all of the secondary principals. At the time, … there wasn't a high interest in exploring that area," Flye said of relocating to A2 Tech. "There was a challenge in terms of physically locating both Roberto and A2 Tech in the A2 Tech building in terms of the number of classrooms that were available.
"As administration, we thought the best relocation would be Pioneer. Because again, we'd have the opportunity to keep the program in the place; (all the classrooms) would be physically located in the same area, the office staff could be in the same area; there are (separate) entrance and exit areas for families, as well as students, in terms of running buses in."
A2 Tech has other programs and adult education classes that also are run out of its building during the day, contributing to the lack of space for both alternative high school programs, Flye said.
Roberto would be relocated to six classrooms in D and E halls at Pioneer, which administrators said is how many classrooms the program currently uses. They also said there is a courtyard located outside of this wing of the school that could be reconfigured using bond and sinking fund money to create a separate entrance and drop-off area.
Bond and sinking fund money could be used for some interior improvements to the space as well, said Executive Director of Physical Properties Randy Trent.
It is not clear yet what would become of the existing Roberto Clemente facility.
Roberto would be moved to Pioneer by mid-August and the district would minimize energy use and maintenance trips to the former Roberto facility, which is at 4377 Textile Road in Pittsfield Township. According to the report, Roberto would still need to be maintained at safe levels, but the district would save energy costs of $22,000 and maintenance costs of $20,000 by closing the building.
Operating Roberto at Pioneer will give students more access to instructional and counseling resources, more rigorous courses, a broader range of electives and more technology, Flye said. She added the move would not decrease staff, but would keep the program intact, allowing for the same small class sizes and student-to-teacher ratios that leads to the children feeling they are supported and in a family atmosphere.
Class sizes at Roberto range from seven to 15 students whereas, at a comprehensive high school, they range from 25 to 38 students, administrators said. Flye said class size is what accounts for the high per-pupil cost at Roberto.
According to AAPS, it costs $18,941 per pupil to operate the Roberto Clemente program. A2 Tech costs $14,804 per pupil. Community costs $8,253 per pupil and Huron, Pioneer and Skyline cost around $5,000 per pupil, district information says.
The plan to relocate Roberto would have to be approved by the Board of Education, which would not take place until the budget is approved in May. Flye said communications from the district to Roberto parents and students also would not occur until after board authorization.
Prior to board approval, the administrative team will work together with both Edmondson and Principal Cindy Leaman at Pioneer to develop a communication plan and an action plan for relocating Roberto to ensure a smooth transition and so the teams are ready to go once the board gives its OK, Flye said.
Improvement vs. achievement
For the report to the board, administrative teams of two visited the school during December and January to observe the environment, curriculum and unique aspects of the program, as well as to speak with students, teachers, staff and Edmondson about the potential move. They also presented ACT composite scores, Michigan Merit Exam results, graduation rates and student demographics.
The report showed that Roberto Clemente has a higher percentage of special education students than any other high school within AAPS. The comprehensives and Community have 9 to 11 percent of their students receiving special education services, whereas 42 percent of Roberto's students have a learning disability or other health impairment. A2 Tech has a special needs population of 30 percent.
Seventy-four percent of Roberto's population also is economically disadvantaged. The percentages range at the comprehensive high schools from 18 percent at Pioneer to 27 percent at Huron. Community and A2 Tech are at 10 percent and 53 percent, respectively,
Roberto has the worst MME scores in the district. Of the 28 students who took the MME last year, just five students scored proficient in reading, one was proficient in math and zero scored proficient in science and social studies.
Roberto's average composite ACT score in 2011-12 was a 14.9 out of a possible 36. A2 Tech students had an average composite score of 16.1. At Huron, the average was 23.1; Pioneer was 24.3, Skyline 23.6 and Community 26.2.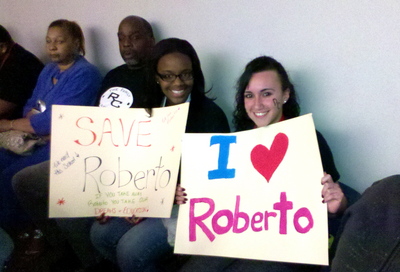 Danielle Arndt | AnnArbor.com file photo
But despite Roberto's insufficient test scores, its graduation rate is comparable to Huron High School's, 88.24 percent vs. 88.7 percent.
Thomas was critical of the data the administration presented.
"It's not all that surprising that Clemente's (test) scores would be very low when compared to the comprehensives, given the fact that the students identified for the Clemente program were struggling already," Thomas said. "… I was struck that the graduation rate (for Clemente) is not that far from what we're seeing in the comprehensive high schools.
"So if the end result is to graduate students, then Clemente seems to be very effective. If it is to obtain a certain standard of learning, the outcomes are not good. But are they any better or worse … than if the student were to go through their comprehensive high school? I had hoped we would have some idea of the impact on that."
When closing Roberto Clemente was proposed last budget cycle, past and present parents and students of the program came in droves to speak at Board of Education meetings and to rally for the program they hold dear. The students told stories of how Roberto Clemente saved their plummeting grade point averages, helped them get into colleges and gave them a place to belong. Students talked about having less than a 1.0 when they came to Roberto and how they were able to improve their GPAs to a 2.5 or even a 3.7 or better.
The report Wednesday did not present any information on students GPAs or student growth or improvement throughout their enrollment in the Roberto Clemente program.
The report did offer some observations from visiting central administrators on the topics of belonging and academic achievement.
"It is clear that Clemente is a safe haven for students who have not been successful in larger environments," the report says. "And the attitudes displayed by students were that of respect for staff and the school. There is a sense of spirit and family in the building. Academically, the environment is conducive to achievement and the attention placed on student success by staff and administration is evident. We were unable to determine the level of rigor of instruction."
A few board members also were critical Wednesday of the fact that no parents, alumnus or retired personnel were invited to give feedback on the program for the administration's report.
"We say we value the parents but then we don't even include them in the conversation," Trustee Simone Lightfoot said during Wednesday's presentation. "… To talk to the cabinet, it sounds like all is beautiful and rosy."
Lightfoot highlighted with the tough budget decisions that will have to be made this year, "we are going to need parents more than ever" — their support, feedback and buy-in, she said. Lightfoot added, the district administration has been working on this report for a year, "and I'm not at all satisfied we have the level of detail that we need to be making a decision like this. And I'm not sure we're even off to the right start if we haven't even talked to the parents … about the challenges at Pioneer."
Flye said the comments parents made during last year's budget discussions were considered by administration throughout drafting the report.
Reservations
There would be a number of concerns to work out prior to the relocation of Roberto Clemente, such as:
Roberto's bell schedule. Currently, these students have five class periods a day. Pioneer has six with a seventh-hour option.
Roberto's trimester calendar year, compared to Pioneer's semesters.
Roberto students wear uniforms.
Where Roberto students would eat lunch and how elective options would work.
In the report, it was said Edmondson believes the uniforms are an added element of discipline and are integral to students' success. In an interview with AnnArbor.com, he also said there are too many "distractions" for Roberto students at Pioneer.
He explained Pioneer is right off the Ann Arbor Transportation Authority bus route, Briarwood Mall is around the corner and all of the old friends the students once were involved with, who were pulling the students' focus away from their studies, are all right there. He added Pioneer also is a very large school and if a student wants to skip class, there are many places for him or her to hide or escape to.
"I think the biggest thing is you can't send students back to a school where they already feel disenfranchised," Edmondson said.
The report says 40, nearly half, of the 86 students enrolled in Roberto Clemente were referred from Pioneer, 29 were from Huron and 17 were from Skyline.
Edmondson said he would welcome the opportunity to work with A2 Tech Principal Tyrone Weeks to develop a single alternative high school program for all of Ann Arbor's struggling and at-risk kids. Administrators said this is "contradictory" to what Edmondson expressed last year.
The administration will present its final recommendations for budget reductions to the Board of Education on April 24. Roberto Clemente will not be discussed again until that time. The board is expected to vote on a final budget for the 2013-14 academic year on May 22.
Danielle Arndt covers K-12 education for AnnArbor.com. Follow her on Twitter @DanielleArndt or email her at daniellearndt@annarbor.com.