Posted on
Fri, Nov 11, 2011 : 6 a.m.
Fundamentals, ball security vital in Pioneer and Catholic Central matchup and more playoff notes
By Pete Cunningham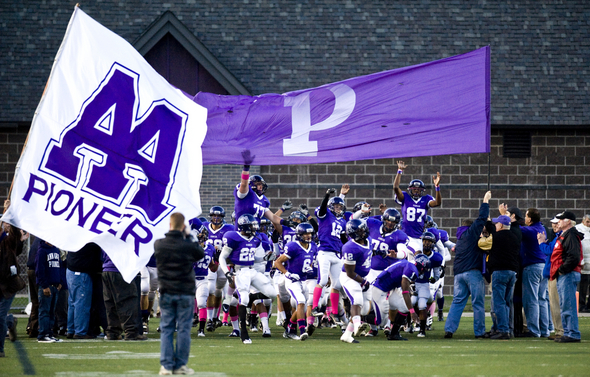 AnnArbor.com file photo
Pioneer High School football coach Paul Test knows patience will be a virtue on Saturday.

Both his Pioneers and their MHSAA Division 1 regional opponent Detroit Catholic Central run the ball the majority of the time, with an occasional play-action pass to keep defenses honest.
A three-and-out possession, Test contends, can be a good series if the Pioneers can punt well, play solid defense and improve their field position.

It might lull you to sleep, Test says, but the game will be about as fundamental as a football game can get.
"What we do best is run the ball and what they do best is run the ball, so you're going to see a lot of that," Test said. "Whoever blocks and tackles the best and avoids turnovers will probably win."
Future Wolverines
Pioneer running back Drake Johnson committed to the University of Michigan on Tuesday, but he won't be the only future Wolverine on the field on Saturday. Catholic Central senior defensive lineman Matt Godin (6-5, 270) has also verbally committed to the Wolverines.
Catholic Central junior defensive end/running back Wyatt Shallman (6-3, 260) has also reportedly been offered a scholarship to play for the Wolverines.

Battle in the trenches
At 6-3, 320 pounds, Pioneer senior left tackle Mohammad Awwad doesn't intimidate easily. Awwad said he's looking forward to the challenge of keeping the blue-chipper, Godin, at bay on Saturday.
"I'm looking forward to going against him," said Awwad, who is receiving recruiting interest from various Division 1 programs himself. "Gotta stay physical, stay low, stay quick."

Familiar faces
The Catholic Central offense will have some familiar names for Ann Arbor-area hoops fans. Catholic Central quarterback Kyle Cooper (6-7, 215) and tight end Matt Doneth (6-5, 245) played vital roles in knocking the Huron High School basketball team out of the playoffs last year.
Cooper had 12 points, including a crucial and-one dunk that all but sealed the win, while Doneth scored 17 points.
Pete Cunningham covers sports for AnnArbor.com. He can be reached at petercunningham@annarbor.com or by phone at 734-623-2561. Follow him on Twitter @petcunningham.