Posted on
Tue, Nov 8, 2011 : 2:24 p.m.
Playing for Michigan a dream come true for Ann Arbor native Drake Johnson
By Pete Cunningham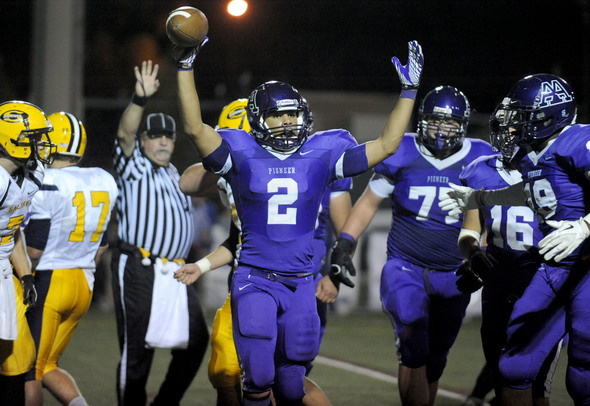 AnnArbor.com file photo
This story was updated at 2:24 p.m.
Related story: How Drake Johnson's commitment affects Michigan football team's recruiting, courtship of Bri'onte Dunn
It's an election day, so Pioneer High School senior running back Drake Johnson was enjoying a day off from school. More specifically, he was enjoying sleeping in.
When he was awakened by a call from his mother, telling him to call University of Michigan running backs coach Fred Jackson, Johnson thought he was dreaming.
When Jackson offered him a football scholarship on Tuesday morning, it hit Johnson: This wasn't a dream. It was a dream come true.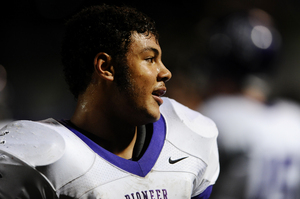 "When he told me, I was like, 'I'm not sure I quite caught you,' I'm not really a good morning person, sometimes I hear stuff that's not there," Johnson said of his early-morning daze. "When I realized it was real, I was like, 'Yes, everything had finally paid off.'"
The offer is something Johnson has been waiting to hear since first suited for the Washtenaw Junior Wolverines. He and Jackson's son, Jeremy -- a wide receiver at Michigan -- wore winged helmets and the maize and blue with Johnson's father, Michael, as their coach.
"Fred has always said, I want that kid to come to Michigan," Michael Johnson said.
Over the weekend, though, Drake wasn't sure that day would ever come, and he vented his frustrations to his father.
All around the state and nationally, running backs have been receiving scholarship offers, yet Johnson's phone sat silent. This despite the fact that he has continued to have one huge game after another.
Johnson (6-1, 215 pounds) has rushed for 2,757 yards and 37 touchdowns on 327 carries this season and has caught a touchdown pass. He has rushed for more than 200 yards for seven consecutive weeks and scored at least three touchdowns in eight consecutive games.
Despite the gaudy numbers and Pioneer's success -- they are currently 9-2 and will play in a Division 1 state quarterfinal this weekend -- Johnson's only scholarship offer had come from Eastern Michigan over the summer.
He received varied levels of interest from schools like Toledo, Syracuse, Indiana and Iowa, but no offers.
"He'd say, I'm better than that guy, or this and that," Michael Johnson said. "He was getting frustrated, so I said focus on what you can control, all you can do is focus on what you can control."
Johnson is also a two-time defending Division 1 state champion in the 110-meter hurdles and said he'd love to run track at Michigan, as well.
"At first, I was just beginning to think, I'm having these great games and nothing's coming of it," Johnson said. "I would get down, but then I would just think, it's just motivation to keep having great games.
"If the team does better and I keep having big games and we go deep into the playoffs, something will come of it. It would be impossible to deny me that."
Good things come to those who wait, and Johnson's wait is now officially over.
Pete Cunningham covers sports for AnnArbor.com. He can be reached at petercunningham@annarbor.com or by phone at 734-623-2561. Follow him on Twitter @petcunningham.