Posted on
Wed, Mar 6, 2013 : 3:05 p.m.
Gabriel Richard's Jason Houle wins scoring title, Manti Teo chants thrown at Pioneer player and more prep basketball notes
By Kyle Austin
It came down to the last games of the regular season, but we have a Washtenaw County scoring champion: Father Gabriel Richard's Jason Houle.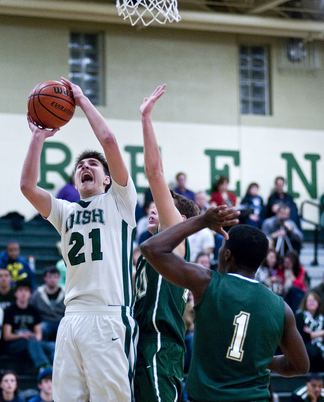 Joseph Tobianski | AnnArbor.com
Houle played in 19 regular-season games, scoring 412 points for an average of 21.7 per game. That edged out Andrew Khouri of Greenhills by .3 points per game.
Three times Houle scored more than 30 points, including a season-high 34 Dec. 11 against Detroit Old Redford. Nearly half of those points came from behind the arc, as the 6-foot-3 junior hit 66 3-pointers, nearly three-and-half per game.
"He's a really good shooter, and he's really basketball savvy," Gabriel Richard coach Pete Schoch said in January. "He sets himself up in good spots."
The Irish's switch to a transition-based offense didn't hurt Houle's effort. Father Gabriel Richard averaged 66 points per game during the regular season. His teammate Kamari Davis finished sixth on the list.
Khouri, last year's county scoring champion, played in 14 games and scored 412 points. Milan forward C.J. Turnage came on strong at the end of the season, scoring more than 20 in five of his team's last six games to take the third spot on the list.
| | | | | | | |
| --- | --- | --- | --- | --- | --- | --- |
| Name, School | | Games | | Points | | PPG |
| Jason Houle, Father Gabriel Richard | | 19 | | 412 | | 21.7 |
| Andrew Khouri, Greenhills | | 14 | | 300 | | 21.4 |
| C.J. Turnage, Milan | | 20 | | 381 | | 19.1 |
| Reece Dils, Saline | | 19 | | 319 | | 16.8 |
| Mathias Donat, Washtenaw Christian | | 17 | | 270 | | 15.9 |
| Kamari Davis, Gabriel Richard | | 16 | | 252 | | 15.8 |
| Daquanta Brown, Willow Run | | 20 | | 313 | | 15.7 |
| Jibreel Hussein, Pioneer | | 19 | | 286 | | 15.0 |
| Latin Davis, Milan | | 20 | | 275 | | 13.8 |
| Adrian Harrison, Arbor Preparatory | | 16 | | 213 | | 13.3 |
You the Manti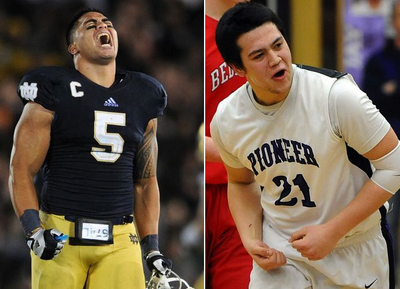 Photos by Melanie Maxwell | AnnArbor.com
Opposing fans found an odd way to try to get in the head of Pioneer forward Ethan Spencer during the latter half of his senior year. Ever since the bizarre circumstances surrounding former Notre Dame linebacker Manti Te'o's personal life came to light in January, student sections often take to chanti "Manti Te'o" at Spencer.
It may be the only time in recorded history that being compared to a college football player less than a month removed from finishing runner-up in the Heisman Trophy voting was considered an insult.
Spencer, who like Te'o is of Hawaiian descent, found the attempted jeers amusing.
"I guess I kind of look like him, so might as well make a joke out of it," Spencer said.
Spencer never found it insulting, though.
"I personally take it as a compliment. He's a good player," he said.
Not surprisingly, Spencer said he never heard those "jeers" during football season.
Ypsilanti back at home
Daniel Brenner | AnnArbor.com
The Skyline bleachers were nearly full Monday night as Ypsilanti faced Pioneer, with student sections chanting and fans leaning over the railings.
It may have been a district quarterfinal, but it had the feeling of a district final. And it's one that wouldn't have happened before this year.
Ypsilanti moved from a district that featured Monroe County and southern Washtenaw County teams to one featuring mostly Ann Arbor teams this year. And while acknowledging the tough competition -- despite its 66-43 win over Pioneer -- Phoenix coach Steve Brooks said it's where his team wants to be.
"This is really the way it should be, anyway, because these schools used to be rivalries from way back," Brooks said. "And so we're glad we're over here, win lose or draw."
Before spending two seasons in a district with Saline, Monroe, Milan, Lincoln and Temperance Bedford, Ypsilanti had to travel east to Wayne County for its district, where it would face the likes of state powers Inkster and Romulus.
Aside from Pinckney, every other team in the Phoenix's new district is in Washtenaw County and plays in the SEC. And the trip was plenty shorter -- Ypsilanti had to travel just over 10 miles
"It's really a district of all the area schools, you're not playing any schools that are 45, 50 miles away," Brooks said. You get great crowds when it's like that, everybody knows one another, they go to churches together and do things together. So we're really glad that we're over here."
Long droughts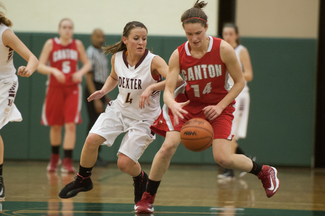 Courtney Sacco | AnnArbor.com
If you're a fan of defense, then Tuesday night's girls semifinal action was for you.
Two Washtenaw County teams managed to hold their opponents without a field goal for stretches of 16 minutes or more while advancing to play in Thursday regional final games.
Dexter gave up only two first-half points to Canton and didn't give up a field goal until 5:57 remained in the third quarter. Chelsea, meanwhile, held Jackson Northwest without a field goal for 16:40, from midway through the first quarter until the first minute of the fourth.
The Dreadnaughts won 26-17, while Chelsea won 31-25.
Both teams accomplished the feats with a similar gameplan: pack the interior, and force your opponent to shoot from the outside.
"We really tried hard to clog up the lane and make their dribble-drives as difficult as possible and force them into some perimeter shots," Dexter coach Mike Bavineau said.
Goodbye to Lamb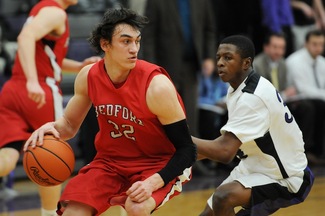 Melanie Maxwell | AnnArbor.com
Temperance Bedford senior forward Jackson Lamb said his goodbyes to the Ann Arbor basketball scene over the past two weeks. And he went out with a bang.
Against Pioneer Feb. 19, Lamb had 33 points and 10 rebounds in a losing effort. Nine days later at Huron, Lamb finished out his SEC career with a 32-point, nine-rebound effort (including 20 points in the first half), helping the Kicking Mules clinch their first-ever league title.
Despite Lamb being the primary reason the SEC Red title didn't go to an Ann Arbor school this year -- Pioneer and Huron finished second and third, going 1-3 against Bedford -- coaches still appreciated his presence.
"Our league has been fortunate to have a kid like that," Huron coach Waleed Samaha said. "He's a first-team dream team player, and we've had the privilege of playing against him for four years. He's special."
But it won't be too long before Lamb is in Ann Arbor full-time: he has signed to play baseball for Michigan.
If the shoe fits, wear it
Washtenaw County didn't just lose one of its best teams in the area on Monday in the opening round of districts, it may have lost its most creatively dressed squad.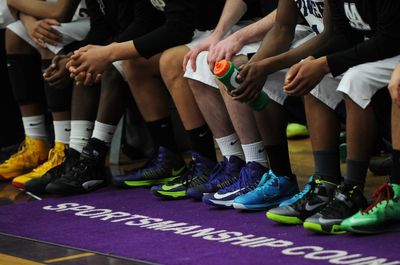 Melanie Maxwell | AnnArbor.com file photo
Ypsilanti defeated Pioneer 66-43
which put an end to the run for the team with by far the most eclectic shoe collection in the area.
While the trend of many teams is to wear matching team shoes, Pioneer's footwear is anything but uniform. Nearly every color in the rainbow could could be found under Pioneer's bench.
"We have a lot of unique personalities on our team so they want to stand out," said Pioneer senior Ethan Spencer of his team's shoes. "Everyone just has their own unique styles. We have a unique team."
- Pete Cunningham contributed to this article
Kyle Austin covers sports for AnnArbor.com.