beat pete:

Huron and Lincoln battle leads off Week 2 of high school football pick 'em contest

Posted on Thu, Aug 30, 2012 : 5:25 a.m.
AnnArbor.com file photo

With school not yet back in session, it's hard to believe that Week 2 of the high school football season is already upon us. But before we get into this week's slate of games, let's take a quick peek back at Week 1.

I was 10-2 in the "Beat Pete" picks, with Saline's 27-14 win over Walled Lake Western and Chelsea's 34-27 loss to Jackson Lumen Christi keeping me from perfection. Zero participants in our online "Beat Pete" contest had a perfect week, but five of you (listed below) were able to "Beat Pete" with an 11-1 record, including Jason Idalski, a former member of the AnnArbor.com sports coverage team.

Congratulations.

Winning the random drawing for fabulous prizes among contest participants was Danny Schumann of Chelsea. Because the person in charge of contests and giveaways at AnnArbor.com is on vacation, what exactly that "fabulous prize" is has yet to be determined.

I'll keep you posted, Danny. Pinky swear.

A reminder that all contest participants are entered in the weekly drawing to win prizes, regardless of their picks record, so be sure to submit your picks online at AnnArbor.com.

Now, onto this week's games.

Because of the Labor Day holiday, there are only three local Friday night games on this week's schedule, with the rest playing on Thursday. In one of the three Friday games, Lincoln (1-0) will travel to Riverbank Stadium to take on Huron (0-1) in a Southeastern Conference cross-division, non-league matchup.

Though the game won't count toward conference standings (SEC conference play begins in Week 3), the game still means a lot for both squads. Starting the season 2-0 would bode well for Lincoln's bid for a second straight playoff berth, while an 0-2 start for Huron could begin rumblings of "same old Huron" among players and fans before class is even in session.

The rabid Lincoln fan base made sure this game would be the game of the week with an influx of voting on the AnnArbor.com online poll, but actually winning the game on the field will be much more hotly contested.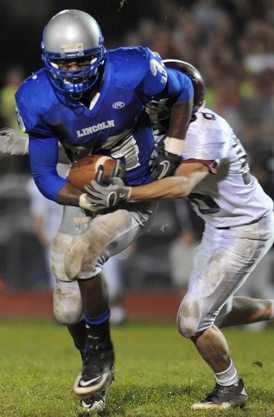 AnnArbor.com fole photo
In order for Lincoln to be successful, coach
Chris Westfall
will need to continue to find new and creative ways to involve 6-foot-2, 200-pound senior wide receiver
Tyree Waller
. The Central Michigan commit scored touchdowns three different ways despite just five offensive touches (kickoff returns) last week.
Two of Waller's touchdowns came by unconventional methods. He caught four balls for 130 yards, but his 87-yard touchdown reception came on a double pass from fellow wide receiver Dalauren Roberson and after dropping the snap on a punt attempt (he's the team's punter), Waller scooped the ball up and ran 50 yards for a touchdown.
"Tyree was flat out amazing," Westfall said, "He's just a physical freak and he's the most coachable, humble kid out there, so it's great to see him have such success."
Despite Waller's heroics, Westfall described the offensive performance as a whole as "sloppy." Against a fast and aggressive Huron defense, the Railsplitters will need to avoid turnovers and pick its spots with Waller to be successful.
The team will, as it did last year, rely on its defense for success. Huron's no offensive juggernaut, but they do have skill players capable of exploding.
"(Demetrius) Sims is a special player and so is (Daniel) Hugan," said Westfall.
Hugan caught three passes for 42 yards and a touchdown and rushed for 89 yards on nine carrries, while Sims caught six passes for 55 yards and a touchdown in a losing effort against Salem last week. Westfall believes limiting those two will be the difference in the game.
"The key for us is keeping their top guys in check," Westfall said.
AnnArbor.com's Game of the Week kicks off this week's "Beat Pete" predictions contest.
Beat Pete Winners
The following people "Beat Pete" last week:
Jason Idalski
Tony Bertoia
Richard Ernst
Jason Anderson
Tony Love

People who have "Beat Pete" so far: 5
Pete's overall picks record: 10-2 (.833); Last week: 10-2 (.833)