Posted on
Fri, May 10, 2013 : 1:10 p.m.
Greenhills girls tennis team wins AnnArbor.com Team of the Week honors
By Pete Cunningham
After nearly 6,000 votes in the past three weeks of voting in the AnnArbor.com Team of the Week polls, we were bound for a down week. The 513 votes garnered in this week's poll is a precipitous drop off from previous weeks of 1,522 and 3,229.
But that's all right, the low vote turnout helped a David beat a few of Goliaths with the Greenhills girls tennis team winning the vote and securing its spot as AnnArbor.com Team of the Week for the week of May 13-18.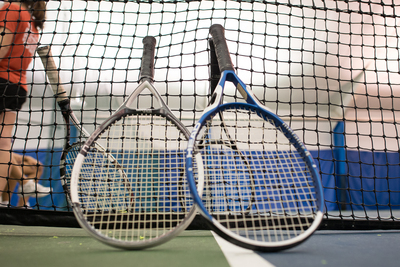 Courtney Sacco | AnnArbor.com file photo
Greenhills garnered 245 of the votes (47.8 percent) with its closest competition coming from the Saline girls lacrosse team with 131 of the votes (25.5 percent). Pioneer girls soccer had 66 votes, Huron baseball 57 and Milan baseball 14. This despite the fact that the student population of Greenhills (328) is considerably smaller than Saline (1,849) Pioneer (1,670), Huron (1,810) and Milan (959) high schools.
The Division 4 Gryphons will take on Division 1 Saline on Tuesday in what should serve as a nice warmup for the postseason, which begins on Thursday when Greenhills will host a Division 4 regional with a berth to the state finals on the line. Greenhills also will play Grosse Ile on Monday, which will be at the regional tournament on Thursday.
The Greenhills regional is traditionally a strong one and last year included three teams that advanced to the state tournament and finished in the top 10 teams in Monroe St. Mary Catholic Central (2nd), Greenhills (3rd) and Ann Arbor Father Gabriel Richard (8th). All three teams will compete in the regional again on Thursday.
As usual, AnnArbor.com will cover Greenhills extensively throughout the week, providing coverage of competitions, feature stories and photos, just like we did for the Lincoln softball team this week.
Next week's Team of the Week poll will be the last one of the spring season. I know, it feels like we just started.
But don't cry because it will soon be over, smile while it's still happening. The new poll opens bright and early on Monday, and will pertain to competition from May 20-25. Stop by then to vote for your favorite team while checking out coverage of the Greenhills girls tennis team and more.