Posted on
Thu, Mar 28, 2013 : 12:20 p.m.
High expectations for Saline baseball and boys track, Pioneer lacrosse
By Kyle Austin
Spring sports got underway earlier this month around the state, and plenty of teams have their eyes on the ultimate prize.
Take a look at the outlooks of three area teams, courtesy of MLive.com's High School Sports Network.
Saline baseball looks to Battle Creek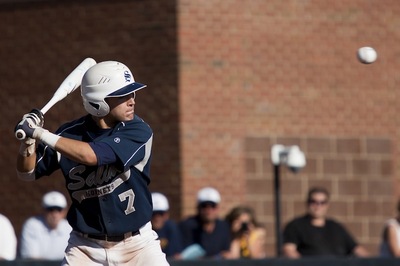 AnnArbor.com file
The Saline baseball team has had a fair amount of success during the past five years, reaching the state finals in 2008, 09 and 10 and the semifinals last season.
However, each year the Hornets have been unable to bring a Division 1 championship back to Saline.
With consistency like that, it's no wonder Saline baseball coach Scott Theisen's expectations are high for the 2013 season.
"No different than any other year," said Theisen, in his 21st year at Saline. "We want to be a contender in our conference and be playing our best baseball near the end of the season and keep playing as long as we possibly can at that time."
Senior second baseman Andrew White said a close 4-3 loss to eventual state champ Hudsonville in the semifinals last year motivated the team for a deep run this season.
"It's something to work for," he said. "The feeling of coming a little short like that and knowing we could have easily won the state championship; it gives us a lot of motivation.
"We have the team to do it if we get hot at the right time and stay together."
Saline boys track replacing strong senior class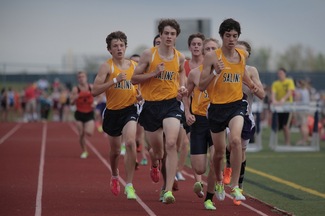 AnnArbor.com file
Despite making history at last year's Division 1 state meet, the Saline boys track team fell short of its ultimate goal: a state title.
The Hornets scored 42 points, the most in school history, and placed third at the finals. In 2006, Saline won a D-1 state title with 39.5 points.
A group of highly-touted seniors, including Steven Bastien, helped Saline place third last season. Bastien, Michigan's Mr. Track and Field last year, set Saline's school record in the long jump at 24-feet-0.25 and the pole vault at 15. Bastien now competes for Birmingham, Alabama's Samford University.
"It was a very talented senior class, and six of them are running at the collegiate level this season," Saline coach Allan Leslie said. "From their freshmen year on, they were really impressive.
"When they were sophomores, we brought them to a JV meet and thought, 'This is our varsity lineup.' They tore it up, and we knew that we had something special."
While Bastien and the other seniors have left the program, Leslie said the expectations for the Saline program remain the same, as the Hornets have claimed five SEC championships, three regional titles and five appearances in the state meet since 2007.
"We have 164 boys on the roster, and we are constantly rebuilding talent," Leslie said. "We graduate a lot of talent, but our expectations have not changed. We expect to be district champions, we expect to be regional champions and we expect to compete at the state meet."
Pioneer boys lacrosse has new coach
AnnArbor.com file
After graduating many starters and welcoming a new coach, the Ann Arbor Pioneer boys lacrosse team looks a bit different this season, but the goal remains the same: get back to the state finals.
Smith Atwood, a Michigan State University 2nd-Team All-American goalie (2011), returned to his alma mater to coach the Pioneers with big hopes.
"Our expectations are as high as they are every year," said Atwood, who was 1st-Team All-State as a Pioneer senior. "We want to be the best public school program in the state."
Pioneer entered the Division 1 state championship game with a 21-0 record, but fell to eight-time defending champ Bloomfield Hills Brother Rice.
Returning starters and defenders Bryan Matney and Ryan Huffnagle as well as midfielder Peter Burke are the core of the team and hope to support the less-experienced offense.
"Our defense is unbelievable," Burke said. "They are the foundation of our team. We don't have to worry about the other teams at all because our defense has got it locked up."
Kyle Austin covers sports for AnnArbor.com.