Posted on
Fri, Sep 6, 2013 : 9:47 p.m.
Lincoln improves to 2-0, Chelsea falls to 0-2 and more Friday football
By Pete Cunningham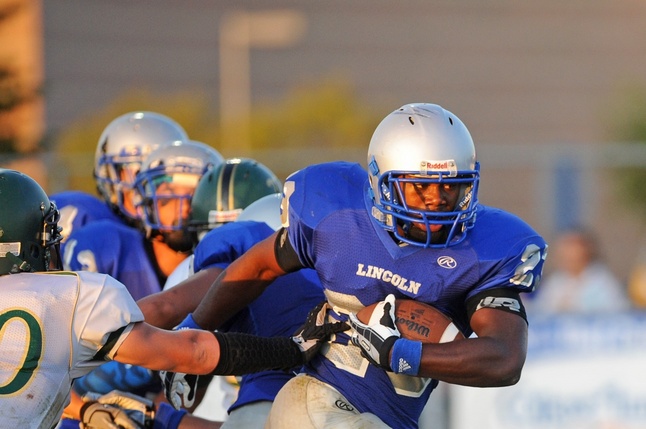 Brianne Bowen | AnnArbor.com
This file will be updated throughout the night.
Washtenaw County Scoreboard:
Pioneer 39, Dearborn Edsel Ford 13
Story | Boxscore
Ann Arbor Pioneer's Tyson Montgomery ran for 162 yards on 23 carries to lead his team to a 39-13 victory over host Dearborn Edsel Ford on Friday.
"I just have to keep giving credit to the offensive line," Pioneer coach Jari Brown said. "The reason we had so much success was because they did so well on the line, enabling the offense, opening up holes and just keeping the defense at bay."
Quarterback Brandon Bertoia was 7 for 10 for 81 yards, delivering a 4-yard touchdown pass to DeVaughn Brown, and an 11-yard touchdown pass to Elliot Deeds. Montgomery and Malik Fuller each added a touchdown.
Skyline 28, Dexter 3
Story | Boxscore
Skyline quarterback Askaree Crawford completed 7 of 12 passes for 187 yards and two touchdowns. Kornelius Saxton caught five of those receptions for 142 yards and one touchdown. Nick Durand grabbed a 37-yard touchdown pass as well.
Terry Jackson led Skyline on the ground with 77 yards on five carries and one TD, while Crawford added 52 yards on nine carries.
For the second straight week Skyline set a new program-low for points allowed in a game.
Lincoln 46, Huron 14
Story | Boxscore | Photo Gallery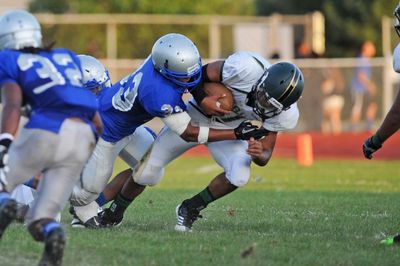 Brianne Bowen | AnnArbor.com
The Ypsilanti Lincoln football team defeated visiting Ann Arbor Huron 46-14 Friday after jumping to a 28-7 halftime lead.
"We didn't play well offensively, defensively, or on special teams," Huron coach Craig Jobe said. "We're going to have to make some corrections and watch the film. We've had a couple of guys sick or with injuries. We just got to keep practicing."
Huron's Josh Jackson completed 12 of 19 passes for 169 yards with two touchdowns and one interception.
Lincoln stats not available.
Milan 48, Riverview 28
Story | Boxscore
Milan's Trace Lindeman rushed 22 times for 194 yards and two touchdowns to help the Big Reds to a win in its Huron League opener. Robert Kanitz was 8 of 12 for 140 yards and a TD, and Shawn Beaton rushed two times for five yards and two scores.
Milan jumped out to a 20-0 first quarter lead, but gave up 20 points in the second quarter.
"We jumped on them early, but we got weary, and they tired us down," Milan coach Jesse Hoskins said. "We made some halftime adjustments and changed some alignments on defense and used some of our zone pressures."
Max Blackburn led Milan with 12 tackles, and Nick Scully had an interception.
Manchester 41, Napoleon 6
Story | Boxscore
The Manchester football team outscored host Napoleon 28-0 in the first quarter and won 41-6 on Friday. Napoleon's Jack Hatt rushed 24 times for 121 yards.
"The defense was trying to get stops, because last week we didn't get the stops," Manchester coach Wes Gall said. "We told them before the game that we wanted to force punts, and we just also happened to get turnovers."
Manchester is now 1-0 in Cascades Conference play.
Belleville 17, Chelsea 14
Boxscore
AnnArbor.com Game of the Week coverage:
Saline 37, Ypsilanti 29
Story | Boxscore | Photo Gallery | Daouda Sylla: Mr. Everything for Ypsilanti Community football team