Posted on
Fri, Sep 6, 2013 : 9:47 p.m.
Saline scores early, holds off Ypsilanti in 37-29 home win
By Kyle Austin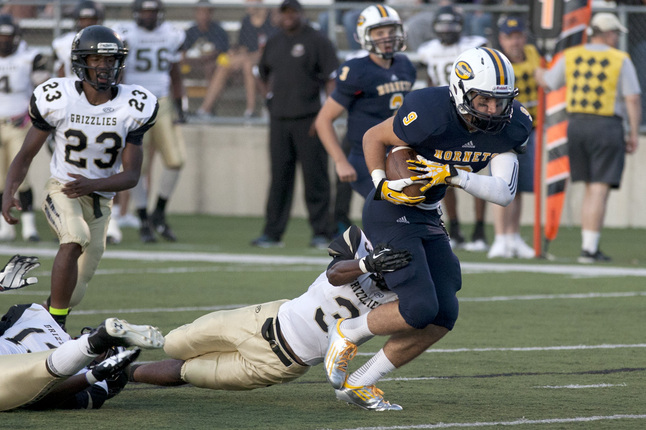 Patrick Record | AnnArbor.com
Updated at 12:15 a.m.
With his team up by 30 points late against Ypsilanti, Saline coach Joe Palka turned to one of his assistant coaches with what would be a prophetic statement.
"This is the toughest thing to manage, right now, these situations," Palka said.
He then watched as Ypsilanti scored three fourth-quarter touchdowns and nearly completed an improbable comeback, before Saline held on for a 37-29 win Friday night at Hornets Stadium.
More Coverage: Boxscore | Photo Gallery | Football roundup
After the Hornets (2-0) put in mostly backups, the Grizzlies (0-2) and sophomore quarterback Marquis Smith went on scoring drives of 81, 79 and 75 yards.
Their final touchdown came with 28 seconds left, but an onside kick attempt failed and Saline was able to run out the clock.
"I've been on the other end of these where teams have come back and we've lost," Palka said. "It's a reflection of kind of where we're at in our program that we kind of hang on and find ways to win. It wasn't pretty."
Saline moved to 2-0 on the year ahead of a Week 3 matchup against Chelsea, while Ypsilanti is still looking for its first win as a combined program.
"Each week is a new challenge, but we can't hang our hats on this just because we only lost by seven," YCS coach Rufus Pipkins said. "That's not going to get us anywhere."
Saline got off to a quick start, scoring 62 seconds into the game on a 13-yard Griffin Wooley run. The play was set up by a 75-yard opening kickoff return by the Hornets' Nader El-Awar.
El-Awar struck again in the same quarter, when Saline's Travis Brown connected with him on a 19-yard touchdown pass. Guarded closely, El-Awar managed to get one foot down just inside the sideline in the end zone for the score.
"He's just a spark plug to this offense," said Saline senior defensive lineman Dominic DiMelis, who led the Hornets with 12 tackles.
Two drives later, the Hornets seemed poised to go up three scores as they drove inside the Ypsilanti 40-yard-line.
But a devastating hit by the Grizzlies' Daouda Sylla forced a fumble that Ypsilanti recovered. Three plays later, Sylla caught a short pass and scampered 54 yards to the end zone, bowling over a Hornet on the way. He then kicked the extra point to make it a one-score game.
"We've been practicing hard, we gotta come out and make plays," Sylla said.
Another long kick return, this one 55 yards by Saline's Tyrone Miller, set up a three-play Saline scoring drive. The Hornets tacked on a field goal to go up 24-7 at halftime.
Sylla's hit knocked Brown out of the game, and the junior didn't return. Trent Theisen, who had been splitting time with Brown, finished the game, going 9-for-14 for 100 yards.
Wooley, the Hornets' top back after a Week 1 injury to Kevin Gross, ran 14 times for 106 yards and two touchdowns.
The Grizzlies also used two quarterbacks, with senior Mike Caldwell finishing 7-for-12 for 173 yards, while Smith, a sophomore, was 8-for-11 for 75 yards. Smith also ran for 86 yards. Sylla finished with 135 receiving yards and two scores.
On their first drive of the second half, Saline went 54 yards in five plays for a touchdown, capped off by Wooley's third touchdown run of the game.
Ypsilanti returned the ensuing kickoff to the 25-yard-line. But on the first play from scrimmage, the Hornets' Stephen Slattery sacked Smith, forced a fumble and recovered it in the end zone for a defensive touchdown.
The Grizzlies put together their best drive of the day on the ensuing possession, going 81 yards for a touchdown. Caldwell threw for 60 yards on the drive, and Smith finished it off with a seven-yard touchdown run.
The trio of Smith, Caldwell and Sylla did most of the Grizzlies' heavy lifting, and caused plenty of fourth-quarter headaches for Saline.
"When you've got athletes that can run, and they kind of get into that sandlot football routine, it is hard to defend," Palka said.
Smith added another touchdown with six minutes left in the game, after a drive in which he carried or threw the ball on every play of a 75-yard drive.
The Grizzlies added one last score, when Sylla caught a 19-yard touchdown pass from Smith with 28 seconds left.
Saline moves on to play Chelsea next week, while Ypsilanti will play Huron.
Chelsea is 0-2 for the second straight season after a 17-14 loss to Belleville on Friday, but Palka said he expects the Bulldogs to be a better team than their record indicates.
"We've already seen a little bit of them on tape," Palka said. "I'm impressed with their quarterback, I'm impressed with their linebackers, they've got a tall, good receiver and I think they can do some things that will give us problems with athletes out in space."
Kyle Austin covers sports for AnnArbor.com.