Posted on
Mon, Feb 25, 2013 : 11 p.m.
Huron begins bid to return to Breslin with 65-43 win over Ypsilanti in district opener
By Kyle Austin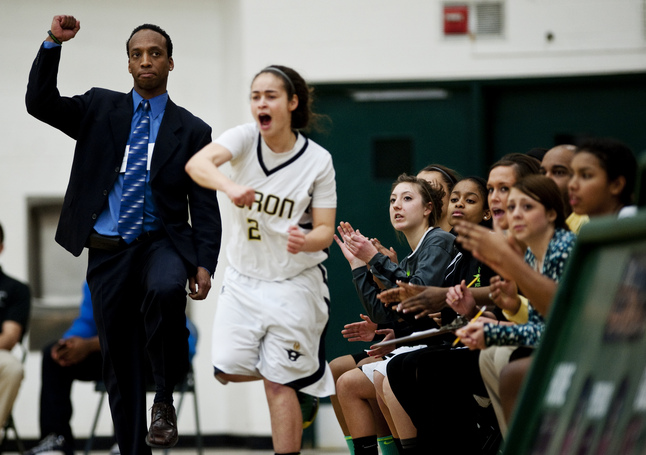 Daniel Brenner | AnnArbor.com
The Huron High School girls basketball team made the state semifinals for the first time in school history last year.
After finishing the regular season with 12 wins in its final 13 games, the River Rats looked like a team determined to head back to East Lansing its playoff opener.
The River Rats led Ypsilanti by 30 after three quarters before finishing with a 65-43 win Monday at home in a district quarterfinal game.
More Coverage: Boxscore | Photo Gallery | District Bracket | Playoff roundup
Using its usual tough defense and a balanced scoring effort, Huron easily dispatched an Ypsilanti team that went 13-7 in the regular season and finished third in the SEC White.
"I think this shows the team that we can actually do something, that we're a good team together and if we continue to work this hard we can go farther," Huron sophomore Payton Sims said.
The River Rats advance to play Pioneer on Wednesday (6 p.m.) at home in a district semifinal matchup. Huron swept the regular season series between the two teams.
Leading 9-5 late in the first quarter, Huron went on a 10-0 run and eventually led 24-8. Sims hit a pair of 3-pointers early -- she finished with four for the day -- to help Huron out to its early lead.
"We talked about that, trying to put Ypsilanti in an early hole and see how they would respond to that," said Huron coach Steve Vinson. "Payton started out with a couple of early 3's, so that got us going a little bit early, but then it was defense."
The Phoenix cut its deficit to 10 late in the second, but the River Rats went on another 10-0 run early in the third that put the game away. Huron forward Micah Robinson had 15 of her 16 points after halftime.
"In the second half, I think Micah really started to take over, got to the rim, finished," Vinson said. "So she played like she's capable of playing in the second half."
Huron (16-5) had four players in double figures, led by Robinson's 16 and Sims' 12. Auzhane King and Ariel Bethea each added 10.
Ypsilanti (13-8) came into the game having won seven of 10 down the stretch, but didn't make its early buckets and found itself in a hole.
"We didn't come to play," Ypsilanti coach Chris Slater said. "It's districts, win or go home. You should have scratches on your face, burns on your knees. We didn't do that."
Jasmine Jones and Jadah Anderson each had eight to lead Ypsilanti.
After Ypsilanti hung with the River Rats through the opening minutes, Phoenix forward Cara Easley, who stands at 6-foot, picked up her second foul and had to sit the rest of the half.
Easley leads Ypsilanti in rebounding and is key in the team's fast-break game.
"I would say it was huge," Slater said of having to sit Easley.
Huron also had personnel issues, with two of its regular players, Kamala Glenn and Alexis Garner, out for the game. Both are expected back Wednesday. Huron is also without seniors Bianca Williams and Sara Golidy, who were regular contributors during the season but are no longer with the team for undisclosed reasons.
In their place, a pair of freshman JV callups saw their first varsity action. Mia Long finished with a pair of steals and four points, while Cheah Whitsitt had one point.
"They both did pretty well today," Vinson said. "Mia did a great job defensively, she got a couple of steals and got some transition layups. I think that gave her some confidence. So we had some young kids step up that really helped us on the defensive end."
Kyle Austin covers sports for AnnArbor.com. He can be reached at kyleaustin@annarbor.com or 734-623-2535. Follow him on Twitter @KAustin_AA.