Posted on
Tue, Feb 5, 2013 : 9:11 p.m.
Huron beats Dexter and more Tuesday night boys basketball results
By Pete Cunningham
The story will be updated throughout the night.
AnnArbor.com Washtenaw County Scoreboard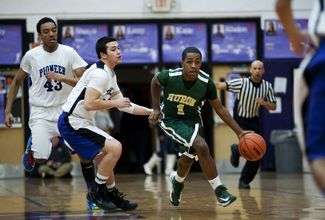 Daniel Brenner | AnnArbor.com file photo
Huron 55, Dexter 44
Story | Boxscore
Huron led 21-10 at the end of the first quarter as Antonio Henry scored 16 points, and Xavier Cochran had 10.
Derek Seidl led Dexter with nine, and Brandon Bednarz and Andy McWilliams scored eight.
Dexter (6-7, 3-3 SEC White) was able to cut the lead to 38-34 with 1:30 left in the third before Huron (7-5, 5-2 SEC Red) went on an 8-0 run.
"We turned the ball over and they scored off them," Dexter coach Randy Swoverland said. "Henry is a quick guard that penetrated and got to the basket on dribble drives. He was solid all night."
Skyline 74, Chelsea 44
Story | Boxscore
Skyline's Peter Bakker-Arkema finished with 20 points and five rebounds, and made the first six 3-pointers that he shot.
"He was in a real nice rhythm and had no hesitation," Skyline coach Mike Lovelace said.
Isaac Lockhart scored 12 points and Sharath Anand added 11 for Skyline (6-7, 3-3 SEC Red), which led 19-4 after the first quarter.
Luke Hollandsworth led Chelsea (3-10, 2-5 SEC White) with 10 points.
"We wanted to focus on keeping the ball out of the lane on the dribble pen, but that left some shooters open and they got some threes in transition," Chelsea coach Rourke Skelton said.
Saline 62, Lincoln 40
Story | Boxscore
Reece Dils scored a game-high 22 points as Saline took the Southeastern Conference crossover. Max Recknagel added 15 points for Saline (8-6, 2-5 SEC Red).
Leading 15-12 after the first quarter, Saline stretched its lead to 32-23 at halftime. Saline put the game away in the second half, outscoring Lincoln 30-17.
Devin Haygood led Lincoln (6-8, 3-4 SEC White) with 11 points.
Milan 59, New Boston Huron 53
Story | Boxscore
Milan's C.J. Turnage had 16 points as the Big Reds outscored New Boston Huron 20-8 in the second quarter.
"The key to the game was the second quarter," Milan coach Josh Tropea said. "Outside of that, they outplayed us tonight."
Stephen Evans and Nick Perkins had 15 and 14 points, respectively. Perkins also had 10 rebounds and five blocks for Milan (13-1, 9-0 Huron League).
Father Gabriel Richard 63, Madison Heights Bishop Foley 53
Story | Boxscore
Jason Houle had a double-double with 21 points and 10 rebounds as Father Gabriel Richard pulled out the win. Ashton Hundley scored 13 points, and Kamari Davis finished with 10 for Gabriel Richard.
Trailing 14-11 at the end of the first quarter, Gabriel Richard (6-8, 4-3 Catholic League AA) had a 14-9 scoring edge in the second to take a two-point lead into halftime. Gabriel Richard extended its lead to 47-38 after the third, and held on in the fourth.
Michigan Center 83, Manchester 60
Story | Boxscore
Michigan Center put up 30 points in the final quarter to pull away. Jordan Heuser led Manchester (1-14, 1-8 Cascades) with 14 points and Matt Kemner added 12 for the Dutchmen.
Adrian Madison 59, Whitmore Lake 47
Details Not Available
Willow Run 61, Romulus Summit Academy 59
Story | Boxscore
Daquanta Brown led Willow Run with 25 points, and Anthony Davis scored 12, as the Flyers outscored Romulus Summit Academy 11-9 in overtime.
"We tried to extend their zone in overtime to make them come out, guard up and score that way," Willow Run coach Tim Cain said. "We had our lead with two minutes to go and held it. We we're going to give them anything until they came out and guarded us."
Willow Run (6-8, 3-1 Metro Conference) was up 50-46 with 30 seconds left in regulation when Romulus Summit Academy forced overtime.
Greenhills 62, Taylor Baptist Park 57
Story | Boxscore
Senior Andrew Khouri scored his 1,000th point on a layup in the fourth quarter -- and finished with a game-high 28 points -- to lead Greenhills to at least a share of the Michigan Independent Athletic Conference title, at 11-0 in the league and 12-1 overall.
"We got out in transition more, and we were able to get out in the open and run," Greenhills coach Andrew Wright said. "The guys really pushed the ball in the fourth. They all battled back after Park's hot streak in the third quarter."
Central Academy 64, Arbor Prep 52
Details Not Available
Grass Lake 64, Rudolf Steiner 40
Story | Boxscore
Grass Lake outscored Rudolf Steiner (9-7, 5-1 Mid-South) 14-4 in the second quarter to pull away. Steven Molitor scored 13 points to lead Rudolf Steiner, and Koji Vroom chipped in 10.
Washtenaw Christian 69, Detroit Henry Ford 64
Story | Boxscore
Lutheran Westland 55, Calvary Christian 30
Story | Boxscore
P.J. Guse and Nick Andrzejewski scored 12 and 11 points, respectively, to lead Lutheran Westland, while Johnny Bryant led Calvary Christian (1-13) with eight points.
AnnArbor.com Coverage
Pioneer 64, Ypsilanti 55
Story | Boxscore
Game of the Week
Voting is open until noon Saturday in this week's Game of the Week poll.