Posted on
Tue, Feb 5, 2013 : 10:35 p.m.
Pioneer beats Ypsilanti 64-55 in battle of Washtenaw County's top teams
By Rich Rezler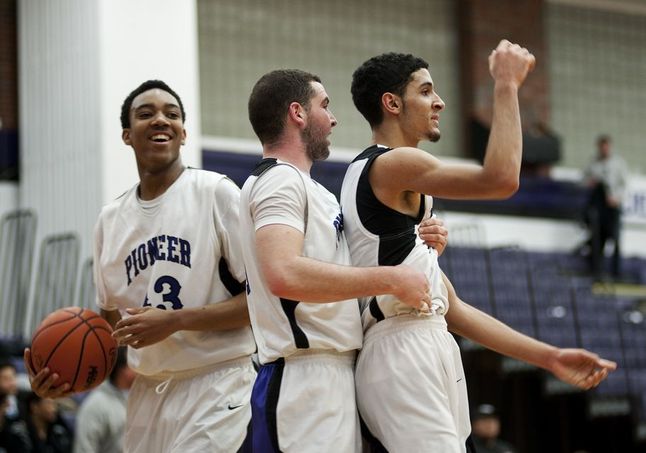 Daniel Brenner I AnnArbor.com file photo
In the short turnaround time between the Pioneer High School basketball team's
Friday night win against Saline
and its Tuesday night game at Ypsilanti, leading scorer Jibreel Hussein worked on his post moves.
Pioneer coach Rex Stanczak assumed a smaller perimeter player would be responsible for checking Hussein when the Phoenix unleashed their in-your-face, man-to-man defense in the game between the top two teams in the AnnArbor.com power rankings.
Instead, Ypsilanti coach Steve Brooks turned to lanky 6-foot-9 junior Jaylen Johnson to slow down Hussein, who averages 16.8 points per game. The strategy worked perfectly for nearly three full quarters.
But it was Hussein who turned a closely-contested game in Pioneer's favor with three 3-point baskets in the final 129 seconds of the third quarter. His last, which swished through the net at the third quarter buzzer, gave the Pioneers a 41-31 lead - the first double-digit advantage for either team.
"I started feeling hot and the rim just seemed so big to me," said Hussein, who was 2-of-8 from the floor before his scoring burst. "I just had to let them go."
Hussein finished with a game-high 17 points in a 64-55 Southeastern Conference crossover win that kept the Pioneers (11-3, 6-1 SEC Red) within a game of Temperance Bedford in the Red Division standings. Ypsilanti (10-4, 6-1 SEC White) maintains sole possession of the SEC White.
More coverage: Boxscore | Tuesday boys basketball roundup
After the post-up offense failed to materialize against the bigger Johnson, Stanczak said he threw his offensive playbook out the window to get his leading scorer some scoring opportunities.
"We finally said, if Johnson is going to guard him we're going to spread the floor and let Jibreel try to create," he said. "We didn't really run our normal stuff at all."
Brooks said there wasn't much any defender could have done against Hussein during his game-changing stretch.
"Our bigs, Jaylen Johnson and LaVonte Davis go against guards every day so they have the lateral movement that's necessary," Brooks said. "Hussein hit some good looks. Two or three of them, he had a 6-9 guy's hand in his face ..."
With that, Brooks shrugged his shoulders.
Pioneer senior Cal Kirchen scored 11 of his 14 points in the fourth quarter to help protect the lead that Hussein's outburst provided. Kirchen, Hussein and Trey Wallace combined to make 8 of 11 free throws while Ypsilanti attempted to get back into the game with furious full-court pressure.
Aeden York added 10 points and Tevis Robinson nine for the Pioneers.
Both teams played the game without their injured starting point guards. Pioneer's Duane Simpson-Redmond tried to run on an injured ankle but left the game just minutes into the first quarter. Wallace replaced him in the rotation and scored seven points.
Sophomore Avery Williams stepped in for Ypsilanti's injured Janeau Joubert and scored 14 points in his first extended playing time of the season. Davis added 14 points and Johnson 13 for the Phoenix. Johnson also pulled down a game-high 15 rebounds.
Ypsilanti's starting wing Jacob Simmons also left the game with an ankle injury after scoring four points.
"With what we had, I'm real satisfied," said Brooks, whose team was playing its third game in five days. "As long as they fought, that's all you can ask for as a coach."
Both teams play cross-town rivalry games on Friday night. Pioneer plays at Huron while Ypsilanti travels to Lincoln.
Rich Rezler is a freelance journalist for AnnArbor.com.