Posted on
Mon, Feb 27, 2012 : 9:42 p.m.
Huron girls survive scare from Pioneer in district opener, Skyline eliminated
By Matt Durr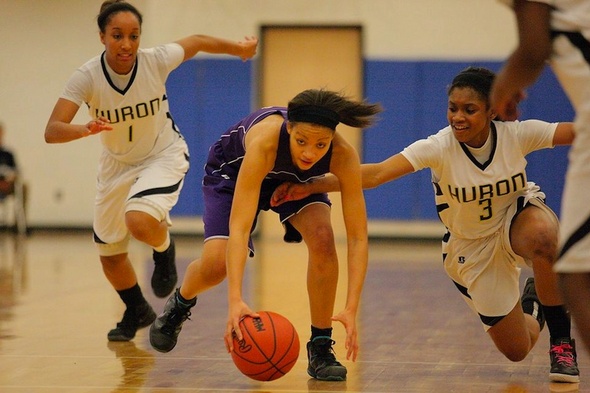 Chris Asadian | AnnArbor.com
The Huron High School girls basketball team had its way with Pioneer in both of the teams' regular season games this year, winning by 27 and 19 points.
But Monday's Class A district opener between the rivals at Skyline High School was no cakewalk for the River Rats, who held a slight 29-28 lead entering the fourth quarter.
Huron got its act together late, outscoring Pioneer 19-10 in the fourth quarter to secure a 48-38 win.
"I don't think we played that well," said Huron coach Steve Vinson. "Some of these kids have never been in this situation. Pioneer came out very gamed, they played hard, they had nothing to lose."
More coverage: Boxscore at MLive.com | Photo Gallery | District bracket | Playoff Roundup
After jumping out to a 7-2 lead just three minutes into the game, Huron started to struggle offensively with numerous turnovers and poor shot selection. Leading 17-10 after the first quarter, Huron manage just 12 points combined in the second and third, allowing Pioneer to claw back into the game.
"The girls played hard and we kind of played out of norm, and it was a good thing tonight," said Pioneer coach Crystal Westfield. "If you're going to lose and that's the end of your season, that's the way you have to play the game. I think that we had them on edge."
Pioneer (10-11) kept chipping away at the lead despite missing its best player, Janese Honeycutt, who had three fouls in the first half. Without Honeycutt in the lineup, Pioneer got a spark from Desiree Cougill. The junior pulled down eight rebounds (six offensive) and scored four points off the bench.
" (Cougill)'s improved so much, tonight was the first night we saw her get tough," said Westfield. "She grabbed a lot of rebounds, tied up some loose balls. She came out and was all over the boards."
Huron would enter the half with a 23-19 lead, thanks to Devin Talley's eight first half points. Talley would finish the game with a team-high 11 points.
Pioneer opened the second half on a 5-0 run to take a 24-23 lead, led by Jenny Fichera who finished with a game-high 12 points and nine rebounds.
"In the second half we just didn't play that smart, which is unfortunate for a relatively experienced team," Vinson said. "They were clogging up the lane a little bit, but it's the same defense we've seen from them before. We just weren't being patient."
Huron (16-5) started the fourth quarter on an 8-0 run, but Pioneer responded with a 7-0 run of its own to make it a 37-35 game with 3:23 remaining.
Huron put the game away by forcing turnovers and making free throws down the stretch.
Huron advances to play Dexter (17-3) in Wednesday's early semifinal at Skyline at 5:30 p.m.
"We gotta take better care of the basketball; we have to rebound the basketball better," Vinson said. "And I don't think we were making them work on the defensive end."
Kensington Lakes Activities Association rivals Brighton and Pinckney will face each other in the 8 p.m. semifinal after Brighton ended Skyline's season with with a 58-42 win on Monday. (Boxscore)
Skyline (3-18) was led by Janae Sims, who had 12 points. Laura Taylor of Brighton (15-5) led all scorers with 15 points.
Contact Matt Durr at mattdurr@annarbor.com.