Posted on
Fri, Nov 30, 2012 : 5:45 a.m.
Huron-Pioneer brawl one of three recent on-field incidents in Michigan to result in criminal charges
By Kyle Austin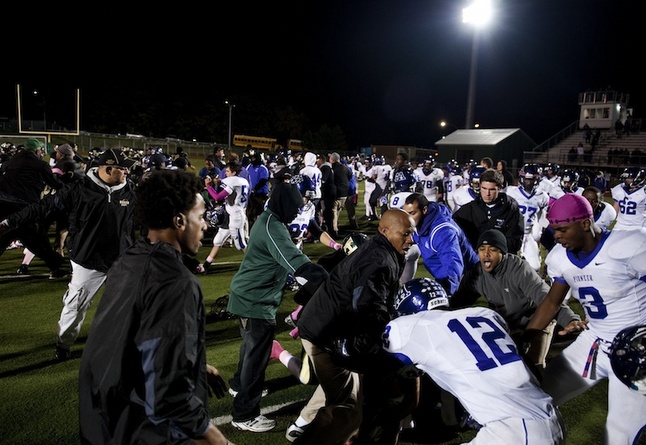 Daniel Brenner | AnnArbor.com
The Huron-Pioneer brawl is one of at least three violent incidents on Michigan high school football fields over the span of a year that resulted in felony charges, and all three involved escalating tensions over end-of-game plays.
Former Pioneer player Bashir Garain was arraigned this week on four assault charges, two felony charges of assault with a dangerous weapon and and two misdemeanor charges of assault and battery, for his role in the Oct. 12 brawl. Police say Garain used a crutch to attack two people during the melee. He has pleaded not guilty and is scheduled for a preliminary hearing next week.
Washtenaw County chief deputy assistant prosecutor Steve Hiller said he could not immediately remember any cases from Washtenaw County where an athlete was charged with a crime that occurred during an athletic contest.
But across Michigan, the 2011 and 2012 football seasons contained an unusual number of occurrences of charges stemming from on-field violence.
Four Dearborn Heights Star Academy players faced felony assault charges earlier this year after an incident during the 2011 season, where they reportedly tackled an opposing quarterback before he attempted to kneel at the end of a game.
The charges were eventually dismissed amidst allegations that the accused were being discriminated against based on their race.
The other incident came earlier this year, when a 16-year-old West Bloomfield player was arrested and charged with felony assault and battery after punching a 67-year-old assistant coach on an opposing team.
The punch occurred after tensions escalated following a West Bloomfield onside kick late in a game against Rochester Hills Stoney Creek was in hand. West Bloomfield is coached by former Michigan wide receiver Ron Bellamy.
On-field incidents resulting in criminal charges are not tracked by the Michigan High School Athletic Association, but spokesman John Johnson said having three in the span of one year is abnormal.
"To have three cases in football this year is very unusual," said Johnson, who could not recall any such incident before 2011.
All three occurred late in games or immediately after games that were one-sided. Area coaches and administrators said after the Huron-Pioneer brawl said that no protocol exists for late-game situations.
Kyle Austin covers sports for AnnArbor.com. He can be reached at kyleaustin@annarbor.com or 734-623-2535. Follow him on Twitter @KAustin_AA.