Posted on
Sat, Oct 13, 2012 : 6:50 p.m.
Huron, Pioneer football teams may be subject to disciplinary measures following fight
By Matt Durr
As Ann Arbor police and administrators at Huron and Pioneer High Schools comb through video tape of Friday night's brawl that sent one Huron player to the hospital, questions are being raised about what sort of disciplinary action may be taken by schools or the Michigan High School Athletic Association.
John Johnson, communications director for the MHSAA, said the first step in the process is to review the referee's report of the game, which can include ejections of players and coaches.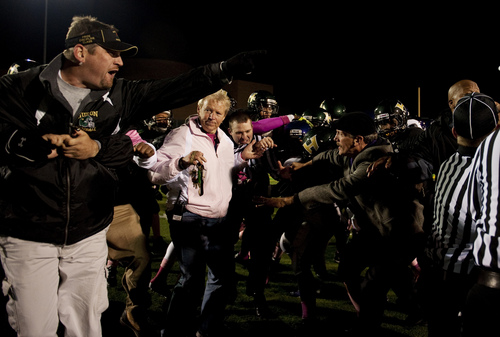 Daniel Brenner I AnnArbor.com
Johnson said that even though the game was over, the referees still held jurisdiction on the field and could eject members of both teams if necessary. If their report contains any ejections, those players or coaches would be ineligible for their team's next contest.
"Incidents like this are very few and far between. There are nearly 900 football games played a week in the state of Michigan, but having just one sportsmanship breakdown is too many," Johnson told AnnArbor.com on Saturday.
Once the referee's report is reviewed, it is up to the schools to determine if any further disciplinary action is needed.
Both Huron Athletic Director Dottie Davis and Pioneer AD Eve Claar said they are reviewing all the tapes to determine what happened and who was responsible before making any sort of decision on disciplinary action.
"This just takes time," Davis said.
"It's not uncommon for schools to review the referee's report and take further action," Johnson said.
According to the guidelines of the MHSAA coaches' guidebook, coaches are the official representatives of the school at interscholastic athletic activities. They are also expected to practice certain standards, such as:
"Develop, communicate and model policies for athletes' conduct and language in the locker room, at practice, during travel, during competition, and at other appropriate times.
"Give the highest degree of attention to athletes' physical well-being.
"Present a clean and professional image in terms of personal appearance, and provide a positive role model in terms of personal habits, language and conduct.
The guidebook also states that athletes are to:
"Demonstrate respect for opponents and officials, before, during and after contests."
As far as any potential punishment from the MHSAA is concerned, the guidebook states:
"When a contest is interrupted or it ends prematurely because of breakdown of proper sportsmanship and whether or not the on-site officials forfeit the contest to one team, one or both schools may be subjected to any or all, but not limited to, the following: censure, probation with competition, probation without competition, forfeiture, loss of privilege of revenue sharing, expulsion. In addition, it may be required of one or both schools that their coaches and administrators appear before the Executive Committee to indicate why additional action should not be taken."
Any possible suspensions or forfeiture of games could have a huge impact on Pioneer's chance of making the state playoffs. With Friday night's 35-6 win, Pioneer is now 5-3 on the season and a victory in the next game would guarantee it a spot in the playoffs.
Pioneer's next game is against Livonia Franklin (2-6), while Huron is set to play Westland John Glenn. Both games are scheduled for Oct. 20.
Regardless of the punishments handed out by the state athletic officials, Ann Arbor Public Schools officials say the situation will be handled with proper care.
"This is a really appalling situation," said Liz Margolis, spokeswoman for the AAPS. "This is not how a coaching staff should lead student athletes. We'll be taking appropriate action with students and staff."