Posted on
Thu, Feb 21, 2013 : 11:01 p.m.
Huron tops Monroe to set up first-place Bedford showdown and more Thursday results
By Kyle Austin
This file will be updated
AnnArbor.com Washtenaw County Scoreboard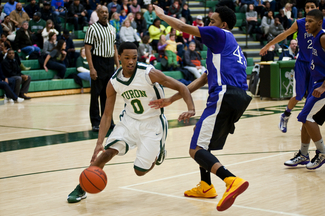 Boys Baskeball
Huron 56, Monroe 32
Story | Boxscore
Demetrius Sims scored 12 points and grabbed a game-high 14 rebounds to lead Huron (13-5, 9-2 SEC Red) on senior night, and teammate Chris Mosely added 11 points.
"We were able to turn up the defensive pressure in the second quarter, and then converted easy buckets," Huron coach Waleed Samaha said. "The energy was really good. We understood that if didn't win this game, our next game wouldn't matter."
Huron will play Temperance Bedford for a shot at a share of the Southeastern Conference Red title Tuesday. If Huron wins, it will be the fourth consecutive division title for the program.
Ypsilanti 64, Tecumseh 26
Story | Boxscore
Janeau Joubert had a game-high 20 points, including four 3-pointers, as Ypsilanti outscored Tecumseh 30-2 in the third quarter to put the game away.
Corey Allen finished with 18 points, 12 of which came in the third, in addition to seven assists. Lavonte Davis added 12 points, seven rebounds, and three blocks, while Jaylen Johnson led the team in rebounds with eight.
Ypsilanti recently clinched its fourth consecutive SEC White title, at 10-1 in the league and 14-4 overall.
Adrian 58, Chelsea 57
Story | Boxscore
With 10 seconds remaining and possession of the ball, Adrian ran a set and found an open shooter in the corner who hit the game-winning 3-pointer with 3.5 seconds remaining.
Chelsea's (3-15, 2-9 SEC White) Luke Hollandsworth scored a team-high 17 points, and Logan Brown added 13.
"We shut down their first couple of looks, and they like to penetrate and kick," Chelsea coach Rourke Skelton said. "We picked up our defense in the third and caused problems. They picked it up in fourth, and we're not composed enough to execute it well. We have to get our own looks and make sure it's what we want rather what they're given us.
Westland Huron Valley Lutheran 46, Ypsilanti Calvary Christian 17
Story | Boxscore
Westland Huron Valley Lutheran outscored Calvary Christian (1-16) 30-6 in the first half, while Ryan Schafer scored a game-high 18 points.
Calvary Christian's David Walker scored five points, and the Cougars host Macomb Christian on Friday to finish their regular season.
Girls Basketball
Manchester 54, Grass Lake 38
Story | Boxscore
Manchester ended its season in exciting fashion, outscoring Grass Lake 31-17 in the first half and winning the Cascades Conference by posting a 14-0 record.
"Tonight was our exclamation point to our season," Manchester coach Cori Kastel said.
Manchester (19-1) grabbed 40 rebounds, 18 on the offensive end, and took advantage of Grass Lake's slow defense. McKenna Erkfritz scored a game-high 20 points and had 12 rebounds.
Whitmore Lake 30, Rochester Hills Lutheran Northwest 27
Story | Boxscore
After allowing two points in the first half, Whitmore Lake had to fight off a late rally to win its regular-season finale.
Whitmore Lake (3-17) led by 13 at halftime and carried a 21-16 advantage into the fourth. The margin grew back to double digits with four minutes left, but Lutheran Northwest hit three shots in a row to set up the closer-than-expected conclusion.
"That sparked them and gave them some life," Whitmore Lake coach Jen Taylor said. "We got a little too comfortable with our lead. It was scary...it got a lot closer at the end than it should've been."
Sarah Kirchner and Abby Salata each scored nine for Whitmore Lake.
Lawrence 38, Willow Run 31
Story | Boxscore
After surrendering a five point lead in the third quarter, Lawrence outscored its opponent 12-5 in final period to regain the lead.
Shamaria Canada led Willow Run (8-11, 4-3 MMAC) with 14 points.
"It appeared that fatigue set in," Willow Run coach Cliff Russell said. "I thought I saw effort, but we weren't very energized."
Onsted 73, Milan 20
Story | Boxscore
Onsted led 16-6 after one quarter, then had one of its most impressive quarters of the season with a 30-7 edge in the second quarter.
"We didn't handle the press as well as we did in the first quarter," Milan (2-18, 0-14 Huron League) coach Brad Baden said. "We didn't get back on defense as well as we should have.
AnnArbor.com Coverage
Dexter 47, Lincoln 37
Story | Boxscore | Photo Gallery