with gallery:

At games after brawl, Pioneer and Huron parents have mixed reactions to district's actions

Posted on Fri, Oct 19, 2012 : 11 p.m.
The Huron High School football team ended its season winless on Friday night, falling 37-0 to Westland John Glenn High School. John Glenn scored on a 52-yard touchdown run on its very first offensive play from scrimmage and on a 79-yard run on just its third offensive play of the night.
In a season full of blowout losses for the winless River Rats, Friday was the second-largest margin of defeat Huron suffered.
In a season when low numbers was a problem throughout, the roster was at its thinnest on Friday night.
Huron likely would have struggled with John Glenn on Friday even if eight players weren't out serving suspensions for their various roles in last Friday's on-field brawl following the Pioneer game. Another two were out with injuries.
Among those not suited up on Friday were Demetrius Sims, Daniel Hugan and Will Harris, all two-way starters for the River Rats, leaving Huron with just 26 players on the sideline and some in the varsity lineup for the first time all season.
More coverage: Huron vs. John Glenn boxscore | Friday football roundup
"It was a tough week, there's no doubt about it," said Dan Burkholder, who served as coach for the game in place of suspended head coach Cory Gildersleeve. "So there's a lot of disractions for the kids, but they gave us a good effort."
The attendance in the visitor's bleachers at John Glenn High School was as sparse as on the Huron sidelines. Some parents in attendance were pleased with how Ann Arbor Public Schools officials handled everything surrounding the brawl. Both head coaches were suspended for two games and multiple players were suspended from each side. A Pioneer assistant coach thought to be the instigator of the fight has been relieved of his coaching duties as well.
"I feel it was handled the right way," said Teresa Jackson, whose son, Josh Jackson, is the starting quarterback for Huron.
"I think it just took time to gather information and play itself out. Everybody wanted to do the right thing it just took time to get there," said Cindy Masini, mother of Huron backup quarterback Kevin Masini. "I'm just really disappointed in tonight because we're here without a number of players that make a big difference on our team…It's just disappointing that we're not here with everybody."
Not everyone thought was in support of the district's actions. One Huron parent, Kathy Coles, thought Pioneer should lose its postseason eligibility. Pioneer qualified for the postseason with a 31-17 win over Livonia Franklin despite the absence of several starters, including defensive standouts Dewan Olive-Abinojar and Darius Sanderford.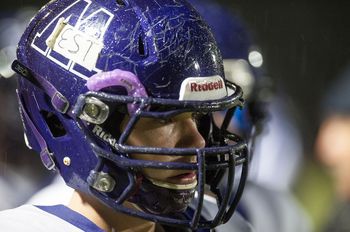 It wasn't just Huron parents critical of the district's actions. A Pioneer parent, who declined to be named, said they were unsure if it was handled correctly.
Another Pioneer parent thought the punishments to players and coaches have been plenty.
"It's more than enough. I think (AAPS) should stay out of it. They've more than done enough," said Joanne Kristensen, mother of Pioneer kicker Eric Kristensen. "With the MHSAA doing their suspension, that was fine and I don't think the AAPS needs to interfere anymore.
"Let the coaches do their job, let them sort it out, and let the principals and ADs do it."
Kristensen was even sympathetic toward Pioneer assistant coach Vince Wortmann, presumed to be the coach who struck Gildersleeve as Gildersleeve confronted Test following last Friday's game. Though district officials and Wortmann have all declined to comment on if he is in fact the assistant who has been fired, he was not at Pioneer's game on Friday and multiple sources have indicated Wortmann was indeed the coach let go.
"Coach Vince, our assistant was out of line, but not everyone knows that coach Test is like a father to him," Kristensen said.
Though not much went right for Burkholder's team on Friday, he said when the ball was finally kicked off there was a sense of relief. Relief that the teams could, if just for a moment, just get back to playing football.
"Last week was an unfortunate situation, which is the understatement of all understatements," Burkholder said. "When we kicked off it felt like, 'ok it was over, time to move one', It did feel good, no doubt about it."
-- Matt Durr and Kyle Austin contributed to this article.