Posted on
Thu, Aug 29, 2013 : 11:31 p.m.
Huron ends 15-game losing streak with 41-10 win over Windsor Massey
By Pete Cunningham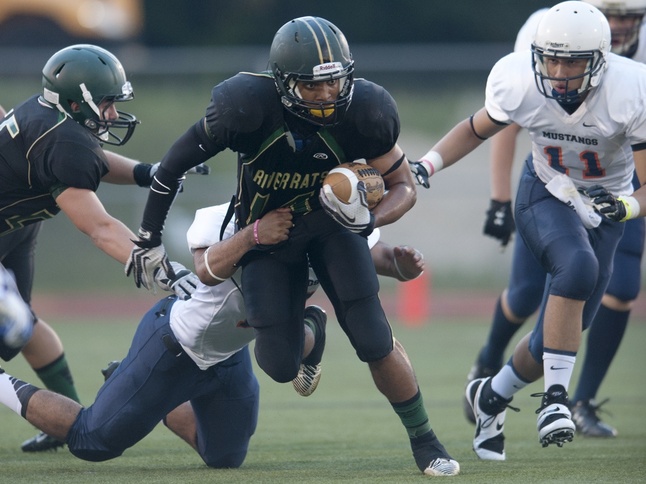 Patrick Record | AnnArbor.com.
It had been 719 days since the
Huron High School
football team had won a game. That inglorious streak, which spanned 15 games, came to an end on Friday night as the River Rats beat Windsor Massey 41-10.
The win was the first for the River Rats since a 65-46 win over Dexter September 9, 2011, and the first with Craig Jobe as the head coach.
"They're excited. We talked about before the game that tonight the goal was to end a 15-game losing streak," said the first-year coach. "The goal was to come out, get a win and start a winning streak and that's what we did."
More coverage: Boxscore | Photo Gallery | Football roundup
Huron will go for its first win over an American team in nearly two years when it plays a nonconference matchup against in-conference foe Lincoln, which kicks off its season against Belleville on Friday.
Jobe knows Lincoln will pose more of a challenge than the Canadian Windsor Massey team did.
"We made a lot of mistakes tonight. We were able to win and still make a lot of mistakes, but we know that it's going to get a lot tougher from here on out," Jobe said.
Things started right for Huron as Jaavid Love returned he opening kickoff for a 90-yard touchdown. Unfortunately for Huron, the play was negated by an illegal block. Love would score touchdowns that counted on the opening plays of each of the next two quarters.
After compiling 88 yards on four carries and scoring a pair of touchdowns, Love sat out the fourth quarter.
"He's a great athlete. We expect him to have a great season, he did a great job when he did get the ball," Jobe said of Love.
The negated touchdown on the opening play didn't matter much as Huron had little trouble marching down the field. Sophomore quarterback Josh Jackson showed off his throwing arm and got the ball in the hands of his receivers, who gained the majority of their yards after contact.
Jackson connected with Duane Boyd twice on the opening 63-yard drive, including a 16-yard touchdown to put Huron up 6-0. Jackson finished the night 8-of-17 passing for 187 yards and touchdown. He also rushed seven times for 24 yards and a score.
Though it was only 6-0 at the end of the first quarter, Love scored on the first play of the second quarter on a 27-yard run that would actually stand. Trey Allen intercepted a Massey pass at the 50-yard line and returned it all the way to the goal line on the very next series. It only took Huron one play to add to its lead on a Quavon Smith run and less than a minute into the second quarter the River Rats were up 20-0.
Massey seemed finally found its bearings on the next offensive series converting its first first down of the game on a 32-yard pass from quarterback Brandon Reaume to Hugh Pawlin. Reaume connected with Omar Hayes Williams for a 27-yard touchdown on the next play to complete the four play, 65-yard drive to make the score 20-7.
"There's a lot of adjustments (from Canadian football)," said Massey coach Dan Gray, who was a teammate and roommate of Jobe's at Wayne State. "The field size is tiny, the end zones are tiny…habits die hard, so we took a lot of penalties today.
Smith found the end zone again on the River Rats' next drive and Massey made a 37-yard field goal before half to make the score 27-10. Smith finished with 71 yards rushing on nine carries. Love struck on Huron's first play of the third quarter as well with a 53-yard run for a score and Jackson would score on a keeper later in the frame.
Though Love was at Ypsilanti High School last year -- and Huron the previous two -- he said he felt the relief of getting that first win for a program that's struggled in recent years.
"It was great. I can't even explain it because it's been a long road. A long hard road," Love said.
Pete Cunningham covers sports for AnnArbor.com. He can be reached at petercunningham@annarbor.com. Follow him on Twitter @petcunningham.