Posted on
Sun, Sep 8, 2013 : 5:30 a.m.
Injuries bring unfortunate end to Saline's position battles
By Kyle Austin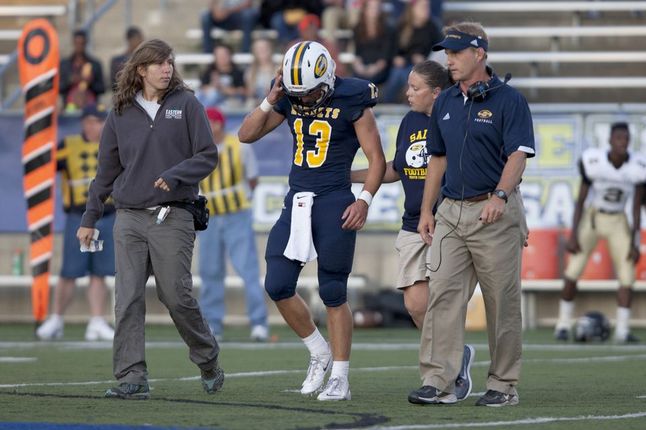 Patrick Record | AnnArbor.com
In the second half of Saline's
37-29 Friday night win over Ypsilanti Community
, the Hornets had one quarterback and one primary running back.
That's not how it was drawn up before the season.
Saline had planned platoons for the two positions through the early part of the season, and looked to get more players experience and to find the best personnel for the upcoming Southeastern Conference season.
Saline coach Joe Palka had what he felt were two legitimate No. 1 quarterbacks in Travis Brown and Trent Theisen and two legitimate No. 1 running backs in Kevin Gross and Griffin Wooley to start the season.
By the second half of the second game of the season, he was down to one of each.
The injury bug has visited Saline early. And the decisions on both key position battles may have been made not by coaches, but by availability.
Now before you go feeling bad for the Hornets, keep this in mind: If there's one team that can get away with losing two important offensive weapons, it's Saline. Sixty-one players appeared on its varsity roster Friday night.
The platoon system that Palka has instituted with that depth means that if a player gets injured there's likely a replacement ready who has significant game experience.
Patrick Record | AnnArbor.com
Such was the case at running back: Gross will be gone for the year after breaking his leg on the third play of his team's
Week 1 win over London A.B. Lucas
. As a result, Wooley received the lion's share of the workload in Week 2 with 14 carries for 106 yards and three scores.
The more interesting situation is at quarterback, where Saline brought in two new starting candidates and planned to give each equal time through the first three games before deciding on one in time for the SEC season.
The two quarterbacks put up nearly identical stats in Week 1, and were very close throughout camp. But a devastating second-quarter hit from Ypsilanti's Daouda Sylla on Brown may have fast-forwarded the timeline and necessity of making the decision final.
After the second quarter hit, Brown didn't return and Theisen threw 14 times, completing nine for 100 yards.
Having two quarterbacks with first-team repetitions came in handy.
"I think it paid off today," Palka said of his team's depth. "Trent really has started every game, started every scrimmage, and I think his poise showed off."
It's possible Brown can come back in Week 3, and Saline keeps its rotation going another week.
But the games are getting tougher now. There are no more Canadians or first-year programs on Saline's schedule. Even if Chelsea is 0-2, rest assured the Bulldogs will present a larger challenge than A.B. Lucas or Ypsilanti.
The Hornets came into the season looking for a quarterback to separate himself and prove worthy of extended time.
And whether or not it was by choice, they saw one in the second half Friday night.
Kyle Austin covers sports for AnnArbor.com.