high school football:

Jackson Lumen Christi rushing attack too much as Chelsea football loses 34-27

Posted on Fri, Aug 24, 2012 : 11:15 p.m.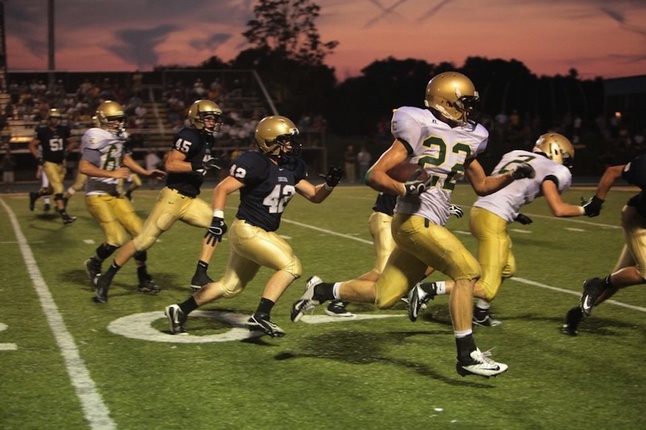 Chris Asadian for AnnArbor.com
by Rich McGowan | Jackson Citizen Patriot/MLive Media Group
Whenever Jackson Lumen Christi needed a big play Friday night, all the Titans had to do was run the ball. They certainly had no shortage of capable runners.
Running backs Amani Bass and Isaiah Bleiler, quarterback Justin O'Dowd and wideout Nick Girodat took turns coming up with big runs, moving the chains and scoring touchdowns and stayed one step ahead of the Chelsea Bulldogs.
Behind the effort of its quartet of runners, Lumen Christi picked up an impressive season-opening victory, defeating Chelsea 34-27.
"I am very, very pleased," said Lumen Christi coach Herb Brogan. "We will look at the film and see the mistakes we made and try to correct them for next week. But right now, the good things far, far overshadow the bad things."
More coverage: Boxscore at MLive.com | Photo Gallery | Friday football roundup
Lumen Christi (1-0) totaled 371 yards of rushing offense, all but two coming from Bass, Blieler, O'Dowd and Girodat. Bass led the way with 159 yards on 22 carries, including touchdown runs of 14 and nine yards.
"He really stepped up," Brogan said of Bass. "I would say that's as good as he's done in three varsity years here. He had a great ball game. On one of Girodat's long runs, he made a great block. He played a complete game."
While the Lumen offense continually found holes to run through, the Titan defenders held enough to keep the Bulldogs at bay. After Lumen Christi scored on consecutive possessions in the first half to take a 14-3 lead, Chelsea (0-1) continually had to play catch-up with the Titans' offense. Chelsea came as close as three points as late as early in the fourth quarter, but whenever the Bulldogs needed a defensive stop they were unable to come up with one.
Chelsea was also flagged for 12 penalties resulting in 67 yards.
"I thought Lumen Christi was more disciplined and outplayed us," said Chelsea coach Brad Bush. "We had our opportunities, certainly, but that's not how I expect us to play."
After Bass' second touchdown of the game, Lumen Christi held a 34-24 lead with eight minutes to play.
Chelsea marched into Titans' territory but a fumbled snap and back-to-back false start penalties pushed the Bulldogs into fourth down and 21 yards to go at the Lumen Christi 41-yard line. The Bulldogs, however, converted when quarterback Logan Brown found a wide open Colton Platt for 23 yards and a first down, giving the Bulldogs new life. But the Lumen defense held to force a field goal, preserving a seven-point lead with 4:44 to play.
With Bass leading the way, Lumen Christi held the ball the rest of the game.
"Words can't really explain how I feel. I'm on such a high right now," Bass said. "My offensive line blocked real good and that's why we had success."
With Bass attacking the outside and Bleiler plunging up the middle, O'Dowd and Girodat made their impact with bootleg keepers an end-around sweeps.
O'Dowd finished with 46 yards on eight carries, including a 14-yard touchdown thanks to a nice block thrown by guard Don McVey.
"I told coach I could run," O'Dowd said. "He didn't believe me."
Girodat rushed the ball six times for 79 yards and a 28-yard touchdown. Bleiler added a 1-yard touchdown as he finished with 85 yards on 15 carries.
"We had big runs from Bass, big runs from O'Dowd, big runs from Girodat," Brogan said. "We had enough big plays from enough different people to keep them off balance."
Chelsea's Berkley Edwards ran the ball 24 times for the Bulldogs, totaling 125 yards and two touchdowns, including a 36-yard score in the third quarter to cut Lumen Christi's lead to 20-17. Edwards also caught four passes for 48 yards. Brown completed 10-of-14 passes for 112 yards and a touchdown.
"The whole second half I thought we moved the ball pretty well," Bush said. "We had our opportunities."