Posted on
Wed, Feb 1, 2012 : 10:06 a.m.
Skyline's Jordan Woods and Pioneer's Drake Johnson are Big Ten-bound and more local signings
By Pete Cunningham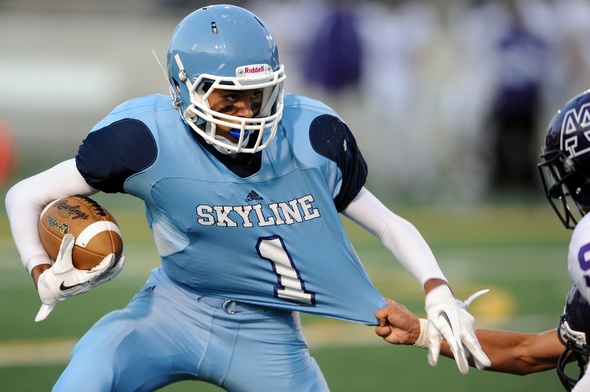 Melanie Maxwell | AnnArbor.com
Growing up in Ann Arbor, Drake Johnson and Jordan Woods have always followed Big Ten football.
They're now more than just Big Ten football fans. They're Big Ten football players.
Woods and Johnson signed National Letters of Intent on Wednesday -- National Signing Day -- Woods to play at Purdue and Johnson at Michigan.
Johnson, a Community High School student who played football at Pioneer, said the fanfare he's received since verbally committing to Michigan's highly regarded 2012 recruiting class has been a tad overwhelming.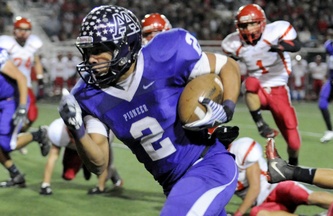 Angela J. Cesere | AnnArbor.com
"When I walk around town, a lot of people know who I am," Johnson said. "It's definitely a change. I'm used to being quiet, minding my own business."
If Johnson (6-1, 215) plays at Michigan Stadium half as well as did across the street at Pioneer -- where he rushed for a state-best 2,800 yards and 37 touchdowns as a senior -- he can kiss peace and quiet goodbye.
Johnson contemplated enrolling early, but decided he wanted to try and beat some records on the track first.
He hopes to break the 60-meter hurdles record during the indoor track season and the 110-meter hurdles record during the outdoor season while making a run at his third straight Division 1 state title in the event.
When asked what he looks forward to most when he finally does arrive on campus, Johnson already seemed practiced in the necessary rhetoric.
"Beating Ohio State and Michigan State," Johnson answered.
Woods admits he wasn't too high on Purdue when he committed back in September. But the Big Ten was where he wanted to be (Woods said he can't wait to play in stadiums he grew up watching on TV) and the Boilermakers were the only school to make an offer.
His mindset changed on his official visit to West Lafayette, when Purdue beat Ohio State 26-23 in overtime.
"It's always good to see Ohio State lose," Woods said. "I really liked everything there, the crowd, how they treat you, everything."
Woods -- a 6-3, 175-pound receiver -- had more than 1,100 yards receiving yards each of the past two seasons, despite Skyline's starting quarterback, Andrew Copp, going down with an injury during week 7 this season.
Woods also contemplated enrolling early at Purdue, but decided playing basketball and being part of the first graduating class at Skyline was something he wanted to see through to the end.
Michigan plays at Purdue in 2012, but won't meet again until at least 2015. If Johnson and Woods are on opposite sidelines again, both said they'd look forward to it. Though it's doubtful either could perform as spectacularly as they did when they met this high school season -- when Johnson rushed for 394 yards and six touchdowns and Woods had 216 receiving yards and two touchdowns.
"(Johnson) gave us a hell of a game when we played them," Woods said. "He is a very exciting player. I'll definitely be keeping tabs on him."
"If we play again I would like to win -- you know -- it's good to know that Pioneer's better than Skyline," Johnson said.

More local Division I football commitments
Michael Mioduszewski, Dexter: Mioduszewski will join Eastern Michigan as a preferred walk-on with the intention of playing quarterback. Mioduszewski (6-4, 216) passed for 1,918 yards, 20 touchdowns and 13 interceptions last year and rushed for 1,009 yards and 10 touchdowns. First team All-SEC White.
Jarius Mann, Skyline: Mann will continue his playing career at Western Michigan. He is a 6-5, 230-pound outside linebacker and defensive end for Skyline.
Dylan Mulder, Saline: The Hornets' placekicker will play at Eastern Michigan. Mulder was 34-of-34 on point-after kicks this year and finished his career a perfect 58-of-58. He made 6 of 9 field goal attempts, with a long of 47 yards, and had 39 touchbacks on 42 kickoffs. First team All-SEC Red.
Derek Owings, Saline: Owings will join Eastern Michigan as a preferred walk-on. The 6-4, 225-pound tight end caught 22 passes for 280 yards and two touchdowns as a senior.

Football Championship Series (Formerly Division I-AA)
Deshawn Gohl, Willow Run: Gohl will play at Tennessee State. He caught 41 passes for 651 yards and four touchdowns. Also rushed for 545 yards and five touchdowns. First team All-Michigan Metro Athletic Conference.
Jake Steinhauer, Chelsea: Steinhauer will be a preferred walk-on at The Citadel, which competes in the FCS (formerly Division I AA). Steinhauer (6-4, 225) played tight end for the Bulldogs.

Division II
Johnny Brown, Willow Run: He will attend Kentucky State as a preferred walk-on. Brown (5-10, 210) had 91 tackles and an interception. first team All-Michigan Metro Athletic Conference selection.
Truman Hadley, Chelsea: Will play at Ferris State. Hadley (6-1, 205) played linebacker for Chelsea, had 69 tackles, was a Division 3-4 All-State honorable mention and first team All-SEC White.
Jalen Lloyd, Willow Run: Lloyd, a 6-3, 260-pound offensive lineman, will play at Saginaw Valley State. He was a first team All-Michigan Metro Athletic Conference selection.
NyShaun Marks, Willow Run: Marks will join Lloyd at Saginaw Valley State. The 6-foot, 200-pound back rushed 80 times for 919 yards and three touchdowns and made 24 catches for 329 yards and three touchdowns. Had 74 tackles on defense. An honorable mention Division 5-6 All-State selection and first team All-Michigan Metro Athletic Conference.
Aaron Nofke, Pioneer: Nofke will play at Wayne State, which played in the Division II national championship game. A 6-3, 225-pound defensive end, Nofke was limited by a foot injury in his senior year, missing most of the first five games. Following his return, Pioneer's points-against average dropped from 27.8 points to 11.3 points. He was first team All-SEC Red.
Edward Reny, Dexter: Reny will also play at Wayne State. The 6-foot-3, 255-pound offensive lineman helped lead the way for Mioduszewski in the running game and kept him upright in the passing game. Was first team All-SEC White.
Jacob Sheets, Skyline: Sheets will join Nofke and Reny at Wayne State, but line up opposite them on the offensive line. Sheets is 6-6, 290 and played offensive tackle for Skyline.
Adam Smith, Ypsilanti: Will play at Grand Valley. Smith (6-2, 220) had 46 tackles and eight sacks and was first team All-SEC White.

DIVISION III
Andrew Cerveny, Chelsea: The 6-0, 185-pound defensive end will play at Kenyon College.
Dominic Davis, Chelsea: Davis will play at Albion College.
Griffin Kuras, Chelsea: The 6-0, 195-pound lineman will play at Defiance College.
Charlie Sleder, Dexter: Sleder (6-4, 210) will play at Hope College.

NAIA
Mohammed Awwad, Pioneer: Awwad will play at Siena Heights, which just completed its inaugural season. Awwad (6-3, 300 lbs.) played left tackle for Pioneer and was the lead blocker for Drake Johnson, who rushed for 2,800 yards. Honorable mention Division 1-2 All-State. First team All-SEC Red.
Tucker Whitley, Dexter: Will also play at Siena Heights. Whitley is 6-3, 285 and played center and longsnapper for Dexter.
Maurice Young, Pioneer: Young will play at Siena Heights. A 5-10, 210-pound linebacker, Young was Pioneer's leading tackler and a first team All-SEC Red selection.

COMMUNITY COLLEGE
Anthony Fisher, Willow Run: Will play at Iowa Western Community College. Fisher is a 6-3, 260-pound offensive lineman.

OTHER SPORTS
Following is a list of local athletes also scheduled to make college commitments in sports other than football on National Signing Day.
FIELD HOCKEY
Morgen Barroso, Pioneer: Kenyon College
Lexi Collins, Huron: University of California Berkley
Anjela Galimberti, Pioneer: College of Wooster
Kelsey Gradwohl, Huron: Northwestern University
Anna Masini, Huron: Brown University
Taylor Standiford, Huron: Cornell University
Sydney Supica, Pioneer: Indiana University
Tori Westhead, Huron: St. Louis University

TRACK AND FIELD
Maya Long, Huron: University of Michigan
Cindy Ofili, Huron: University of Michigan
Claire Tewksbury, Dexter: University of Michigan

SOCCER
Victoria Pepper, Dexter: Indiana University-Purdue University Fort Wayne

Contact Pete Cunningham at petercunningham@annarbor.com or by phone at 734-623-2561. Follow him on Twitter @petcunningham.