Posted on
Fri, Mar 15, 2013 : 5:59 a.m.
Journey to the Breslin Center for Dexter's Mike Bavineau and Riley McDonald seven years in the making
By AnnArbor.com Freelance Journalist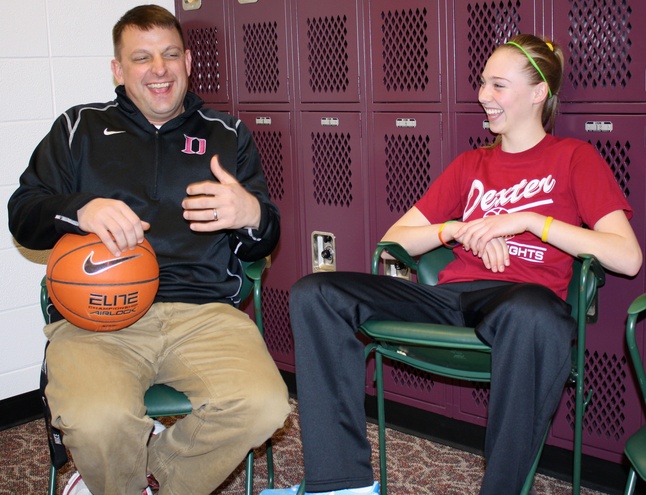 Chantel Jennings for AnnArbor.com
Editor's note: In the interest of full disclosure, readers should know the author of this article, Chantel Jennings, is a 2007 Dexter High School graduate, played varsity basketball under coach Mike Bavineau and knows Riley McDonald and other members of the Dexter varsity girls basketball team on a personal level.
Chantel Jennings for AnnArbor.com
Most high school players and coaches are lucky to be together for three or maybe four years. But for Dexter High School girls basketball coach Mike Bavineau and senior captain Riley McDonald, it's been seven years since they first shared a bench.
Like bookends, they sat on opposite sides of the bench for three years as McDonald was a water girl and team manager from sixth to eighth grade. The position is normally a one-year gig, and goes to a sibling of one of the players or someone Bavineau selects from the community basketball camp.
After being given the job the first summer her family moved to Dexter from out of state, McDonald wouldn't let it go.
McDonald studied players. She studied Bavineau. Without fail she was at every game, every practice, every team meeting and every meal.
She was a Dreadnaught, through and through.
Photo courtesy of McDonald family
She did the same drills as her role models on the varsity team at home in her driveway, and latched on to older girls' conversations about boyfriends and homecomings.
On bus rides home, she took the losses harder than some players.
"We deserved that one," she'd say through tears. "We really did."
Eventually, water girl would become starter, and starter would become captain.
As a senior, McDonald has led the Dreadnaughts on as deep of a postseason run the program has ever seen. Dexter will play in the Class A state semifinals at the Breslin Center in East Lansing on Friday at 2:50 p.m. against Grosse Pointe South.
Even now -- two wins shy of where she hopes the season ends - McDonald describes this year as perfect.
For seven years, the captains, assistants, rosters and faces on the bench changed. The Dreads swapped their tall white socks for short black ones. Even the season changed, with girls basketball in Michigan moving from a fall to winter sport in McDonald's second year as manager.
Bavineau's sideline demeanor softened and the play calls diversified, both somewhat as a result of his water girl turned player, turned confidant.
McDonald has seen it all from Dexter's bench. Because for the last seven years, she and Bavineau have been the only two constants of Dexter basketball.
To say they're a coach and player is selling it short. Somewhere between her days of fetching popcorn and dry towels as a water girl and her four seasons as a starting guard for Bavineau, it became much more than that.
"We understand each other," McDonald says.
"She's like a daughter," Bavineau says.
Bavineau admits that in his years of coaching, he has never relinquished more power to another player.
As a sophomore, Bavineau approached McDonald -- who had already been a part of his program for four years -- and told her that he wanted an open line of communication between the two. He wanted her to know that she could come to him about anything.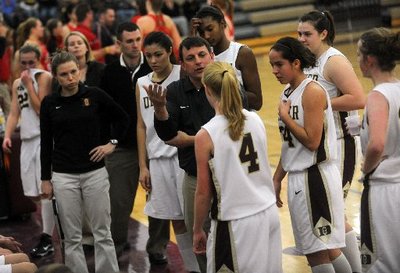 Melanie Maxwell | AnnArbor.com file photo
As a manager, she had seen him throw clipboards and chew players out after mistakes. Even in middle school, she saw how the older players -- whom she considered teammates even then - reacted negatively.
She also saw how his positive energy flowed onto the court. Or how when he joked and players laughed, shooting percentages went up.
"We had a lot of talks about how what he did sometimes didn't help the team," McDonald said. "Or how when he was ecstatic that we'd be even more fired up."
McDonald told him how his temper didn't help the players. She told him how quick substitutions messed with their flow. She told him that players wanted to feel like he trusted them on the court to at times understand the game better than he could from the sideline.
Bavineau listened.
"I've changed a ton as a coach," Bavineau said. "I give the players a lot more power on how they want the season and the games to go. … I've learned the hard way, but you have to listen to your players and the suggestions that they have because they're the ones on the floor that are having to produce and do those things."
Now, McDonald calls defenses out of free throws. She takes over timeouts. She'll motion to him from the floor in an almost secret language about what should or shouldn't be done.
It's what happens over time when the hours turn to days and the days turn to years of time spent together in youth basketball clinics and open gyms.
She has babysat his children. He has celebrated her 13th, 16th and 18th birthdays. He has seen her grow up; she has seen the same out of him. "I can't even imagine the hours that we've actually been together," Bavineau said.
McDonald shakes her head. It seems incredulous.
Have you thought about the fact that it's almost over?
"No," she says quickly. "I mean yes, yes I have. But I don't want to. Not now. Not yet."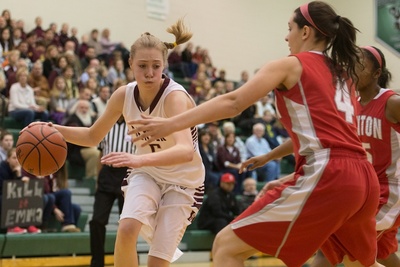 Courtney Sacco | AnnArbor.com file photo
"We're trying not to go there," Bavineau says. "I'm trying not to go there yet. It's going to be a difficult day when it comes."
McDonald stares forward at nothing in particular and finishes her thought.
"It's just, it feels like I've been here doing this forever," McDonald says. "But looking back, it seems like yesterday I was watching the 2006 team play."
For seven years, McDonald has been trying to reconcile those two positions. As a manager, she wanted more than anything to be a true member of the team. Now, as a player, she wishes she could be a manager again so she'd have more time left.
The realization struck her this fall when she was coming in for her last round of camps and clinics, her last first fall workout, her last tryout, her last first team meeting.
"It's not over yet," Bavineau said to her one day before an open gym.
"But it's coming," she said.
They were both right. And they both knew it.
That emotion hit harder on the final home game of this season, always celebrated as Dexter's senior night. For six previous seasons McDonald had gone through the motions, bought flowers for the seniors and celebrated their contributions to the program.
Now, she was the one being celebrated.
Each senior made a list of their favorite memories playing for Dexter. Most were short, and listed beating archrival Chelsea or a team bonding activity.
McDonald's had 16 bullet points. And that was the abridged version.
It's a trademark of hers, according to Bavineau. She's not brief about anything. Give her a moment to talk, and she'll take an hour. Give her a bite of your cake, she'll eat half.
Give her a spot as a manager, she'll stay for seven years.
If she had to remake that list now, it would be even longer:
McDonald hopes after this weekend there are two more bullet points to add.
"She doesn't want it to end and she's going to do whatever she can to keep that from happening," Bavineau said. "I think that's the whole team's approach. We're just going to do whatever we can to make sure this doesn't stop."
State Champs Network video of Riley McDonald hit game-winning 3-pointer in regional final:
Chantel Jennings is a freelance journalist for AnnArbor.com. She is a sportswriter for ESPN's WolverineNation and can be reached at jenningsespn@gmail.com.