Posted on
Tue, Apr 30, 2013 : 5:30 a.m.
Katie McClure breaks career strikeout record in no-hitter to cap phenomenal week
By Pete Cunningham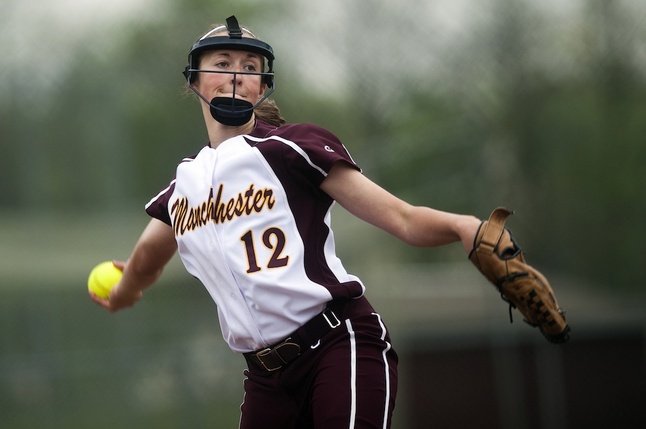 Sean Proctor | MLive Media Group file photo
That
Manchester High School
's ace softball pitcher
Katie McClure
would surpass the school's career strikeouts record this year was, barring injury, practically inevitable. After she made
20 batters take a seat in a doubleheader sweep of Napoleon
on Monday, McClure was 22 strikeouts shy of the school record of 506, set by
Jenny Stautz
in 2010.
Twenty two strikeouts is a lot, but with more than half the season left to play, the record wasn't exactly something McClure had to worry about surpassing. The fact that she's still a junior made it even less daunting. Regardless, she decided to get the milestone off her plate, anyway -- quickly, and in spectacular fashion.
McClure threw 27 strikeouts over the course of two games on Saturday and led Manchester to a first place finish in the Concord Invitational. McClure started off the tournament with a no-hitter against Lumen Christi and drove in Manchester's only run with a two-out double in the first inning of the 1-0 Flying Dutch win.
In the nightcap, McClure surpassed the strikeout record and only gave up one hit in a 3-1 win over tournament host Concord. McClure helped her own cause again with another RBI as well. Not surprisingly, she was named most valuable player of the tournament after getting more hits and RBIs than the two teams she faced from the mound managed to get off of her."
Katie really held us in both of those games," said Manchester coach Liz George, "She was definitely the workhorse of our team today."
George didn't tell McClure about the record until after the championship game.
"I told her she broke the record when we were done and she was like, 'career?'" George said. "That's a pretty big deal considering she's just a junior."
After throwing 15 strikeouts on Monday against Vandercook Lake, George now has 92 strikeouts in 50 innings of work (12.9 Ks per 7 innings) and is on pace to break the single season strikeout record of 257 which she set last year in 192 innings of work (9.4 Ks/7 innings).
The only thing that seemingly can hold McClure back is the weather as Manchester has only played eight games so far this year with several rainouts. The Flying Dutch played 30 games last season.
Every second counts
The Ann Arbor Father Gabriel High School boys track and field team came just short of first place multiple times at the Whitmore Lake Invitational on Saturday. Richard athletes finished runner-up in 400-meter run, 300 hurdles, the 3,200 run and the 1,600 relay.
As well as the Fighting Irish performed, they didn't win a single thing all day...until the end that is.
Richard won the small school division of the invitational, scoring 160.2 points on the day, 80 points ahead of Warren Michigan Collegiate.
Huron fire
The Huron girls tennis players found conditions at Saline High School favorable on Saturday. The Ann Arbor Huron River Rats and the Port Huron Northern Huskies tied for first place at the ironically named Ann Arbor Invitational.
Daniel Brenner | AnnArbor.com file photo
Both teams registered 15 points at the tournament with Ann Arbor Huron making the finals in three flights - winning No. 4 doubles - and Port Huron Northern making the finals in three flights - winning No. 2 and No. 3 doubles.
There wasn't just fierce competition on the court at the Ann Arbor Invitational, there was competition for the name. Pioneer hosted a tournament of the same name at its home courts on Saturday. Unlike Huron's version of the tournament, Pioneer's Ann Arbor Invitational was in fact played in Ann Arbor. Pioneer took second place.
Athletes of the Week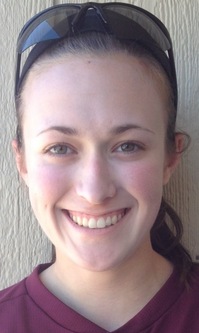 Katie McClure, Manchester softball:
Threw a no-hitter in a 1-0 win over
Jackson Lumen Christi
in the semifinals of the Concord Invitational Saturday. McClure followed up the performance with a one-hitter in the finals against Concord, and Manchester won, 3-1. McClure also had two hits and two RBIs on the weekend. She had a combined 27 strikeouts on the weekend after throwing 20 earlier in the week in a doubleheader and in Saturday's final
surpassed Manchester's career strikeout record of 506.
McClure now has 511 career strikeouts.
Eric Jensen, Skyline boys track and field: Won the 1,600- and 800-meter runs in the large school division of the Whitmore Lake Invitational on Saturday. Jensen also led off Skyline's first place 1,600 relay team and ran the anchor leg of the Eagles' first place 3,200 relay team. Skyline took first place at the meet.
By the numbers
1: Game-winning goals in the second half scored by Saline High School girls soccer player Caitlin Ellis against Saginaw Heritage on Saturday in the Hornets' 1-0 win at the Heritage Invitational.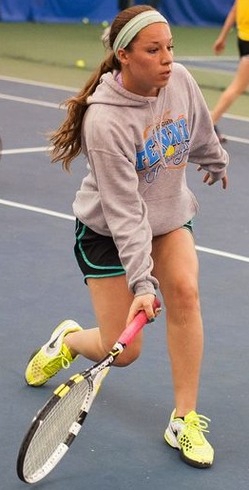 Courtney Sacco | AnnArbor.com file photo
3:
Doubles flights (No. 1, 2 and 3) won by the
Pioneer High School
girls tennis team at the Ann Arbor Invitational on Saturday.
Pioneer took second place
with
Grosse Pointe South
winning the tournament.
6:
Flights - No. 2 and No. 4 singles and all four doubles flights - won by the
Chelsea High School
girls tennis team at the Western County Invitational on Saturday. The Bulldogs
won the tournament with 46 points
, 13 points ahead of second place
Parma Western
.
7:
Goals scored by Kan Sandford in the
Chelsea High School
boys lacrosse team's
25-2 win over Ypsilanti on Friday
, April 26, and by by Chelsey Bishop in the
Saline High School
girls
lacrosse team's 17-1 win over Bedford.
9:
Goals scored by
Pioneer High School
girls lacrosse player Mercedes Reyes in
Pioneer's 17-12 win over Bloomfield Hills United on Thursday, Apil 25.
Reyes also had four assists.
11:
Consecutive wins by the Saline High School softball team to start the season before suffering its first loss. The
Hornets lost to Monroe 3-2 in the championship game
of the Saline Invitational on Saturday.
18:
Run swing between games one and two of the Saline High School baseball team's doubleheader split with defending Division 1 state champion Hudsonville on Saturday.
The Hornets lost 10-0 in the opener, and beat the Eagles 10-2 in the nightcap.
Potent quotables
"We all agreed that the weather was the best part of the day."
-- Huron baseball coach Terry Bigham after splitting a doubleheader with Southgate Anderson on Saturday.
Pete Cunningham covers sports for AnnArbor.com. He can be reached at petercunningham@annarbor.com. Follow him on Twitter @petcunningham.