with gallery:

Lincoln football team excited for first day of hitting and raised expectations

Posted on Thu, Aug 9, 2012 : 6:54 p.m.
This time last year the Lincoln High School football team was coming off of a winless season. On Thursday, the Railsplitters were allowed to hit for the first time since fall practice began on Monday and in addition to the cracking of pads, rumblings about making consecutive playoff appearances could be heard across the field.
"Last season changed the entire culture of not only our program, but I think Lincoln sports," said head coach Chris Westfall, in reference to the team making the playoffs for the first time in school history last season. "There are a lot of expectations, but the kids are excited to have the expectations."
The Railsplitters made their first playoff appearance in program history last year after finishing the regular season 6-3. Making it back to the playoffs however, will be easier said than done after graduating nearly half of the starting lineup from last year.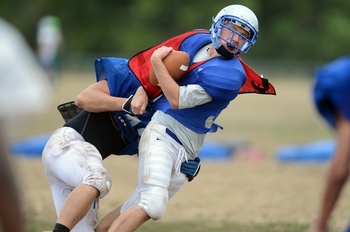 Melanie Maxwell | AnnArbor.com
Lincoln will be counting on numerous players to step up and fill the holes created.
"We have a lot of kids that played last year, we returned five starters on each side," Westfall said. "But everybody was here, everybody was there for the playoff game, they were there for the playoff practice. They expect to go back."
Senior linebacker Bryton Boyle wasn't worried about expectations or filling holes on Thursday. He was simply thrilled to finally be able to hit again.
"I've been waiting for pads on since probably about December. As soon as the season ended I started working out." Boyle said. " I've been waiting for a long time to get them back on and show everybody what I'm all about."
As excited as the team is to get back on the field, they are also well aware that they won't catch teams off guard anymore.
"Last year, they didn't expect us to be as good as we were. This year they expect it, so we have to worker harder than we did last year," said senior Tyree Waller. "I know our team is strong, we got a lot of junior returners and we're looking good. We're gonna be alright."
Westfall said it's good to see his team hasn't taken anything for granted. While he and the team expect to return to the playoffs, they said they don't feel any pressure as opening day inches closer.
"They aren't experienced enough at this (winning) to know that there is pressure," Westfall said. "We're still in that very early building phase, we don't have any of those problems yet."