Posted on
Thu, Jun 13, 2013 : 7:12 p.m.
Manchester basketball coach resigns months after winning state title due to 'lack of support'
By Pete Cunningham
Daniel Brenner | AnnArbor.com file photo
The
Manchester High School
girls basketball team will have to defend its state championship without coach
Cori Kastel
. Kastel handed in her letter of resignation on May 24 less than three months after lifting the
school's only team state championship trophy
.
Kastel resigned because of what she said was a "lack of support" from athletic director Wes Gall. Kastel was not asked to resign and was recommended for rehire by Gall. Coaches in the district need to have contracts renewed on an annual basis.
"Over the past few years as the program has improved there has been some vocal parents that it's more about individuals than what the team accomplishes and that's not how I coach," Kastel said in a phone interview. "I didn't get the support that I needed from my administration and I just feel that for me to do my job and be successful and enjoy what I'm doing I need that and I didn't get it."
Kastel said she had no intention of resigning at any point during the season, but said mounting criticism from parents was to the point where she thought it would adversely impact her teaching ability.
"You would think that after winning a state title that you'd be celebrating the team's success instead of worrying about individual success and that's a damn shame," Kastel said. "It was tough and you're always going to have that when you have high class, very competitive athletes like we did, and it's just sad. It's difficult, but like I said I didn't get the support I needed from my athletic director."
Gall said he was surprised by the language in Kastel's resignation letter, but declined to comment on specifics.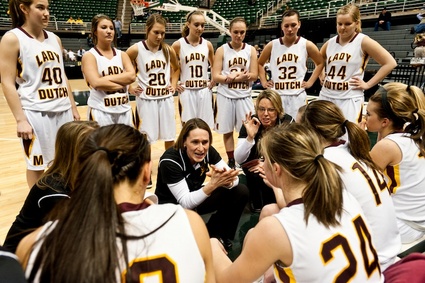 Mike Mulholland | MLive.com
"In the coach athletic director evaluation of things there were things I thought she needed to work on and she disagreed with me on it. That's as far as I'll go as it's a personnel decision," Gall said. "Coaches always have places where they can improve, whether they were last in the conference or won a state championship."
Kastel, who teaches eight grade at Manchester Middle School, said she did not agree with her end-of-the-year coaching evaluation.
Kastel has been the coach at Manchester for the past seven years and taught in the district since 1994. Her teaching position is not affected by the resignation.
"Teaching is my priority and I don't ever want to get in a situation where so many conflicts arise that it's going to affect my teaching because that's why I'm there and that's what I love to do and that's why I coach," Kastel said. "The court is an extension of the classroom for me."
"She was recommended to continue the job," Gall said. "We appreciate her coaching our kids and wish her the best moving forward."
Manchester was 27-1 during the 2012-13 season and won the Class C state championship. Kastel was named the Basketball Coaches Association of Michigan 2013 Class C Coach of the Year. Manchester won district titles three of the past four years and won its first outright Cascades Conference championship this year.
"I've been (coaching) for 19 years and to finally take a program from the basement to the penthouse...it was a very difficult decision, but I think it's one that needed to be made," Kastel said. "There have been a few eighth graders come up to me who are very disappointed that they aren't going to get the opportunity to play for me and it breaks me down. It brings me to tears to tell them that I'm not coming back.
"But there's sometimes when you have to make difficult decisions, and this is exactly one of them."
Corey Fether was named the interim coach shortly after Kastel's resignation. Fether coached the eighth grade girls team this season and used to coach Manchester's junior varsity boys team. Gall said the job has been posted and he hopes to have it filled by the end of July.
Kastel said she's not actively pursuing another coaching position in the immediate, but said she would be open to the right situation. She plans on being involved when the team raises its championship banner and is honored at 60th Manchester Chicken Broil. "Those are the memories that you can't take away, those are the things that we're always going to reflect and remember," Kastel said.
Pete Cunningham covers sports for AnnArbor.com. He can be reached at petercunningham@annarbor.com. Follow him on Twitter @petcunningham.