Posted on
Tue, Dec 11, 2012 : 3:03 p.m.
McKenna Erkfritz is Manchester's first female scholarship athlete in twenty years
By Matt Durr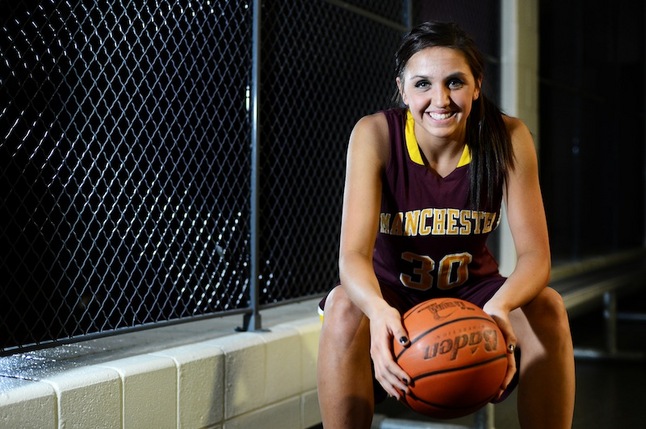 Melanie Maxwell I AnnArbor.com
The last time a female athlete from
Manchester High School
earned a full college scholarship to play sports
McKenna Erkfritz
hadn't been born. So when Erkfritz signed her National Letter of Intent to play basketball for Northwood University during last month's early signing period, she was making a bit of history.
That doesn't mean the decision was easy.
"I've been working at this for a long time, there were a lot of schools that I had to choose from and it was getting harder as the day was getting closer," Erkfritz said. "At first I don't know if I really like it because I saw a lot of schools in a short time. But then I went to watch them play and I really liked the coach, it was a good fit for me."
Last year's Annarbor.com player of the year, Erkfritz said that being from a small town like Manchester was a factor in where she decided to play, as she didn't want to overwhelm herself with a huge city. While at Division II Northwood, located in Midland, Erkfritz plans on studying international business and eventually to attend law school.
"As soon as she made up her mind, all the pressure was off. She can focus on her high school career and be done with it. You don't have to worry about who is in the stands and who is watching," said head coach Cori Kastel.
According to Manchester athletic director Wes Gall, the last time he could remember a female athlete earning a full scholarship was in 1993 when volleyball player Sarah Riske signed with Concordia University.
"We've had kids that have gone to school and played sports, but I don't know if they had full scholarships," Gall said.
Erkfritz may be the first in a long time, she may not be the last. Because so many scouts have been watching Erkfritz, many of her teammates have drawn interest from colleges too.
"Siena Heights was in the stands to see Taylor (Manders). People are coming out to watch them, but they're also seeing who else is making the team successful," Kastel said. "It opens the door and the eyes for future Lady Dutch players saying 'hey look at what McKenna did. I can set that goal too and achieve it too if I work hard.'"
Since making the decision to play for Northwood, Erkfritz has kept it mostly to herself, only telling a few people. Instead she is focused on improving as a player and playing with a faster pace.
Making those adjustments to her game shouldn't be a problem for Erkfritz, who Kastel called a "gifted athlete."
"With her athleticism, it's more mind over matter," Kastel said. "I'm very proud. It couldn't go to a better kid. She deserves it, she puts a lot of time in on the court, off the court and it's finally paid off."
Game of the Week
Erkfritz and the Lady Dutch will put their undefeated record on the line on Tuesday night against Class A Dexter in the AnnArbor.com/MLive Game of the Week. Be sure to check AnnArbor.com's high school sports page for a live chat, stories and photos. While you're at it, vote in the the next AnnArbor.com/MLive.com Game of the Week poll, which includes games happening the week of Jan. 11, after winter break.
Matt Durr.