Posted on
Sat, Mar 3, 2012 : 3:04 p.m.
Austin Hamilton hits milestone, 4 Washtenaw County wrestlers reach consolation finals on last day of state finals
By Pete Cunningham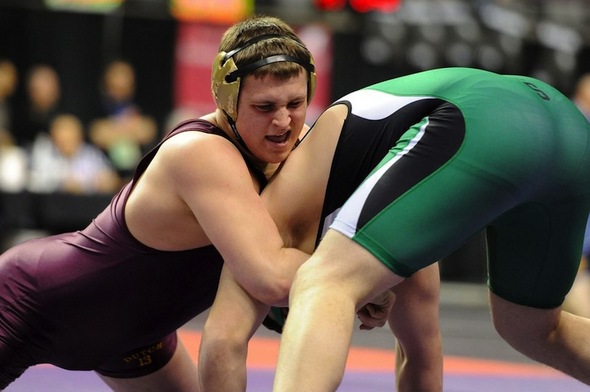 Angela J. Cesere | AnnArbor.com
AUBURN HILLS -- Manchester High School senior Austin Hamilton knew exactly where to point after the referee slapped the mat on the final day of the MHSAA individual state wrestling finals.
A two-time state medalist, Hamilton was already well practiced in finding and acknowledging the screaming hometown fans among the masses at The Palace of Auburn Hills.
The cheers were a little louder than on Saturday, when he won a consolation round semifinal. The rest of the crowd joined the Manchester faithful in acknowledgment of Hamilton's 150th career win.
WRESTLING STATE FINALS
Three days of AnnArbor.com state finals coverage:
Unfortunately for Hamilton, it would be the final time his hand was raised. He fell in the Division 4 consolation finals to Fife Lake Forest Area senior Tom Hall to finish in fourth place at 215 pounds.
The 150 career wins were the furthest thing from Hamilton's mind after he lost the final match of his career. Manchester coach Steve Vlcek had the benefit of perspective.
"You never want to lose that last match as a senior," Vlcek said. "He's a had a great career for us and really been our anchor for two years. I'm proud of him."
Hamilton has an unorthodox style and three of his four wins this weekend came by way of pin during the first two minutes of the match. And they came on moves Vlcek admits make him nervous, including during his final win over Brown City's Dan Lindsay.
"That's definitely Austin, he's one of those kids where it's like, 'no, no…OK'," Vlcek said. "He's just real funky and has his own style. ... Obviously, with 150 career wins, he's had some success with it."
Hamilton was one of four Washtenaw County wrestlers to make the consolation finals, along with Dexter's Drew Barnes (Division 2, 160), Chelsea's Steve Bleise (Division 2, 119) and Lincoln's Ed Nuttall (Division 1, 145).
For all four, it was their second all-state finish of their careers.
Nuttall was the only one to win, beating Grand Ledge's Curtiss Brownell, 3-1, for a third-place finish, the highest of any wrestler in the area.
"It's a good consolation (to winning it all). It's good to end my career on a win," Nuttall said. "Third, I'll take it."
Barnes and Bleise both finished in fourth place.
Lincoln's Jordan Markey, just a second-year wrestler, placed fifth in Division 1 at 119 pounds.
"It felt good. I worked hard over the summer and I think I earned it," Markey said. "Coulda been higher, but I did what I could do."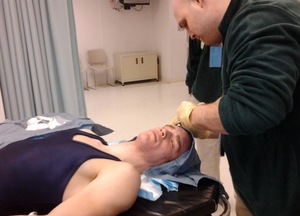 Chelsea junior Mike Hovater ended the weekend with blood, and a smile, on his face. Hovater was cut above the eye during his fifth-place match at 171 pounds.
The cut was severe enough to require stitches, but Hovater was feeling no pain after the win.
"I can't really even really feel it," Hovater said, as trainers attended to the cut. "I had to see the blood dripping down to know it even was open."
Milan's Chris Gaskill (Division 2, 160) lost his final two matches on Saturday to finish in eighth place.
Contact Pete Cunningham at petercunningham@annarbor.com or by phone at 734-623-2561. Follow him on Twitter @petcunningham.