Posted on
Fri, Aug 2, 2013 : 5:59 a.m.
Michigan All-Stars track and field club serves as haven but may soon be homeless
By Kyle Austin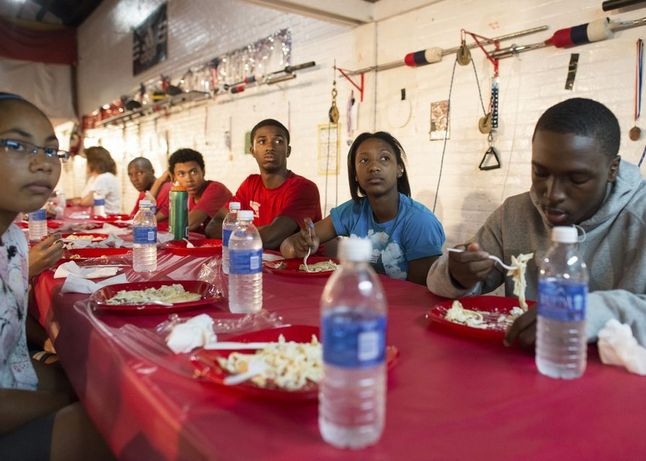 Courtney Sacco | AnnArbor.com
Behind the yellow-and-orange painted door at 725 North Huron Drive in Ypsilanti, the best collection of sprinters in Washtenaw County trains under a leaky roof, in a dimly lit, poorly ventilated warehouse space.
A 20-yard, three-lane track and a smattering of mismatched weight training equipment comprise the headquarters of the Michigan All-Star Track and Field Club. Flood lights chase away the darkness. Scores of medals hang from the ceiling and walls, alongside red, white and blue decorations and exposed insulation.
At 6:30 p.m. last Thursday, Radford "Rad" Greaves stood at the center of what he had built, barking out instructions while wearing yellow pants stained with paint and a white shirt -- attire left over from his day job as a roofer.
Training was dialing down and the focus was ramping up as the club's best runners geared up for the AAU Junior Olympics, being held the following week just down the road at Eastern Michigan's Rynearson Stadium.
But taking away from that focus was a fact that everybody knew and nobody was talking about: their days in the makeshift-but-beloved training center could be numbered.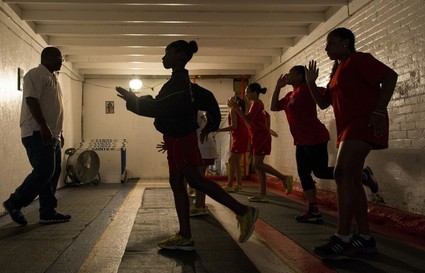 Courtney Sacco | AnnArbor.com
Greaves found out last year that the building's owners are planning to redevelop the old warehouse -- all the tenants would need to find new space. He was able to keep the news secret through the winter indoor track season, but by last week everybody knew. When the junior olympics wrap up Saturday, runners will take a few weeks off before starting preparation for the winter track season and Whether or not they will have a building to come back to is an open question.
The All-Stars need a large enough space to train high-end sprinters, a low enough rent to fit its small budget and a location that can serve its many members who don't have reliable transportation.
Nearly a year of searching hasn't produced any viable options, and the notice to vacate could be coming at any time.
Without a training facility, an uncertain future lies ahead for a track club that's been one man's life's work and a haven for dozens of young athletes.
"If they came and said 'You've got to get out of here today', I'd be putting stuff out in fields in my brother's house in Saline," Greaves said. "I have absolutely nowhere to put this stuff. I'm just begging and pleading that we get through this week."
Humble beginnings
That cold winter day in Ypsilanti two decades ago still stands out stark in Greaves' mind.
Then an eighth grader, Greaves was helping his father repair the roof of a factory just down the street from 725 North Huron. Together during a break from work, they found themselves looking through a window into the office of John Barfield.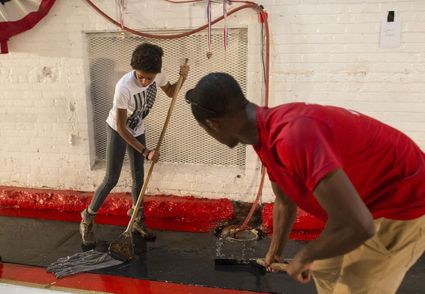 Courtney Sacco | AnnArbor.com
An Ypsilanti native, Barfield had ascended from custodial work to become a wealthy local businessman. On his desk that afternoon sat a Harvard mug -- one of his sons went to school there. It provided a potent teaching moment.
"Education is the key out of this man," Greaves' father told him as they looked into the office. "I know you don't want to be doing this your whole life. You've got to get the education."
"To this day, that image burns in you," Greaves says now. "And how ironic, here I am"
Greaves took his father's advice, and went on to get a degree in education from Eeastern. But after he couldn't find work in education in the late 1980's, he found his way into the professional motorcycle racing circuit for more than a decade.
There, he learned several lessons he passes on to his athletes now: perspective, learned when he saw a good friend die during a warm-up lap, and focus, from when he crashed while trying to impress a high-level Suzuki executive in a test race.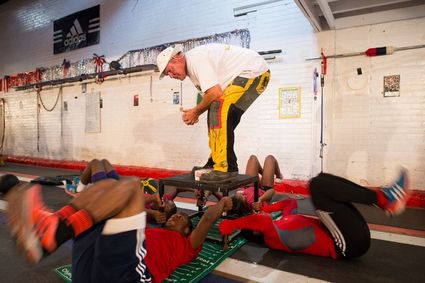 Courtney Sacco | AnnArbor.com
"I can't think of anything where I haven't been able to draw an analogy of it," Greaves said of his motorcycle racing.
When he returned home to Ypsilanti, the education jobs once again weren't there, so he got back into the roofing business. To help his stepson Omar, he became an assistant football coach at Pioneer. That eventually led tp track, and he took over the Michigan All-Stars in 2007.
Now, he spends most of his days just a few buildings down from where he worked on the roof decades ago. At 725 North Huron, the same message his father gave him is being delivering to the waves of young athletes who come through his door each year -- some of whom had grandparents who worked in the same factory the Michigan All-Stars are now based out of.
"My whole deal is to get these kids into college," Greaves said.
Many of those athletes face an uphill climb there. According to the statistics Greaves keeps, more than 60 percent of his team members come from households with income below $30,000 a year. Only a quarter of them live in two-parent households.
Greaves said he often takes on the role of a second parent as does his assistant coach, Derek Hunt. He stays in close contact with his athletes' coaches and teachers, making sure their grades are in line and they stay out of trouble.
With the help Greaves, the rest of the Michigan All-Stars staff and the athletes' parents, 96 percent of those who have come through the program have attended college.
"Instead of going out every night, sometimes on Fridays and Saturdays when there was other stuff and we wanted to be with our friends, Rad would make sure we were in here," said former Ypsilanti runner Andrew Hunt, Derek's son. "At the time, it's not something we wanted to do, but in the long run it definitely helped, keeps you out of trouble."
The older athletes know that's a result of Greaves's dedication. He's the type to get excited after a good race and take the whole team out to dinner, or take in a runner who's been kicked out of his home.
"He has given his entire life to this," said former Father Gabriel Richard runner Nick Donnellon. "If that doesn't tell you what kind of person Rad is, he takes so much pride in these kids and them doing well and seeing their futures grow, regardless of if his future grows. It's the most selfless thing."
Austin Sanders, who won Division 1 state titles in the 100- and 200-meter dashes as a senior at Ypsilanti High School, was one of two runners who have lived with Greaves. With a tough family situation at home, Sanders stayed with Greaves in Ann Arbor while attending Ypsilanti High School as a senior. He's now a member of the Michigan State track and field team.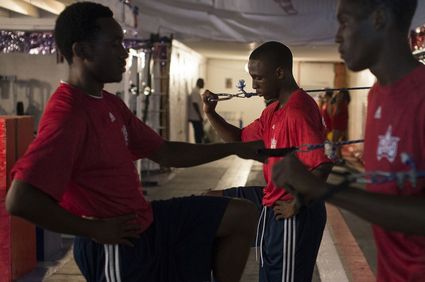 Courtney Sacco | AnnArbor.com
Sanders first joined the All-Stars in 2007, when the club used space at Eastern Michigan but had no home of its own. Sanders often returns to help coach.
If the building goes away, the club will continue on, but what's allowed the All-Stars to grow is their focus strength training and their video and mental work, done in a classroom built on the second floor of the facility.
Sanders often picked up a hammer after practice to help build the facility. It may be cobbled together, but it's a sanctuary for those who have found it. Sanders knows as well as anyone what the loss of the building could mean.
"Without this building, I know for a fact it was going to be a struggle to make it as successful as it was before," Sanders said. "Where are we going to work out? We can't all get Planet Fitness memberships. It's an asset that has blessed the team to get it to where it is now."
Sacrifice
Greaves was just hours away from delivering the news he had been dreading when he got the call that saved the season.
His team had been training for four months to compete at the AAU Indoor Nationals in New York, but a few weeks before the meet, donations had dried up, and there was no money to transport the team across the country.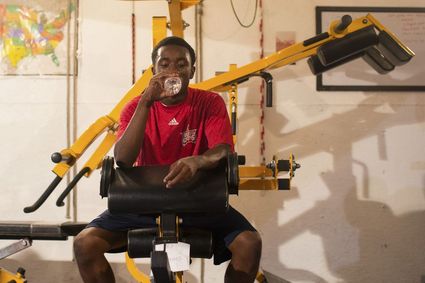 Courtney Sacco | AnnArbor.com
Just before Greaves was set to tell his team in late February, he got a call from Barfield, who had become one of the club's benefactors. A last-second donation was made, and the team's trip to New York was saved.
"It's just like somehow, someway the big daddy upstairs is looking out for us," Greaves said.
The All-Stars were able to finish the winter season, but the financial situation has stayed tenuous. When Greaves took over the All-Stars in 2007, the club was funded by a grant from Kellogg's. That money stopped flowing two years ago.
Since then he's been cobbling together funding from a variety of sources, including an equipment deal with adidas that saves the club $10,000 per year, Greaves said. But he's always searching for a more stable funding source.
All-Stars members pay $300-$350 in dues per season. That's a fraction of what other track clubs throughout Michigan charge, Greaves said, but many of his athletes still need scholarships. He has them perform community service or sweep up his construction sites and calls it even.
At his day job, matters haven't been much better. Greaves specializes in high-end copper and slate roofing, where the volume of jobs is lower but the margins are higher. But in the economic downturn, the demand for high-end roofs plummeted, and business dried up.
The housing downturn combined with his time commitment to the growing track club -- he trained 40 athletes in the winter and 20 in the summer this past year -- has dealt a blow to his finances. He's had to downsize into a smaller home, and admits the arrangement has been a strain on his marriage.
Earlier this summer, a friend sent Greaves a job posting about an open track coaching position at Eastern Michigan. Greaves admits the thought of a regular salary went the wheels were turning in his head.
But he isn't ready to give up on "his calling."
"I don't want to give up on this until I'm done," Greaves said. "I ain't got no money and it is what it is. I guess I'm just working to see how things work."
But the junior olympics finish Saturday. The hunt for a new home and money for a new season will be back on.
"I know some people are like 'You're really riding this to the bones and to the last edge', and maybe that's the motorcycle racer in me," Greaves said. "Or is that just, I don't want to give up on the kids. I just figure I'll just ride it until the last second."
Kyle Austin covers sports for AnnArbor.com.