Posted on
Sat, Jun 2, 2012 : 11:31 p.m.
Training partners Cindy Ofili (Huron), Drake Johnson (Pioneer) shine at Division 1 state track meet
By Kyle Meinke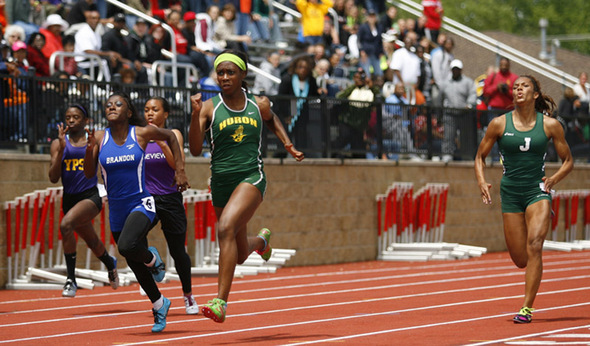 Sally Finneran | MLive
KENTWOOD -- He's foolish. She's fierce.
Both are among this state's finest track athletes -- thanks to each other.
Huron High School senior Cindy Ofili won four girls state championships Saturday during the Division 1 track finals at East Kentwood High School. Pioneer senior Drake Johnson added one, despite a hamstring injury.
It was a nice haul for the pair, who are offseason workout partners. They also both are headed to the University of Michigan next year, where Ofili will run track and Johnson will play running back for the football team.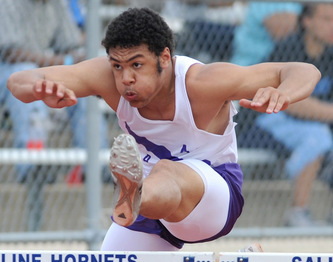 AnnArbor.com file photo
Johnson, whose father serves as their offseason hurdles coach, said they're a nice complement to each other because they are so different.
"Her seriousness is the opposite to my total insanity," he said. "The whole time I'm practicing, I'm just goofing around. And her whole thing is I'm supposed to be serious the whole time. So when you put us together, it's like, the whole time I'm trying to make her laugh, and she's like, 'Drake, you have to be more serious.'
"Hurdling, it'd be like, hurdle ... 'Hey, how ya' doin?' ... hurdle ... 'Hey, I've got a joke for you' ... and all throughout indoor, that's all we did."
On the track, they're both superstars.
Despite heavy cross winds throughout the day, as well as scattered rain that delayed the meet, Ofili reeled off four state titles in her four events. Her most impressive turn came early in the meet, when she won the 100-meter hurdles in 13.78 seconds, then the 100-meter dash in the next race.
She had less than 4 minutes to get from the finish line to her starting blocks. As her competitors coolly took their marks for the 100 dash, her heart still was beating through her chest. Sweat was pouring off her face.
"That's a really hard thing to do, but my coach (Keri Kirk) helps me so much because my workouts are so intense," Ofili said. "My goal was to win four state titles, and to do that, I knew I'd have to make this turnaround.
"My main goal was to win. Second, to run fast. I'm just happy that, even with the weather conditions, I was able to run fast."
Ofili also added wins in the 800-meter relay and 300-meter low hurdles, helping to pace her Huron team to a second-place finish overall. They finished 12.5 points behind champion Grosse Pointe South.
Ofili had a hand in 40 of her team's 64 points.
Johnson's day, meantime, was more of a mixed bag.
He defended his title in the 110-meter hurdles -- becoming a three-time champion in that event with a time of 14.24 seconds -- despite being in pain due to a hamstring injury he suffered at a meet three weeks ago.
But he also further injured the hamstring when, as he was clearing a hurdle, a gust of wind pushed his body sideways and forced him to land awkwardly. It was bad enough, Johnson's coach scratched him from the 300-meter hurdles race.
Johnson said he received a call from Michigan running backs coach Fred Jackson before the meet Saturday morning, but he didn't tell his future position coach about the hamstring because he figured he would be told not to run.
"I'm concerned about it, I guess, but it's something I can handle later," Johnson said. "You only get to run your senior year one time. Even if I'm hurt, I'm still running. People don't need to know."
Johnson's move paid off with his third title in the event. He said he doesn't believe the hamstring is serious, and it won't affect him when he arrives at Michigan for football later this month.
"I'm more happy that I won a state championship than I am sad I got scratched," he said. "I could have won the race, but at the same time, if I would have run it and pulled something worse on the turn, I would have been really (mad).
"And then I would have been sitting there thinking, 'Was it really worth it, maybe screwing up my football season, for one last race?'"
Related content: Boys standings & results | Girls standings & results

Ypsilanti speedster overcomes slip, wins twice

After posting a second- and third-place finish at last year's state finals, Ypsilanti's Austin Sanders knew the bitter taste of coming this close to his dreams -- but missing. It lingered throughout the offseason.
The senior returned to the finals this year ranked No. 1 in the 200-meter dash -- but saw his dream slipping away again, after he lost his footing coming out of the blocks in a preliminary race.
"Things happen, and you just have to bounce back, but I also knew when I saw all those guys in front me that I was in trouble," Sanders said. "I knew I had to dig deep."
He did, skillfully passing his competition all the way to a state title in the 200. He also tacked on a title in the 100-meter dash (10.92 seconds).
Sanders finished all-state in four events, after joining Ypsilanti's seventh-place 400- and 800-meter relay teams. The Phoenix finished ninth in the team standings with 24 points.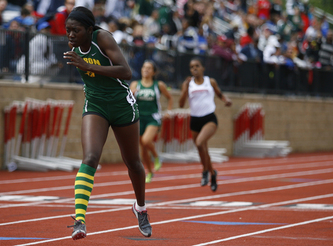 Sally Finneran | MLive
Maya Long wins twice
It's amazing how much faster you can run without a heavy heart. At least, that is the case for Huron senior Maya Long.
Long won two state titles Saturday, capturing the 400-meter dash (54.8 seconds), then joining Huron's 800-meter relay team in victory (1:41.12). She also picked up all-state honors by finishing second in the 200-meter dash and fifth in the 1,600-meter relay.
"It was just such a release for me," Long said. "I'd been waiting for this one for a while, and it just feels so sweet to have this."
Just a one week before last year's state finals, Long's father shot her mother, then turned the gun on himself. Long's mother survived, but her father didn't.
It was a crushing blow for the then-junior. She became depressed, and stopped eating. She didn't work out right.
By the time the state finals arrived, she already had lost 10 pounds. She still managed to finish fourth in the 400-meter dash, but she felt she could have won it if she were healthy.
A year later, she go her chance.
"This year, I was fit, I was healthy, I just went out there and ran my heart out and did everything I could," Long said. "I had little flashbacks throughout the day to all the pain last year, like little deja vus. But it was just so much better than last year. I wasn't crying. I was happy.
"I've been wanting that one, that 400, for a long time. I'll be remember it."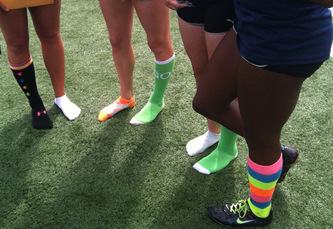 Kyle Meinke | AnnArbor.com
Saline girls ride lucky
socks to victory
After a slow start to the day, the Saline girls team made a splash when their 400-meter relay team whipped around the track in a school-record 48.45 seconds.
All thanks to their lucky socks.
"We went out and got special state socks the other day, but we wore them at the conference meet and they didn't do too much for us," junior Amanda Luurtsema said of the girls' mismatching socks (in color, as well as length). "So, we went back to our old ones, which don't match.
"But they work."
Luurtsema, the first leg of the relay, said she knew as soon as she got out of the blocks that her team would have a chance at the record. Alana Hollis and Samantha Richart manned the middle legs.
Sophomore Quenee' Dale finished off the record lap, an extraordinary feat considering the stiff cross breeze, which slowed most times.
"It feels so great because I did so bad in the hurdles," Dale said. "And you know, Saline hasn't really won anything today (so far)."
Saline got hot thanks to the 400 relay, and finished fifth in the team standings with 33 points. The relay was the Hornets' only victory of the day.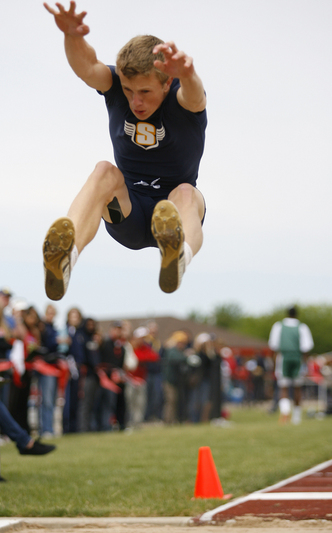 Sally Finneran | MLive
Saline boys 'disappointed'
with third-place finish
The Saline boys scored 42 points, the most in school history. They placed third, trailing only Lake Orion (50 points) and Grand Blanc (44), the second-best finish in school history.
And yet, they were disappointed.
"This group has been the rock of our program for the last three years," Saline boys coach Al Leslie said. "We went to the Holly Invitational when (these seniors) were sophomores, and l looked around the bus and said, 'This is our varsity lineup.' Then we went and destroyed the Holly Freshman/JV meet, and I said, 'This is a special group.' So, considering that potential, I'm disappointed.
"But they've battled, and they've done everything that's been asked of them, so it's really hard to be upset with them. You're disappointed, but they ran their hearts out and that's what you feel."
Leslie was particularly pleased with senior Steven Bastien, who scored the first points of the meet with a win in the long jump (23 feet, 5 inches), finished second in the pole vault, then was part of the third-place 1,600-meter relay team that finished the meet.
Bastien also was part of an 800-meter relay team that finished third as the No. 9 seed.
That's one first-, one second- and two third-place finishes
"It was a great day for me -- long, but great," said Bastien, who is deciding between joining the Siena Heights and Nebraska track teams next year.

More All-State performers
A parade of Washtenaw County athletes made their way to the medal stand at East Kentwood High School on Saturday. Additional medalists included:
BOYS
Pole vault: 3. Tyler Leach, Pioneer, 14-7.
Long jump: 2. Tyree Waller, Lincoln, 23-3.25.
3,200 relay: 4. Saline (Terrell McGee, Jonathan Parker, Spencer Bishop, Matt Elms), 7:52.48.
400 dash: 4. Garrick Roemer, Saline, 49.37.
3,200 run: 7. Nick Reneberg, Saline, 9:28.24.
GIRLS
Pole vault: 3. Micaela Conter, Dexter, 11-9; 5. Nicole Ferguson, Dexter, 11-3.
3,200 relay: 3. Saline (Abby Rentschler, Lauren Green, Elianna Shwayder, Amy Creutz), 9:12.25; 5. Pioneer, 9:15.12; 7. Huron (Josie Granner, Alexandria Cell, Danielle Howard, Kennedy Beazley), 9:21.63.
100 hurdles: 3. Quenee' Dale, Saline, 14.54; 4. Tierra Williams, Lincoln, 14.71; 5. Bria Williams, Lincoln, 14.93; 8. Sophia Kunselman, Pioneer, 15.16.
100 dash: 8. Amanda Luurtsema, Saline, 12.70.
800 relay: 7. Pioneer, 1:43.96; 8. Lincoln, 1:43.98.
1,600 run: 5. Katie Hoevet, Pioneer, 4:59.26.
400 relay: 7. Lincoln, 49.57.
300 hurdles: 2. Chinonye Uche, Pioneer, 45.67; 5. Sophia Kunselman, Pioneer, 46.46.
200 dash: 3. Endia Francois, Ypsilanti, 25.44.
3,200 run: 3. Abby Rentschler, Saline, 10:42.08; 5. Elianna Shwayder, Saline, 10:46.53.
1,600 relay: 8. Pioneer, 4:04.36.
Kyle Meinke covers Michigan football for AnnArbor.com. He can be reached at 734-623-2588, by email at kylemeinke@annarbor.com and followed on Twitter @kmeinke.