high school football:

Milan displays offensive versatility in win over Carleton Airport

Posted on Fri, Oct 12, 2012 : 11:30 p.m.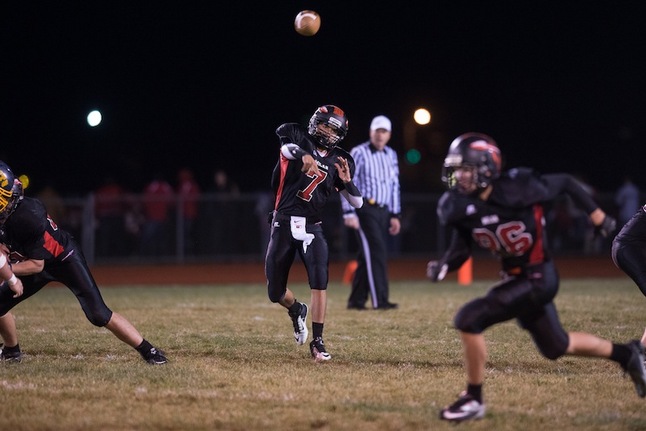 Courtney Sacco | AnnArbor.com
Milan put up more than 500 total yards of offense in its Friday night win over Carleton Airport, and only 125 of them were gained by Arthur Dukes.
No, the Big Reds are not a one-trick pony.
Dukes, the area's leading rusher, came into the game with three straight 200-yard games, accounting for large portions of the offense for much of the season.
More coverage: Boxscore | Photo gallery | Friday football roundup
But Friday night, Milan's potent offense was a display of versatility. The Big Reds ran for 388 yards and threw for 180. They featured two backs who ran for more than 100 yards -- Robert Kanitz had 146.
The 180 passing yards marked a season-high, as did Kanitz's 146.
"We feel like we can do both, we just take what the defense gives us," Milan coach Jesse Hoskins said. "We don't really go into a game planning to pass more or less or run more or less. We want to establish our offense, and we feel like we're just going to take what the defense gives us."
Kanitz was the only Milan player with multiple touchdowns. Austin Hoover and Devin Miller caught touchdown passes from Justin Aceves. Dukes and Dylan Brant also recorded scores.
But the uptick in the passing game was where the Big Reds branched out the most. Hoskins said Carleton Airport came into the game looking to limit Lawrence Williams, Milan's leading receiver.
Williams was held without a catch, but the Big Reds still managed their biggest passing game of the year.
Aceves had a simple explanation for it.
"We just did what we had to do," Aceves said.
A display of versatility bodes well, as Milan ends its play the run-heavy Huron League and moves on to a finale against Lincoln, followed by the playoffs.
"We work on so much every day in practice that we've been working on things we haven't done," Hoskins said. "When we need them, we'll run them."