Posted on
Tue, Jun 11, 2013 : 7:26 p.m.
Milan baseball advances to Division 2 state semifinals with 1-0 win over Coldwater
By Pete Cunningham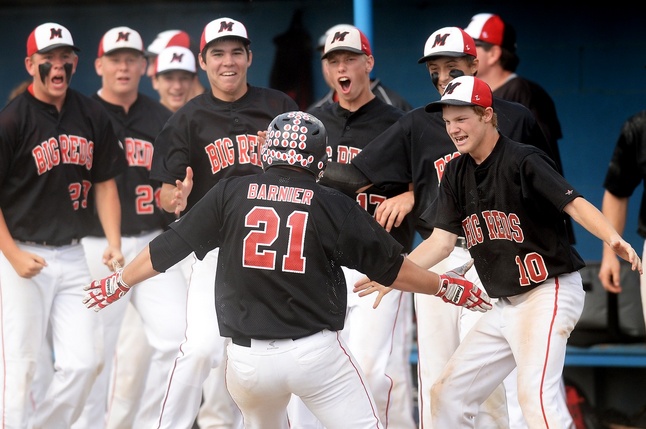 Melanie Maxwell | AnnArbor.com
Updated 9:10 p.m.
BATTLE CREEK -- The Milan High School baseball team got its first taste of Battle Creek on Tuesday.
The Big Reds will be back for more on Friday.
Zach Allen hit a two-out bloop single off the handle of his bat to shallow left field which brought home senior Robert Barnier from second base to break up a scoreless tie with Coldwater in the top of the seventh inning at Nichols Field at Bailey Park on Thursday. It was all the run support pitcher Thomas Lindeman would need in the 1-0 Milan win.
More coverage: Photo Gallery | Boxscore | Bracket
Allen, the only freshman to play for the Big Reds on Tuesday and one of just two on the roster, was doused with water by his senior teammates after he extended their high school careers by at least one more game. Milan didn't travel with a large bucket of water, so players grabbed as many bottles as they could - some with two in each hand - to give Allen a proper congratulations and thank you.
"We don't have a bucket today, but a bottle of water's good enough I guess," said Allen, with a big smile revealing braces under his water-soaked face.
Milan (26-12) advances to Friday's Division 2 state semifinals at Bailey Park with the win.
Allen's hit wasn't spectacular by any stretch of the imagination, but it's all Milan coach Adam Gilles wanted out of his freshman in the pitcher's dual.
Down to his last strike, Allen fended off an inside pitch that nearly cut the right-handed hitter off at the hands. The ball floated long enough between the third baseman and left fielder that Barnier was able to get home without so much as a throw to the plate.
"I told him if you don't choke up, I'm taking you out of the game," Gilles said. "Finally got him to choke up (a couple of inches) and it just did enough. He hit it about 160 feet."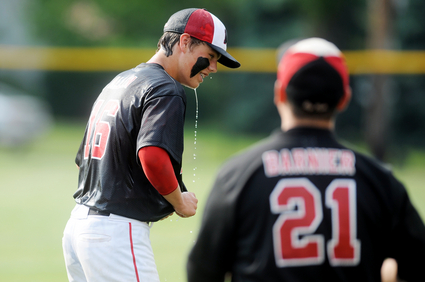 Melanie Maxwell | AnnArbor.com
"I'm just glad I could get it to where they weren't. He was riding me all day about choking up and the last time up I overemphasized it a bit and I guess it worked," Allen said.
It was the third straight game in which Milan entered the seventh inning either trailing or tied and came away with the win. The Big Reds broke up a 1-1 tie with three runs in the seventh against Riverview in the regional semifinals, and forced extra innings after trailing Tecumseh 1-0 in the regional final, eventually winning in walk-off fashion in the eighth inning.
"They can handle the pressure situations and they're always going to stick around," Gilles said. "When we throw strikes and play good defense, we're going to stay in the game."
Lindeman picked up his second complete game win in as many outings, as he gave up just two hits and four walks in seven innings of work, three days after going eight innings and giving up one run to win a regional championship over Tecumseh.
Defense ruled the day as Barnier was the only base runner in the game to advance past second base. Coldwater pitcher Skylar Reincke went blow-for-blow with Lindeman, allowing just three hits and two walks while going the distance for the Cardinals and striking out seven.
"It was fantastic. We were on the wrong end, but their kid baffled us pretty darn well all day," said Coldwater coach Randy Spangler. "We usually catch up after a few innings but (Lindeman) did a marvelous job. Hat's off to him.
Reinke had a perfect game broken up in the fourth inning with a walk to Kyle Schrader, but he still left the inning having faced the minimum amount of batters as Schrader was caught stealing to end the inning following a Connor Berge strikeout. Reinke had his no-hitter broken up the next inning when Isaac Grubke reached base on a pinch-hit bunt single. Milan advanced a runner to second base for the first time in the game on the play, but wasn't able to do anything as Reinke got Zach Allen to fly out and struck out Jacob Hendricks to get out of the inning.
Berge led off the seventh inning with a single and Barnier reached base on a fielder's choice while laying down a bunt. Though Coldwater was able to get the lead runner, Barnier was able to move into scoring position after Reincke walked James Carpenter to set up Allen's game-winning hit.
"Our kids was right there with him, we just happened to hit the kid's bat. He got a piece of it in the right spot, but that's baseball," Spangler said. "It was a great game. Good team classy team and that kid threw the ball great, it's just somebody's gotta lose these games and unfortunately it was us."
Milan will play Richmond on Friday at noon. It's Milan's first trip to the semifinals since 2009.
Pete Cunningham covers sports for AnnArbor.com. He can be reached at petercuningham@annarbor.com. Follow him on Twitter @petcunningham.