Posted on
Fri, Sep 6, 2013 : 2:38 p.m.
Milan superintendent calls football coach's comments about Ypsilanti Community 'inappropriate'
By Pete Cunningham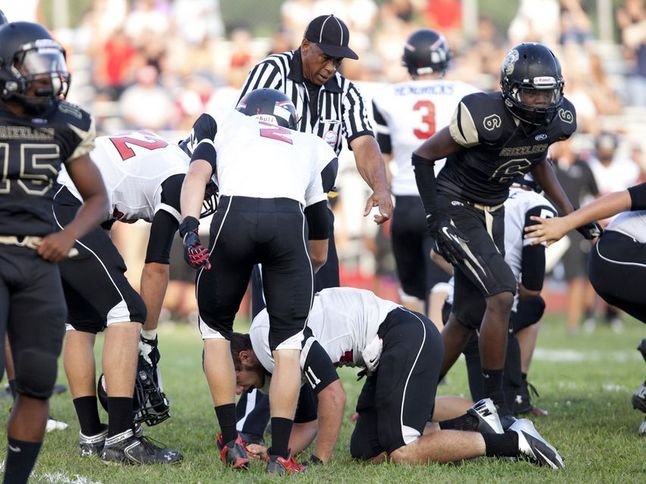 Patrick Record | AnnArbor.com file photo
Milan Area Schools superintendent Bryan Girbach issued a statement Friday morning condemning recent statements made by varsity football coach Jesse Hoskins regarding his team's game at Ypsilanti Community High School last weekend.
After a game marred with personal fouls and penalties, Hoskins said he hopes to never face the Grizzlies again. Ypsilanti had 16 penalties for 140 yards and Milan was flagged for six penalties for 55 yards. Hoskins was especially upset with what he said were several instances of helmet-to-helmet hits, some of which were called, some not.
In addition to the play on the field, Hoskins said disorganization of the overall game day operations, complaints from community members and similarly negative experiences when facing Ypsilanti High School in the past made him want to discontinue the relationship.
Girbach called Hoskins' statements, "inappropriate."
"As the superintendent of Milan Area Schools, I acknowledge that Jesse Hoskins, our varsity football coach, made a mistake by making disparaging comments against Ypsilanti Community Schools (YCS)," Girbach said in a release. "I have talked with the Ypsilanti Community Schools' superintendent, Mr. Menzel, several times regarding the articles. David Kaiser, our athletic director, and I have addressed coach Hoskins regarding his comments about YCS."
Kaiser and Ypsilanti Community superintendent Scott Menzel said the two schools would discuss whether the game would continue at a later date, which is standard procedure.
"We will, like we do every year, sit down with the coaches and myself at the end of the year, evaluate our schedule, evaluate our program and make decisions from there," Kaiser said.
Menzel said he expects game days to run more smoothly now that school is in session and the school has a game under its belt.
"I think some of those things (Hoskins referenced) are a product of being the first game, before school started, and the first as a consolidated district," Menzel said.
Menzel said he appreciated Girbach's statement.
Ypsilanti Community plays at Saline High School Friday night and Milan plays at Riverview. Ypsilanti's next home game is Sept. 20 against Chelsea.