Posted on
Fri, Sep 6, 2013 : 5:45 a.m.
Playing Ypsilanti Community 'just not worth it' says Milan football coach
By Pete Cunningham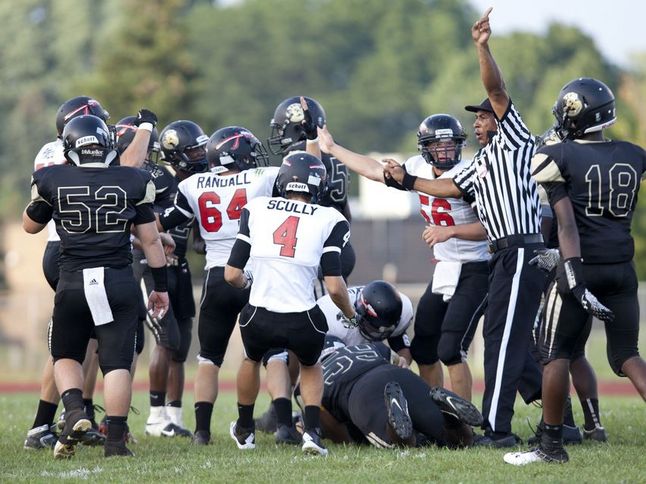 Patrick Record | AnnArbor.com file photo
Update:
Milan superintendent calls football coach's comments about Ypsilanti Community 'inappropriate'
Milan High School football coach Jesse Hoskins was more than a little upset after his team's season opening win against Ypsilanti Community High School on Saturday. The Big Reds beat the Grizzlies 13-6, but Hoskins contends that the way the game was played, officiated and organized make him never want to face Ypsilanti on the gridiron ever again.
Hoskins told the Monroe Evening News, "it was just a horrible, bad situation. We will never play Ypsilanti again as long as I am the head coach at Milan."
Nearly a week after the game, Hoskins didn't back away from his statement in the slightest. Ypsilanti racked up 140 yards of penalties, including several personal fouls, and Hoskins said after watching the film there were helmet-to-helmet hits that weren't called as well.
"It just seemed like it was a little more than a physically tough football game," Hoskins said. "I've played in and I've coached some physical football games, there was just more of an edge to this than that and it was concerning."
Willow Run coach Rufus Pipkins and athletic director Lamanzer Williams disagreed with Hoskins' assessment of the game's physicality.
"Our kids are taught fundamental, proper ways to tackle, and it's not helmet-to-helmet," Pipkins said. "It's definitely a safety issue, and we would bring it to that young man's attention."
"For me just looking at the game from a coaching standpoint or an AD standpoint I just didn't see the helmet-to-helmet stuff," Williams said.
Hoskins said it wasn't just the way the game was played or officiated that makes him want to discontinue the relationship between the schools. He cited issues with the chain crew, game clock and overall game day operations as reasons why he'd rather seek out a different opponent in the future. He said the same issues arose when Milan's JV played at Ypsilanti High School last year and that he's heard many complaints from community members as well.
"I just don't think it's worth it to play Ypsilanti anymore," Hoskins said. "You put in too much time to have to deal with that Week 1, or really any week, and so I'd just rather play someone else.
"We work too hard to go into a game where external factors can decide the outcome of a game, and there were too many sloppy things that have gone on that just aren't working for us."
Milan played Ypsilanti High School for the five years prior to the district's merger with Willow Run, going 4-1 in those games. Williams said he hasn't discussed the future of the relationship with Milan's athletic director, David Kaiser. Williams called Hoskins' comments "unprofessional" and said he hopes to focus on improvement going forward.
"I just hope that people move on and focus on improving what we're doing on the field and off the field," Williams said.
Pete Cunningham covers sports for AnnArbor.com. He can be reached at petercunningham@annarbor.com. Follow him on Twitter @petcunningham.