Posted on
Wed, May 29, 2013 : 5:58 a.m.
District discredits records showing new Ypsilanti athletic director fired from earlier job
By Kyle Austin
Ypsilanti Community Schools is discrediting a 2011 performance evaluation that rated new athletic director Lamanzer Williams unsatisfactory in his only previous athletic director position at Inkster High School.
Williams was hired in early May to be the first athletic director of Ypsilanti Community Schools, the new district being formed July 1 from the combined Ypsilanti and Willow Run districts. He was the first external hire of the new district following what Washtenaw Intermediate School District superintendent Scott Menzel called a "targeted recruitment for an external search."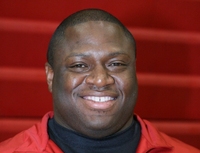 During the hiring process, Menzel said he reviewed an October 2011 performance evaluation found in Williams' personnel file at Inkster. Both that evaluation and an interim performance evaluation in January 2012 rated Williams unsatisfactory, and he was eventually terminated from his position at Inkster after one year, according to documents.
Menzel said after talking to multiple people at Inkster he discredited the evaluation because it was filled out only two months after his hiring and by an assistant superintendent, Jumanne Sledge, who has subsequently been imprisoned. He also said that Sledge was not Williams' direct supervisor at Inkster.
"From our perspective, given all the information that we've gathered, that information is completely irrelevant," Menzel said.
Williams is a 1993 Willow Run graduate who went on to become an All-American college football player at Minnesota before playing in the NFL. He has spent the past 13 years working in high school sports in Michigan as a coach and an administrator.
In the year since working at Inkster, Williams worked at Holland High School as its head football coach and academic and behavioral interventionist. Holland principal Justin Jennings said he evaluated Williams once and rated him "highly effective."
LaToya King, who was hired to be the principal at Inkster High School in February 2012, said she evaluated Williams while she was his direct supervisor and rated him satisfactory.
"Under my direction and under my supervision, Mr. Williams was an exceptional employee," King said. "Very detailed, very thorough, did everything that he was supposed to do."
Williams was hired as the athletic director and dean of discipline at Inkster prior to the 2011-12 school year, the only year he worked in the district. Shortly after being hired, Williams said he was asked to also become the school's football coach and director of security.
A performance review dated October 17, 2011 -- obtained by AnnArbor.com through a Freedom of Information Act request -- states that Williams failed to make written recommendations for athletic department improvement, hold monthly meetings with subordinates and communicate with superiors.
"There has been much data to suggest that this is a huge challenge for Mr. Williams," Sledge wrote of communication. "By choice, he routinely opts out of decision making and overall school involvement."
The report also states that in his role as director of security, Williams had held only one fire drill up to that point, and a result "has placed the entire high school in jeopardy of compliance."
Williams called the review "bogus," saying he held required meetings and filed reports that were ignored by his superiors. On each of his evaluations, he wrote: "I do not agree with ratings given."
He provided copies of those reports to AnnArbor.com. The copies provided to AnnArbor.com do not appear in Williams' file and are undated.
Williams' evaluations were filled out by Sledge, then an assistant superintendent at Inkster who resigned during that school year while facing embezzlement charges from his time as associate superintendent of Pontiac schools. Sledge was sentenced last month to serve a year in federal prison after pleading guilty to defrauding a program receiving federal funding and ordered to pay $336,000 in restitution.
Following his October evaluation, Williams was once again given an unsatisfactory rating at a January 2012 interim evaluation, according to his file. Given an opportunity to submit evidence to the contrary Williams stated, "I do not have any," according to a letter sent to him. Williams said that quote is inaccurate and that he does have contrary evidence. On the letter, Williams wrote: "I do not agree with the ratings given."
According to a letter dated March 28, he was informed that he would not be offered a contract for the 2012-13 school year. His "personnel exit audit form" lists his reason for leaving as "terminated."
Williams said that he resigned from Inkster before being terminated, and that his resignation letter was omitted from his personnel file. King said she received Williams' resignation letter and that multiple Inkster schools employees have filed lawsuits over performance evaluations and the absence of material in personnel files.
According to court documents, former Inkster High School math teacher Albert Gui filed a complaint in December 2012 against the district, Sledge, former principal Roy Harris, former assistant principal Thea Marsh and math department coordinator Shawn Smith.
The suit alleges several improprieties in Gui's evaluation and claims Gui was terminated due to the evaluation. The case is ongoing.
Williams was hired at YCS after the new district interviewed four internal applicants, including the current athletic directors at Ypsilanti High School and Willow Run High School Jon Zajac and Matt Seidl. Menzel said earlier this month month the salary for the position would be similar to the $83,000 base salary set for assistant principals in the new districts.