Posted on
Fri, Jan 11, 2013 : 5:59 a.m.
Online petition: Prosecutor wrong in charging only African-American teens in football brawl
By Pete Cunningham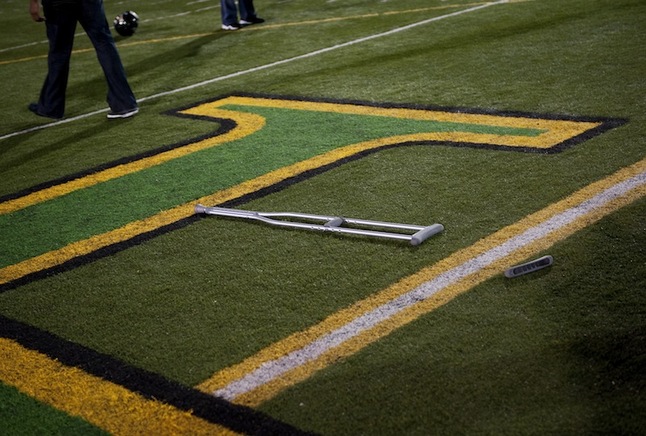 Daniel Brenner | Annarbor.com
Petitions are circulating online
encouraging Washtenaw County's prosecutor to drop all charges against three
Pioneer High School
students involved in the
brawl
that took place following the Huron vs. Pioneer football game on Oct. 12 because the only people charged following the melee are African-American teens.
Three separate petitions were posted on Change.org early Sunday in support of the former Pioneer players, one of whom, Bashir Garain, is being charged as an adult. It is AnnArbor.com's policy not to name individuals being charged as juveniles, so they will be referred to as Teenager #1 and Teenager #2.
Garain, 18, has been charged with two felonies for his involvement in the brawl, including assault with a dangerous weapon. Video from the Oct. 12 brawl shows Garain - who did not play in the game due to a knee injury - swinging his crutch during the fight.
Garain's attorney, Walter White, has previously told AnnArbor.com his client maintains his innocence. He's pleaded not guilty to two felony counts of assault with a dangerous weapon and two misdemeanor charges of assault and battery. He waived a preliminary exam on Dec. 6.
Teenager #1's attorney, Brooke Lauren Williams, confirmed that her client has been charged as a minor with two felonies: assault with intent to do bodily harm less than murder, and assault with a dangerous weapon. He's also been charged with aggravated assault and assault and battery, both misdemeanors.
Washtenaw County juvenile court administrator Linda Edwards-Brown confirmed Teenager #2 has been charged with assault with intent to do bodily harm less than murder, assault with a dangerous weapon and two counts of aggravated assault.
Teenager #1 and Teenager #2, both 17, were 16 the night the brawl took place and are therefore treated by the court as minors. Were they 17 the night of the alleged offenses this would not be the case. Felonious assault with intent to do bodily harm less than murder carries a maximum sentence of 10 years in prison. Williams said that sentence wouldn't happen if the two are convicted because they were minors at the time of the alleged offenses.
"If convicted, jail is unlikely, but possible. More likely (would be) a (juvenile) detention facility ... and they would be released when they turn 18," Edwards-Brown said. "Hypothetically, if convicted of something, then yes they have that felony record. They'll have to say that for the rest of their life."
The online petitions compare the prosecution of the three to a "modern day lynching." All three teens are black.
"Not one player of non African-American descent has been suspended, expelled and/or criminally charged with felonies. Their coaches were the initiators of this brawl. None of whom have been found criminally responsible," the petitions state.
The petition's organizer is identified on Change.org as "LC Jackson." Lifelong Ann Arbor resident Shirley Beckley said she is one of several concerned citizens that make up the group LC Jackson. Beckley said she is an Ann Arbor High School graduate and her children and grandchildren attended Pioneer.
Beckley said in an email that she and the group believe the teens' treatment is a racial injustice and shows "unethical conduct." She said members of LC Jackson have attended the three teens' court hearings and will continue to "seek outside help to bring justice to these young men."
Williams said she's seen the online petition for her client, Teenager #1, but that neither she nor her client had anything to do with it and have not been contacted by the petitions' organizers.
Officials with the prosecutor's office are aware of the petitions, but have declined to comment.
The brawl began after Pioneer assistant coach Vincent Wortmann shoved Huron head coach Cory Gildersleeve, who he saw as a physical threat to Pioneer head coach Paul Test during the postgame handshake. Test alleges Gildersleeve was pushing him.
Wortmann was fired for his actions but never charged criminally, while Test and Gildersleeve were both suspended for two games for their roles in the brawl. Both head coaches eventually resigned.
Williams said petitions can impact how cases are dealt with, referencing a similar case last year where charges against four Dearborn Heights Star Academy players charged with felony assault had charges dropped after a community outcry alleged racial inequity. Williams said that may not be how this case would work.
"I'm not quite sure how the prosecutor would take it. It could just make them angry," said Williams, who said she'd be contacting the prosecutor's office about the petition. "I want to make sure it's clear it's not me or (Teenager #1) who organized this."
Ann Arbor Public Schools never released the names of the six Pioneer players suspended for one game following the brawl, but Garain was kicked off the team. Teenager #2 did not play in Pioneer's Oct. 19 contest against Livonia Franklin, but did play in the team's two playoff games.
Teenager #1 was not one of the suspended players and played in each of Pioneer's three games following the brawl. Williams -- who is a family friend of Teenager #1 -- had been following the case and was surprised when she heard her client was being brought up on charges.
"When the initial punishments came down, he wasn't disciplined at all, so there's clearly some disconnect. I have spoke with (school) administrators and asked that specific question.
"Coupled with his background -- he's a good student, excels academically and athletically -- the charges don't make sense," Williams said. "I think it's a gross case of overcharging."
Teenager #1's guardian declined to comment on the petition or the charges.
"We're just trying to move forward and try to focus on dealing with the charges, and then move our focus to (Teenager #1) going to college," the teen's guardian said.
Teenager #2 could not be reached for comment.
Teenager #1 and Teenager #2 were charged in December and Williams said she is still in the discovery phase and not had a chance to review all of the prosecutor's evidence yet.
As of Thursday evening, one of the petitions had 407 signatures, Garain's had 381 and the other had 68. The petition encourages those who sign to contact Prosecutor Brian Mackie directly as well as their congressman and the Detroit Branch National Association for the Advancement of Colored People (NAACP).
Attempts to reach the Detroit NAACP office was unsuccessful.
Ann Arbor School Board member Simone Lightfoot , who has been a vocal advocate for African-American students, wouldn't comment on the specific accusations of the petitions but said she was encouraged to see people supporting the students.
"These young boys have a lot of issues facing them, and we as a community have to be concerned about that," Lightfoot said. "I'm happy that people people are involved and people are concerned and that they're actually weighing in."
Lightfoot said she hopes to discuss several issues regarding the brawl with her colleagues on the board, including policies and procedures to avoid anything similar from happening in the future and how the students currently being charged are dealt with.
"My concern primarily is that they're children, they're still kids. I know people will say one is 18, but he's in our school, under our care, and still a child in my mind.
"I think we as adults have to figure out a way that we preserve their future, not do anything to help hinder it. Even when they do things that may hinder their future," Lightfoot said. "I think it's our job to really lay down the rules, but not be so punitive that they're not able to recover. We always want to set them up to do better and be wiser, but not cripple them from the gate and that's important."
Pete Cunningham covers sports for AnnArbor.com. Contact him at petercunningham@annarbor.com. Follow him on Twitter @petcunningham.